A Failed Re-Start to 5+2 Negotiations on Transnistria
Publication: Eurasia Daily Monitor Volume: 9 Issue: 48
By: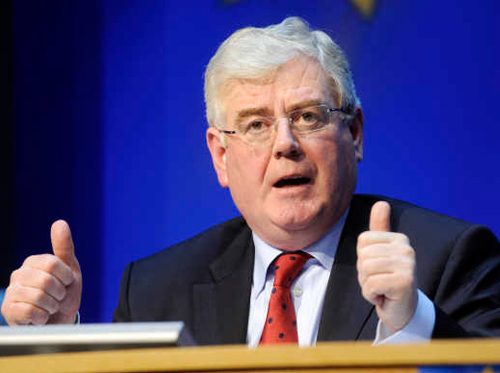 Six years to the day since their collapse (February 28, 2006), official negotiations on the Transnistria conflict were supposed to restart in Dublin in the 5+2 format (Russia, Ukraine, OSCE, United States, European Union, Chisinau, Tiraspol). The Dublin meeting on February 28-29, 2012 was to have marked a "first" on three counts: the first round of official negotiations (as distinct from unofficial consultations) after six years; the first negotiation since the leadership change in Tiraspol, which recently ended Igor Smirnov's 20-year rule; and the first 5+2 meeting held under the OSCE's Irish chairmanship.
The Dublin meeting failed on all three counts. Moscow and Tiraspol jointly derailed the meeting into procedural issues, adding fresh points of difference to the pre-existing ones. Tiraspol's own conduct revealed no constructive nuances, but rather the opposite. And the OSCE confirmed its limitations as a symbolic mediator, in this as in other conflicts. Chisinau, Brussels and the OSCE – major stakeholders in this process – adopted a near-zero information policy after this meeting. Washington could not be expected to do otherwise, Moscow was immersed in the presidential election, but Tiraspol was talkative and upbeat after the Dublin meeting (Olvia-press, March 1, 2, 5). Participant read-outs provided some insights into what transpired.
Russia's military presence in Moldova does not figure on the agenda of negotiations at this stage. Officially, the 5+2 process is about devising Transnistria's political status within Moldova. To make this possible, Moldova seeks the withdrawal of Russian troops and transformation of Russian "peacekeeping" into an international civilian operation. Moldova's Western partners support that position in principle. But, since Moscow and Tiraspol refused to discuss Russia's troops, Chisinau felt that it had to concede this point ahead of the Dublin meeting. Some Western diplomats counseled Chisinau to help re-start the "negotiating process" by shelving the issue of Russian troops.

Instead of clearing the way for substantive negotiations, the Dublin meeting got bogged down with debating Moscow's and Tiraspol's new demands. They introduced two procedural innovations. First, to define Chisinau and Tiraspol as "equal parties" to any eventual decisions on conflict-resolution and the implementation of such decisions. And second, to amalgamate the political-diplomatic format, 5+2, with Chisinau-Tiraspol discussions on socio-economic topics, putting everything in one mixed package.
The "equality" demand seeks to enlarge on concessions granted in the past. Chisinau and Tiraspol are already defined as equal at the negotiating table. Extrapolating from this, the new demand seeks de facto equality of status between Moldova's government and the unrecognized Transnistria in the final stages of conflict-settlement and its aftermath. This would pave the way for a "federal" settlement, recognizing Moldova's sovereign integrity theoretically, but negating it in practice through status-equality and veto rights for Transnistria.
Moldova's government argues that the equal treatment always applied to negotiators only; and that the new demand for overall equality of status would prejudge the negotiations' outcome [i.e., in Tiraspol's and Moscow's favor]. These arguments are strongly fact-based, as far as they go; but they invoke procedures, rather than the full force of international law. The latter should (if duly invoked) preclude any equality of status between the government in Chisinau and authorities in Tiraspol. Some of the Western diplomats involved sound concession-prone at Chisinau's expense on this issue.
Chisinau-Tiraspol discussions on socio-economic topics are underway or planned at various levels, in a parallel process. Packaging this with the 5+2 format at Russian demand would clutter the political-diplomatic process beyond repair. It would further complicate and delay the conflict-resolution by adding linkages and conditionalities. This demand stems from Moscow's 2008 stipulation that Chisinau-Tiraspol economic "confidence-building" is a prerequisite to negotiating the political settlement. This put the burden of proof on Chisinau's shoulders, the power of assessment in Tiraspol's hands, and Moscow in the arbiter's role.
At present, however, Chisinau and its Western partners are themselves using the confidence-building concept and expert-group framework, hoping to bypass Moscow and engage directly with Tiraspol in the economic sphere. Whether this can work is highly uncertain. Russia wants to stop or control this process by bringing it under the 5+2 umbrella, where Russia holds sway. Tiraspol agrees, hoping to use the 5+2 format and extract economic concessions from Chisinau. Amalgamating the two processes would also enable Moscow and Tiraspol to require "confidence-building" before political settlement. Moldova and its Western partners take the position that the two processes are parallel, and that the 5+2 format might discuss economics but should focus on political settlement.
The United States and European Union tried anew to obtain the right of co-signing documents agreed-upon in the 5+2 format. Moscow and Tiraspol again turned down that proposal. The Dublin meeting adjourned with no results, relegating all issues to follow-up meetings.
On March 1, Moldova issued an official protest against the opening of 24 voting stations for Russia's presidential elections in Transnistria. This move (not the first of its kind) negates Russia's stated recognition of Moldova's sovereign integrity (Moldpres, March 1).
The US and EU hold observer status, below the status of Russia, Ukraine, and OSCE as mediators in these negotiations. Officially, the negotiations take place between Chisinau and Tiraspol as parties to the conflict. Russia created this structure to portray the conflict as an internal one between two parts of Moldova, claiming to mediate what is actually an inter-state conflict between Russia and Moldova. All participants in the 5+2 process have willy-nilly accepted these Russian-imposed premises since 1997 (Moldova, Ukraine, OSCE) or since 2005 (US, EU). The current Moldovan and Western negotiators are fatally constrained by their predecessors' serial concessions.