A 'Railway War' Is About to Break out in the South Caucasus
Publication: Eurasia Daily Monitor Volume: 17 Issue: 172
By: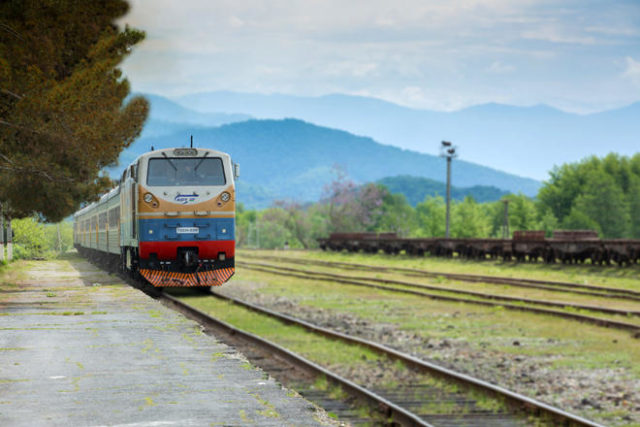 The November 10 declaration that instituted a ceasefire between Azerbaijan and Armenia also established new east-west and north-south transportation corridors across this corner of the South Caucasus, thus complicating and intensifying the "railway wars" that have gripped the region at various periods since the turn of the 20th century (see EDM, August 1, 2017 and November 12, 13, 2020). These newly available land corridors promise to not only increase the number of participants vying for their use but also multiply the possible routes across and in and out of this region. In particular, Azerbaijan and Turkey may be able to develop a direct rail line connection thanks to Moscow's pledge to guarantee Baku's ability to cross the Armenian district of Zengezur. At the same time, however, Armenia and Iran may now be able to build a railway across Azerbaijan's Nakhchivan exclave. As a result, Russia's long-sought ability to dominate both the north-south and east-west rail connections in the South Caucasus is likely to have actually been (at a minimum) reduced because of new competition from others; and it may even be thoroughly compromised as a result of these developments. This novel reality, thus, sets the stage for the kind of brewing "railway war" familiar to students of the Middle East before 1914 but less readily recognizable today (see EDM, February 26, 2019, April 3, 2019, February 20, 2020, March 24, 2020).
After the November 10 ceasefire declaration, Azerbaijani President Ilham Aliyev announced that he had issued preliminary instructions to restore rail links between Azerbaijan proper and its exclave of Nakhchivan—giving tangible content to the transit corridor called for in the document that ended the latest Karabakh war. Because such a line will allow for a direct rail connection through Nakhchivan to Turkey, this development will have the greatest geopolitical consequences. Turkish officials have responded in turn by declaring this the fulfillment of their long-desired connection between the region's two Turkic countries. Adil Karaismailoglu, Ankara's minister for transportation and infrastructure, said that Turkey "plans to extend a railroad toward Nakhchivan" as part of a $5.7 billion project involving the construction of new rail lines and ports, uniting the railways of Turkey, Georgia and Azerbaijan, first of all through the Baku–Tbilisi–Kars Railroad and then via Nakhchivan (Anadolu Agency, RBC, November 12).
To date, neither Armenia nor Iran has been similarly explicit. After all, the November 10 declaration makes no reference to Yerevan's hopes for unblocking routes to Azerbaijan and Turkey. However, both Armenian Prime Minister Nikol Pashinyan and Russian Foreign Minister Sergei Lavrov have made clear that Yerevan expects the opening of routes for its use to Iran via Azerbaijan's Nakhchivan, implicitly suggesting that these overland corridors will eventually involve rail lines as well (Kavkazsky Uzel, November 13). According to the Armenian prime minister, "[T]he opening of communications will have essential significance for the Armenian economy." And Lavrov, for his part, agreed, noting that "Armenia has suffered more than the others from the ceasing of operation of trade and transport ties… Now, in correspondence with the agreement […] all these links are being restored."
One aspect of this situation neither Pashinyan or Lavrov has mentioned is this: According to the joint ceasefire declaration, Russian peacekeepers are to have a key role in the operation of routes between Azerbaijan and Nakhchivan; but that accord says nothing about Russian troops on the ground potentially also guaranteeing Armenian passage through Nakhchivan. Yerevan and possibly Moscow may seek parity, but Baku almost certainly will never agree to that. Although, if a conflict arises on this point, that could call into question Azerbaijani access to Nakhchivan across Armenia's Zengezur region. And that, in turn, could put the entire November 10 arrangement in jeopardy.
Armenia will undoubtedly try to achieve parity, but Azerbaijan is unlikely to accept more Russian soldiers on its undisputed territory. Yet conflict over the issue of Armenian passage through Nakhchivan could call into question Baku's access via Zengezur to the Azerbaijani exclave and might even threaten all or parts of the broader accord.
At the same time, of course, all these plans for new railroads or the re-opening of pre-existing ones that have been blocked for the last 25 years lay down a potentially delayed landmine. The state of rail lines in much of Azerbaijan—both in the formerly occupied territories and in other parts of Azerbaijan that led up to these and were largely inactive—means that Baku will have to spend enormous sums to refurbish those railways so they can be used again. Baku and Ankara have the funds for that; Yerevan does not. And that raises the question as to whether Armenia can attract investments from Russia or from the West. That may give Moscow time and leverage over the situation, but less than many assume, Moscow commentator Aleksey Chichkin argues (Stoletie.ru, November 24).
The Russian writer points out that even before World War I, Russia viewed the projection of railways in this region as "the Trans-Siberian of the Trans-Caucasus," an indication of just how much importance Moscow gives them. Russia's Trans-Caucasus railroad was built in stages, between 1865 and 1949, with the branch line going to Turkey in 1899 and to Iran in 1911. During the 1930s and 1940s, Soviet Moscow built the line between Baku and Nakhchivan through the Meghri region of Armenia, parallel with the Iranian border. This rail network allowed for the development of trade, but it was especially important for the supply of war materiel from the West to the Soviet Union during World War II. Trade and passenger traffic expanded after that conflict. Experts predict that goods and passenger traffic will rise 20 percent or more with the restoration of these lines (Stoletie.ru, November 24).
Moscow is hoping it will be able to continue to dominate the network. But the November 10 accord brings in new players and will likely force the Russian authorities to make concessions and compromises. How far it will go remains to be seen, but battles over rail lines, where they go and how much they can carry are likely to define the post–November 10 South Caucasus as well as the role of Russia and other countries in that region.