Kremlin Bracing for How Biden Presidency May Affect Bilateral Relations
Publication: Eurasia Daily Monitor Volume: 17 Issue: 172
By: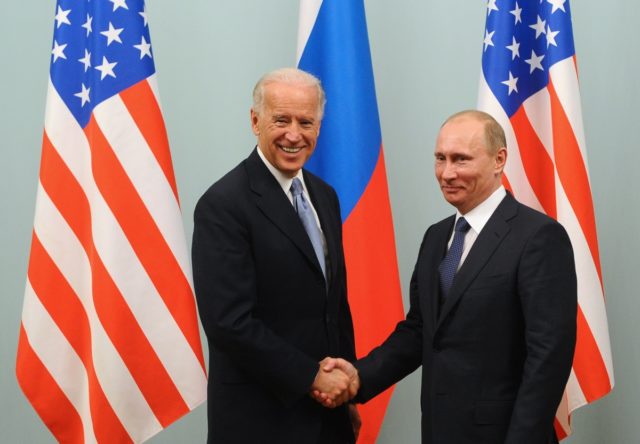 Russian President Vladimir Putin has explained his refusal to congratulate the United States' President-elect Joseph Biden on the fact that the outcome of the November 3, 2020, election has not yet been officially certified and President Donald Trump has not conceded defeat. A full month after the US elections, the press in Moscow continues to formulaically call Biden the "self-proclaimed victor." Ongoing attempts by the Trump campaign to contest the November 3 results receive prompt coverage in Russia. The official line, as articulated by Putin, is that Moscow is ready to "work and cooperate with any leader the American people may elect"; but the Kremlin's overall disappointment at Trump's defeat is palpable (Interfax, November 22). Putin has publicly decreed the US Electoral College system of choosing presidents profoundly "undemocratic," adding, "This system of US elections does not give anyone the right to point fingers and censure other nation's electoral mishaps" (TASS, November 22). Decreeing the Electoral College "undemocratic" was a frequent element of Soviet propaganda during the Cold War; so repeating this charge today is hardly a novelty for the Kremlin. At the same time, it inadvertently ideologically aligns Putin with the other side of the US political spectrum from Trump—a faction where the Russian leader will hardly feel comfortable or find many friends.
Ahead of November 3, the Russian Foreign Intelligence Service (SVR—formerly the First Chief Directorate of the KGB) predicted that rioting and mayhem would engulf post-election America as prolonged legal battles and contentious ballot recounts dragged on, allowing each side to challenge the results no matter who was ultimately declared the winner (RIA Novosti, November 3). Of course, all these predictions of turmoil and economic collapse fell short.
In October 2020, Putin offered a serious concession that would permit the prolongation of the New START nuclear arms control treaty (scheduled to expire on February 5, 2021) for only one year. At the same time, the Russian side agreed to signing a supplementary political declaration to "freeze" all nuclear weapons, including non-strategic or tactical nuclear weapons not covered by New Start. This proposal was more or less in line with what the Trump administration was asking. The Kremlin apparently believed that signing a treaty prolongation together with a nonbinding "freeze" declaration before November 3 would give the sitting US president an additional reelection boost; but the plan never came to pass. Washington demanded a strong verification mechanism of the nuclear "freeze," while Moscow was not ready to accept one, citing the fact that there were no preexisting protocols for mutual nuclear warhead production verification. All US-Russian arms control treaties during the Cold War and after have limited only delivery systems—missiles, submarines and bombers—not the production of nuclear warheads themselves. Biden, in turn, has publicly stated his readiness to prolong New START for the full five years, without any additional warhead "freeze" (see EDM, October 22).
According to Russian government sources, contacts between Moscow and the Trump administration about the prolongation of the New START treaty continued after November 3. The Kremlin reportedly hoped that even during the lame duck period, Trump would come through and agree (on Putin's terms) to a "freeze," but without verification, to crown his tenure in office with a major nuclear reduction treaty and deny Biden the privilege of prolonging New START. But the White House dropped its focus on arms control, devoting more attention to its ongoing election-related legal challenges (Kommersant, November 12). Eventually, Deputy Foreign Minister Sergei Ryabkov, who is in charge of arms control talks, told journalists in Moscow, "The Trump administration decided not to prolong New START. No problem. If they do not want to, let them not. It is their business. They have rejected our rational arguments" (Militarynews.ru, November 16). It is possible Ryabkov—like much of the rest of the Russian foreign policy and defense establishment—was not happy to begin with regarding Putin's proposed concessions (however superficial) on the prolongation of New START together with a total freeze on nuclear warhead production. But since the Trump administration ultimately dropped the issue, Putin's concessions are again off the table.
Moscow is now bracing for the incoming administration of Biden, who will have only around two weeks after his inauguration to prolong New START before it expires on February 5, 2021. Putin's government also worries that Biden's promise to restore bipartisanship in Washington may translate into his administration seeking new anti-Russian sanctions (widely supported on both sides of the aisle in the US capital) to, for example, punish Russian authorities for allegedly using a nerve agent to poison opposition leader Alexei Navalny in Tomsk, in August 2020. The United States' Western European allies, meanwhile, are looking forward to reestablishing less strained relations with Washington under a Biden administration. Moscow considers any signs of strengthened Transatlantic solidarity as antithetical to Russian interests, and it fears that a reunited West will again undertake more aggressive democracy promotion while pushing back against Russia with additional sanctions and new "colored revolutions" (Vzglyad, December 3).
The announced appointment of Jennifer Psaki as Biden's White House Press Secretary is seen in Moscow as a deeply sinister move. Psaki was the US State Department spokesperson in 2013-2015, when Russia's takeover of Crimea and the fighting in Donbas led to a breakdown of relations between Russia and the West. Psaki is perceived in Moscow as the face of a confrontational Washington that is quick to impose punitive sanctions (Moskovsky Komsomolets, November 30). The Kremlin is reacting to what it believes is an inevitable further downturn of relations by preventively passing new legislation to prosecute human rights and opposition activists and journalists as so-called "foreign agents" or people aiding and abetting officially declared "undesirable organizations" (see EDM, December 2). The possible extension of New START for five years without preconditions by the incoming Biden administration could be the only bright spot on an overall horizon of gloom.