A Slow, Soft and Incomplete Exit? Moldova's Relationship With the CIS
Publication: Eurasia Daily Monitor Volume: 20 Issue: 22
By: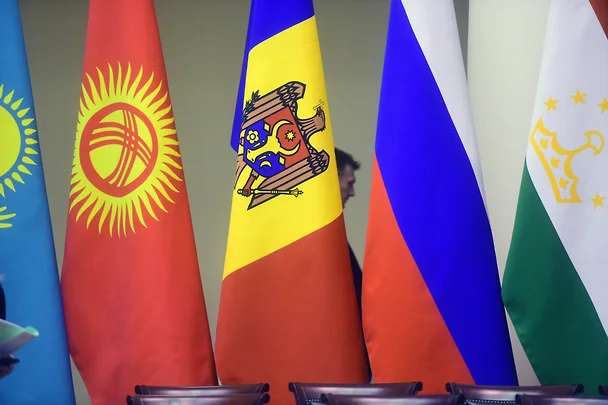 When the Commonwealth of Independent States (CIS) was created following the collapse of the Soviet Union, many commentators suggested that either it would be a device for the civilized divorce of the former republics or it would become a framework for the restoration of a Moscow-dominated state. In the years since, most writers have continued to insist that it will be one or the other, either completely breaking down with its members then going their own way or alternatively becoming ever-more crucial in re-integrating them under the Kremlin's. Ample evidence supports both of these notions, but there is a third possibility: Some of the former republics may continue to make use of some, but not all, of the CIS's framework agreements—at least for a time, even as they continue to distance themselves from Moscow and seek to integrate with other centers of power beyond the post-Soviet space. The Republic of Moldova provides the latest example of this calculated approach.
In large measure, Russian commentators denounce what they perceive as a "paradoxical" situation, in which the former Soviet republics seek to benefit from ties with Moscow even while denouncing the Russian Federation, particularly over its invasion of Ukraine (Ritmeurasia.org, February 6). This sentiment arises from how the CIS is understood, either as an integrated body led by the heads of each member state who meet regularly or as a broad network of treaties and agreements governing large swaths of relations among its original members. Understood in the first way, Georgia, Ukraine and now Moldova have left the CIS; understood in the second, not one has completely left, with all, and even the three Baltic states which never signed the CIS covenant, continuing to abide by certain CIS arrangements regarding rail traffic in particular (Window on Eurasia, July 25, 2013; Railwaypro.com, April 23, 2014; Izvestiya, April 19, 2018).
Nonetheless, the Moldovan case is instructive not only in and of itself but also as a model of how other CIS members are likely to behave in the future, as they seek to protect themselves from Russian President Vladimir Putin's aggression while not losing the benefits they believe they can only enjoy by remaining closely tethered to the Russian Federation. These countries are also wary of how Moscow is likely to react to such strategies.
Since Maia Sandu became president of Moldova in December 2020, Chisinau has pursued a policy that seeks to integrate the country into the European Union and, in the opinion of many, ultimately the North Atlantic Treaty Organization as well. As a result, and especially in the wake of Putin's invasion of Ukraine, Chisinau has suspended its participation in high-level CIS meetings but has not withdrawn from various CIS agreements—and may not do so anytime soon, even if it formally "exits" the grouping, a possibility that many in Moscow are already considering and seeking ways to counter (Ritmeurasia.org, February 6).
Over the past year, as Moldova sought and achieved candidate status in the EU and was horrified by Russian actions in Ukraine, Chisinau officials from President Sandu on down repeatedly have declared that they were not planning to leave the CIS anytime soon—at least not until after Russia's war against Ukraine ends or perhaps only after Moldova joins the EU (Rubaltic.ru, May 20, 2022). Sandu made this statement even though Moldova has not been participating in CIS summits or ministerial meetings and has refused to allow a CIS meeting to take place in Komrat, the capital of Gagauzia within Moldova (see EDM, November 10, 2022; Infotag, December 26, 2022; Interfax, November 22, 2022, January 12).
A month ago, Moldovan Foreign Minister Nicu Popescu provided the fullest discussion from official Chisinau about how the country will approach the CIS in the coming months. He said Russia's war against Ukraine means that Moldova cannot and will not take part in any high-level meeting but that it has signed, "within the framework of the CIS, several hundred various documents" and needs to review "which ones work for the country and which ones do not." The free-trade provisions have not worked since 2006, Popescu argued, because Moscow has worked against the Moldovan economy. Yet, other accords may still be useful, and thus, Chisinau must carefully review the situation before denouncing them (Interfax, January 12).
Moscow's reaction to this ranged from the dismissive to the alarmist and threatening. On the one hand, Aleksey Polishchuk, head of the Russian Foreign Ministry's department that oversees relations with Moldova, declared, immediately following Popescu's remarks, that "Moscow expects Moldova will remain a member of the CIS and resume participation in the activities of its bodies. … Chisinau clearly comprehends the real socioeconomic benefits of CIS membership." That is why, he argued, Chisinau is "talking about the need to pursue a pragmatic approach [and] take hundreds of CIS agreements into account" (TASS, January 13). But on the other hand, Polishchuk's boss, Foreign Minister Sergei Lavrov, at the end of last week, denounced Moldova's moves on the CIS as signs that Chisinau is now nothing more than a tool the West uses against Russia and is rapidly becoming "a second Ukraine" and "an anti-Russia," as a result (RIA Novosti, February 2).
Behind this divide is a growing sense among many in Moscow that the CIS is no longer an institution the Russian authorities should support or even worry about. According to Aleksandr Savelyev, an advisor to the Russian National Service for Economic Security, Moscow should do away with the organization entirely because it does little good for Russia while allowing other members to adopt increasingly Russophobic positions and benefit from Russian economic policies simultaneously (Regnum, July 29, 2022). Such a move by the Kremlin is unlikely for now, at least so long as Putin is in power. This means that not only Moldova but also many other current CIS member states will continue to act as Chisinau has, downgrading their official ties but not breaking them completely while picking and choosing among the CIS accords rather than dispensing with them and the organization altogether.