A Year in Review: Elite Change Brings Glimmer of Hope to Ukraine in 2019
Publication: Eurasia Daily Monitor Volume: 17 Issue: 1
By: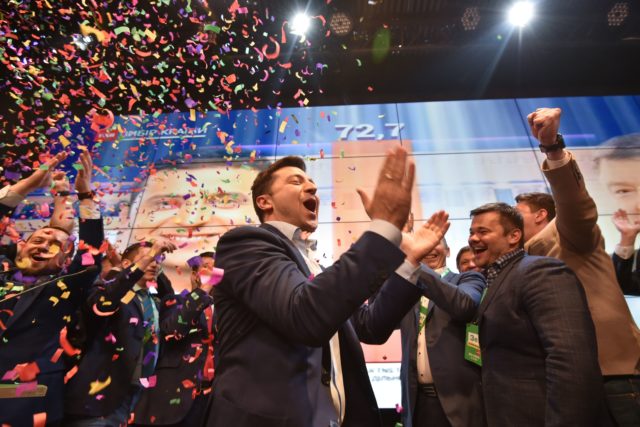 For Ukraine, the year 2019 was full of sweeping changes. The elite that came to power in the wake of the anti-establishment Maidan uprising in 2014 was swept away in elections won by political amateurs. Volodymyr Zelenskyy, a former comedian, and his team of young media and business-sector pragmatists replaced both the revolutionaries as well as the corrupt operators who feasted on the spoils of war unleashed by Russia in 2014, even as poverty deepened following the economic collapse of 2014–2015.
It is too early to say whether the change at the top will ultimately do more good or bad, but some of the first results have been promising. Kyiv reached several key agreements with Moscow on prisoners and natural gas, and economic reforms have begun to bear fruit. On the downside, The Zelenskyy administration was sucked against its will into the Donald Trump impeachment scandal. Also, the fact that no political normalization with Russia is yet in view—despite all of the good intentions showcased by the newly elected government in Kyiv—proves to those who doubted that the key to a solution has and continues to reside in Moscow.
Early into 2019, Ukrainian polls showed a radical change in popular opinion toward the candidates running for president. Zelenskyy, who as a comedian had for years mocked the greed and bigotry of the established politicians, suddenly topped the polls ahead of all of them. Incumbent Petro Poroshenko was irreparably damaged by a corruption scandal in February, when he had to fire his close associate Oleh Hladkovsky from the post of National Security and Defense Council deputy secretary for alleged involvement in murky defense supply chains. Zelenskyy won the presidential race hands down, beating 38 rivals in the first round, on March 31, with 30 percent of the popular vote, and in the runoff, on April 21, with 73 percent against Poroshenko's 24 percent.
Riding the tide, Zelenskyy, albeit in a legally controversial move, disbanded the parliament that had blocked his first appointments and political initiatives. Named after the eponymous TV series, in which Zelenskyy had played a teacher-unexpectedly-turned-president, his party, Servant of the People, was hastily set up for early polls. With no past, no ideology, and scores of unknown but ambitious young people on its list, Servant of the People won the July 21 snap election, filling 254 seats in the 450-seat unicameral legislature.
No other party had ever before dominated the notoriously fragmented Ukrainian parliament. This allowed Zelenskyy to swiftly appoint a new government headed by an obscure young economist, Oleksy Honcharuk. His lack of experience makes Honcharuk dependent on Zelenskyy and the more seasoned subordinates, such as Arsen Avakov, who has served as interior minister since 2014. Rumor has it that Honcharuk may be replaced early this year, if growth slows down. It has also been rumored that Zelenskyy might call a new snap parliamentary election, to coincide with local elections scheduled for next fall, as there are signs that he is not satisfied with his team in parliament.
For the moment, there is no reason for dissatisfaction with the government's handling of the economy at least. Honcharuk, defying skeptics, insists that his ambitious goal of reaching 40 percent growth over five years is realistic, if land reform, which should allow farmland owners to sell their plots for the first time ever, is launched, and privatization is re-launched next year, as planned. Last fall, Ukraine was one of the few countries for which international financial institutions revised their growth forecasts upward. Wages grew by double digits, inflation fell to the lowest level since early 2014, and the Ukrainian currency, the hryvnia, appreciated more than any other currency in the world last year.
On the downside, Kyiv failed to persuade the International Monetary Fund (IMF) to lend. The IMF green-lighted a new three-year assistance program only toward the end of 2019, so Ukraine did not receive any loans from either the IMF or the European Union last year. But the president's economic team is not to blame. Ukraine's lenders and investors have been puzzled by Zelenskyy's reluctance or inability to distance himself from Ihor Kolomoysky, an oligarch who backed Zelenskyy's victorious presidential election campaign and apparently expects Ukraine's largest bank, Privatbank, in return.
Kolomoysky, along with other former co-owners, sued Ukraine for the bank's nationalization in 2016, when the government had to inject $5.5 billion into Privatbank, which was deemed too big to fail. Crucial Ukrainian court rulings on Privatbank are expected in early 2020. If they are in Kolomoysky's favor, Zelenskyy will have a difficult time persuading observers that he did not help Kolomoysky, especially after the controversial judiciary reform the president launched last year, apparently aimed to make judges less independent.
One of Zelenskyy's main declared goals has been to stop the war in Donbas. Unlike Poroshenko, who rejected any compromise, Zelenskyy risked his popularity in order to persuade Russian leader Vladimir Putin to meet him at the "Normandy" summit on the Donbas conflict with the leaders of Germany and France, a format seemingly abandoned in 2016. He accepted the controversial Steinmeier formula for future local elections in occupied Donetsk and Luhansk provinces as well as the mutual troop pullout from three areas along the front line, so suspicious nationalists took to the streets of Kyiv, warning Zelenskyy against crossing any red lines. Zelenskyy crossed none at the summit on December 9, but there was no breakthrough either, with Putin continuing to pretend no direct Russian involvement in Donbas.
On the upside, more than a hundred Ukrainian nationals were able to return home in September and December as a result of prisoner-exchange agreements reached with Putin. Also, Kyiv arguably won a gas war with Russia. At the end of December, Moscow abided by the 2018 ruling of the Stockholm arbitration court, paying Kyiv $2.9 billion in damages related to the 2009 gas contracts. Moscow also acquiesced to a new five-year gas transit contract, after threatening, since 2014, to leave Ukraine's pipelines dry with the help of two new pipelines (Nord Stream Two and TurkStream) bypassing Ukraine. Washington helped Kyiv, making Moscow more pliant by applying economic sanctions against Nord Stream Two (liga.net, December 23).
A major setback for Kyiv last year also came from Washington, however. Donald Trump apparently tried to use Zelenskyy in his own reelection campaign, ordering a temporary halt to military assistance for Kyiv until the latter announced an investigation into Democratic presidential candidate and former Vice President Joseph Biden's son Hunter's involvement in a controversial gas business in Ukraine several years ago. A published summary of the telephone conversation between Trump and Zelenskyy on the matter, which took place in July, triggered impeachment proceedings in the US. Zelenskyy has since had to perform a difficult balancing act. And having publicly denied any wrongdoing by Trump, he will have to be even more careful in 2020 so as not to potentially spoil relations with either the current or the future US administration.