Amid Economic Pressure, Moldova's Pro-Russian Government Looks for Alternatives
Publication: Eurasia Daily Monitor Volume: 17 Issue: 1
By: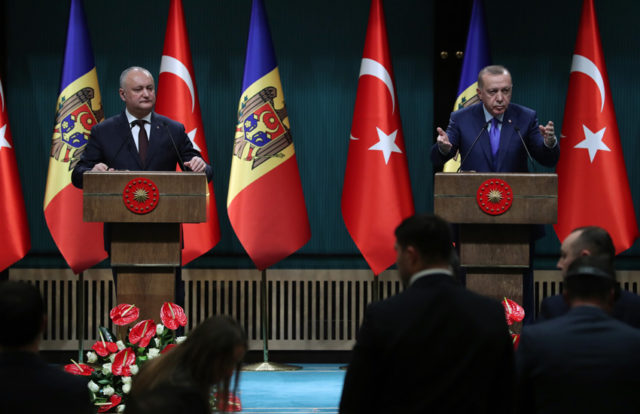 The Moldovan government, controlled by pro-Russian President Igor Dodon, is starting the new year with major economic concerns. A key agenda for officials is to ensure Dodon's victory in the presidential elections, to be conducted at the end of 2020. To achieve this goal, the incumbent head of state has tasked the government with implementing a set of populist measures, targeting Moldova's rural population in particular. Besides promises of one-time pension raises, other social payments and benefits, the government's efforts seem to be directed at infrastructure projects, including road construction. These issues were discussed in one of the first meetings since the New Year between President Dodon and his prime minister, Ion Chicu (President.md, January 3, 2020).
Moldova's international partners and donors have balked at these populist intentions. Indeed, the International Monetary Fund (IMF) had long been asking the Moldovan government to implement a set of reforms that includes a review of its public-sector spending (Moldova.org, October 23, 2019). While a breakthrough seemed possible in October last year, with the IMF ready to consider renewing the funding, the progress was reversed after Dodon's Socialist Party (PSRM) ousted the reformist cabinet of Maia Sandu (Agora.md, November 12, 2019).
With mounting pressure from the European Union and other Western partners to continue good governance and justice reforms, the new Dodon-controlled government has tried to downplay the importance of Western funding for the Moldovan budget. In multiple interviews, Prime Minister Chicu boasted that while the new executive would try to maintain good relations with the EU and the IMF, Chisinau would not beg for foreign assistance (Tvrmoldova.md, December 24, 2019). Moreover, Chicu tried to prepare the public for expected frozen assistance by the EU and other Western donors, claiming that the money from Brussels alone would not be sufficient for the government's country modernization plans anyway (Ipn.md, November 26, 2019). This was also a signal to the West that the incumbent executive did not intend to fulfil the reform projects started by the Sandu government, as it is prioritizing preparations for the 2020 presidential elections.
Dodon has since redirected his glance toward other possible funding sources. Russia was an obvious first destination. In November, prime minster Chicu visited Moscow and secured promises of cheaper prices for natural gas—a reduction from $235 to $173 per thousand cubic meters—along with a $500 million loan for road reconstruction (Europalibera.org, November 20, 2019). In exchange, apparently, Russia demanded Moldova's support for its mock withdrawal of munitions from the Transnistrian region to soften international pressure on Moscow. Likely not coincidentally, Chicu gave an interview to Russia's state-owned RIA Novosti news agency, stating that his government intended to build and enact three new airports in Moldova: one in the city of Balti, which is predominantly populated by Russian speakers, another one in Gagauzia, and a third one to be operated on the premises of a military airfield in the town of Marculesti, in the northern part of the country (Sputnik.md, December 6, 2019). Moreover, control over the international airport in Chisinau was recently acquired by Russian billionaire Andrey Goncharenko, reportedly the CEO of a Gazprom subsidiary (Deutsche Welle—Romanian service, December 24, 2019). However, the announced gas price reduction deal never materialized. Either Chicu did not manage to guarantee sufficient support from Russia, or the conditions for this support ultimately proved too demanding within the corridors of power in Chisinau.
Under Western criticism for failing to conduct justice reform, and in search of additional financial support, President Dodon has also turned his attention to Turkey. During an official visit to Ankara, Dodon was accompanied by Prime Minister Chicu as well as the ministers of foreign affairs, the economy, and internal affairs (Moldova-Suverana.md, December 30, 2019). At their joint press conference, President Dodon and his Turkish counterpart, Recep Tayyip Erdoğan, mainly empathized economic and trade cooperation along with Turkish development assistance to Moldova (YouTube, December 30, 2019). Turkish companies can, therefore, be expected to carry out infrastructure projects in Moldova, including road reconstruction, with funding from Ankara's principal international development body, the Turkish Cooperation and Coordination Agency (TİKA). President Erdoğan—in response to a 2017 request by Dodon—had previously directed that TİKA funds be used to fund the rebuilding of Moldova's presidential palace, destroyed in the 2009 student revolt in Moldova (Tika.gov.tr, Unimedia.md, January 20, 2018)
The price Dodon apparently had to pay in exchange for the latest promise of assistance was revealed during that same press conference: namely, President Erdoğan praised "his dear friend Dodon" for the latter's assistance in extraditing seven Turkish citizens in 2018. Those detained individuals had worked as faculty members at the Turkish "Orizont" lyceum, in Chisinau, that had operated with funding from Fethullah Gülen (Deutsche Welle—Romanian service, September 6, 2019). Erdoğan also stated that with the Moldovan authorities' assistance, the formerly Gulenist lyceum would be transferred under the administration of the Maarif Foundation, an educational organization established by Erdoğan's ruling Justice and Development Party (AKP) government (Iletisim.gov.tr, December 30, 2019). President Dodon, in his own detailed description of his visit to Turkey, avoided mentioning anything in relation to this extradition incident or Turkey's request to take over the lyceum in Chisinau.
Four agreements were signed during the visit, including on the mutual recognition of driver's licenses, on international cargo transportation, on the training of Moldovan law enforcement, and the creation of cultural centers (President.md, December 31, 2019). The last two agreements deserve specific attention. The training of law enforcement personnel is likely to focus on preparing them to deal with popular protest. Tellingly, during his 2018 visit to Chisinau, Erdoğan gifted to the Moldovan Ministry of Interior two armored riot-control cars, equipped with water cannons and tear gas capabilities (Stiri.md, November 14, 2018). The building of cultural centers, on the other hand, is expected to be conducted in Moldova's Gagauzia region, an autonomous area populated by the Turkic-speaking Gagauz minority. Currently TİKA is building in Gagauzia the Recep Tayyip Erdoğan Education Complex, which will host some 500 students. This and other similar educational projects are aimed to help the Gagauz ethnic group preserve its cultural and language identity, since today the region is predominantly Russian-speaking—a fact that also reflects the significant influence the Russian Federation has on the Gagauz autonomy, as the region traditionally votes for pro-Russian parties and politicians. It is quite likely that the initiative to reinvigorate the use of the Turkish language in Gagauzia reflects President Dodon's growing concerns about his significant dependence on Russia.