A Year in Review: Nazarbayev Steps Down From Kazakhstani Presidency but Retains Control
Publication: Eurasia Daily Monitor Volume: 17 Issue: 13
By: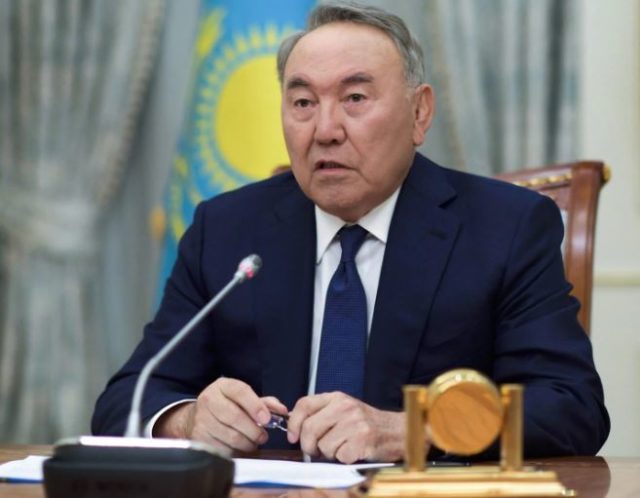 Unlike previous periods, 2019 was a single-issue year for Kazakhstan, Central Asia's largest economy and the second-biggest exporter of hydrocarbons in the former Soviet space behind Russia. The country is also a security linchpin in a landlocked region lying between the Caspian Sea to the west, China's Xinjiang province to the east, Russia to the north, and the Afghan-Iranian pocket of instability to the south. The year began with the resignation of Bakhytzhan Sagintayev's government in February, following recurring criticisms from President Nursultan Nazarbayev over the preceding 12 months. At the end of January 2019, the president accused the cabinet of cowardice in dealing with troubled banks. "Clean up all the banks. I will then consider that you have honestly fulfilled your duty and can resign," he demanded. Less than a month later, Sagintayev and his cabinet were gone (Akorda.kz, February 21, 2019; Kursiv.kz, January 31, 2019).
While a change of government at regular intervals is no big surprise, this time was different. Nazarbayev openly blamed the executive team for failures on multiple fronts, including, most importantly, the implementation of socioeconomic development programs. In past instances, his reproaches were less explicit. Almost five years since the drastic fall in oil prices and the introduction of Western sanctions against Russia, the Central Asian country's closest trading partner, Kazakhstan had failed to revive dynamic economic growth. GDP expansion reached 6 percent in 2013 before slowing down to 4.2, 1.2 and 1.1 percent in the next three years, respectively. In both 2017 and 2018, GDP rose by 4.1 percent, down from 8–10 percent annual growth pre-2008 (Worldbank.org, accessed January 15, 2020; Mirt24.tv, February 23, 2019; Tengrinews.kz, February 22, 2019). While preliminary data for 2019 suggests a similar growth rate of just over 4 percent.
Amid the stagnating economy (in United States dollar terms, given Kazakhstan's structural reliance on dollar-denominated oil sales, it has even contracted) and intensifying rumors regarding the future of his regime, Nazarbayev, 78, suddenly resigned on March 19, after more than three decades in power. "The world is changing, and generations come and go. This is a natural process. The new generation will tackle the challenges of its time," he calmly announced. Nazarbayev later acknowledged that his succession plan had been in the making for three years. Despite initial fears that the eventual succession might be chaotic, it closely followed the constitutional script (Article 48), with Senate speaker Kassym-Zhomart Tokayev acceding to the presidency without delay (see EDM, March 27, 2019).
As Tokayev departed for the Akorda (the presidential palace, inaugurated in 2004), the speakership of the Senate was unanimously assigned to Nazarbayev's eldest daughter, Dariga, who thus became first in the line of succession to Kazakhstan's second president. In the interim, Tokayev made a generous gift to his predecessor by pushing through parliament a law renaming the capital city, Astana, Nur-Sultan. Back in 2006, Capital City Day was moved from June 10 to July 6, which coincides with Nursultan Nazarbayev's birthday; though officially, the date change was in reference to the July 6, 1994, decision of the Kazakhstan Supreme Council to transfer the capital to the north (from Almaty). Since 2010, Astana/Nur-Sultan has been home to the Nazarbayev University, and, since June 2017, its only airport has borne Nazarbayev's name (Nur.edu.kz, July 3, 2019; Inform.kz, March 23, 2019; TASS, June 20, 2017).
Tokayev was subsequently nominated by the ruling Nur Otan party (which continues to be chaired by Nazarbayev) as its candidate in the June 2019 early presidential election. He won 77.5 percent of all ballots cast. Yet, however confident the result, both the short-lived and largely eventless electoral campaign and election day itself were marred by unprecedented street protests. The authorities were quick to blame the demonstrations on exiled former banker Mukhtar Ablyazov, who, in November 2018, was sentenced in absentia to life imprisonment on account of his alleged involvement in the death of a fellow financier in 2004. Tokayev publicly recognized the extent of the social discontent due to low economic growth and wealth inequality; he, therefore, decreed the establishment of the National Public Trust Council, whose first meeting was convened in early September (Informburo.kz, September 6, 2019; Interfax, June 10, 2019; Radio Azattyk, June 9, 2019).
Since acceding to the highest office, President Tokayev has pledged to maintain continuity in Kazakhstan's foreign relations while promoting gradual reform at home. On the foreign policy front, being a skilled diplomat with experience as foreign minister (1994–1999, 2002–2007) and director general of the United Nations Geneva Office (2011–2013), Tokayev has, indeed, steered clear of revisionism. He traveled to Moscow two weeks after Nazarbayev's resignation, paid his first post-election visit to China in mid-September, had a brief talk with US President Donald Trump on the margins of the UN General Assembly in New York later that month, visited Germany in December, and was warmly greeted in all the other Central Asian states between April and November (Akorda.kz, accessed January 20, 2020).
In a December interview to Deutsche Welle, Tokayev refused to call Russia's forceful incorporation of Crimea in 2014 "annexation," nearly causing a diplomatic scandal, and he failed to criticize China for its "re-education camps" in Xinjiang. While, similar to Nazarbayev, Tokayev clearly wants to preserve cordial relations with both Russia and China and, at the same time, remain on good working terms with the US and Europe, his main challenge lies in domestic policy. Despite stepping down from the presidency, Nazarbayev has retained decisive influence over domestic affairs as the chair of the ruling party, Leader of the Nation or Yelbasy (with immunity from prosecution for himself and his family), and life-long chairpersonship of the revitalized Security Council. Tokayev formally recognized his predecessor's prerogatives, which are all enshrined in law, by passing a special decree in October (Astanatv.kz, December 4, 2019; Nezavisimaya Gazeta, October 22, 2019; see EDM, October 31, 2019).
Pre-2019, the biggest question on the mind of every foreign investor, whose principal concern is to keep their assets intact, was Nazarbayev's succession—namely, when would he leave the scene, who would replace him and how successful would the successor prove at keeping the house in order. Post-2019, the same issue remains on everyone's mind. As rumor has it, latent tensions exist between a small reformist camp backing Tokayev's timid liberalization steps and the old guard, who owe their wealth and influence to Nazarbayev's several decades in power. Unlike in Uzbekistan (2016) and Russia (2000), where a peaceful regime change moved the "First Family" offstage, the Nazarbayev clan retains control of large chunks of the Kazakhstani economy and relies on its patriarch and his handpicked successor as guarantors of that tremendous clout. The succession business is and will remain unfinished as long as Nazarbayev occupies the top of the power vertical he has spent such a long time building.