Abkhazia Rejects Putin's Mobilization
Publication: Eurasia Daily Monitor Volume: 19 Issue: 157
By: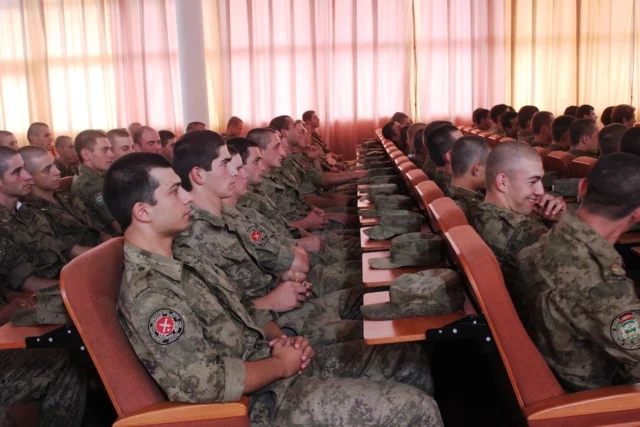 On September 21, Russian President Vladimir Putin signed the decree on the "partial mobilization" of Russian citizens (TASS, September 21). This decree caused mixed reactions across Russian society, despite the almost total public support for Moscow's aggression against Ukraine.
Indeed, rampant dissatisfaction has been widely expressed by some ethnically non-Russian communities. For example, Circassian activists have called on the leaders of the Kabardino-Balkaria Republic to come out against Putin's war in Ukraine and reject the partial mobilization (Zapravakbr.ru, October 16).
In this, the Circassians were inspired by the example of Abkhazia—the Georgian breakaway republic, whose independence Russia recognized after the Russo-Georgian War in 2008. Abkhazian and Circassian (Adygs) communities are quite close both ethnically and culturally.
The authorities in Abkhazia unequivocally refused to participate in the mobilization, despite the fact that almost all Abkhazians are Russian citizens. On the same day that Putin signed the mobilization decree, Russian Deputy Defense Minister Nikolai Pankov announced that residents of Abkhazia with Russian citizenship would be subject to mobilization: "Russia saved the Abkhazians during the war with Georgia, helped them economically, and now they have to pay their debts" (Accentnews.ge, September 26).
Just a few hours after Pankov's statement, the military commissar of Abkhazia's separatist regime, Beslan Tarba, intensified the anxious mood. Tarba agreed that residents of the republic holding dual citizenship would be subject to the mobilization: "Of course, we will do this. There are no debts to anyone, but we are always there, we are in favor." The military leader further argued, "Probably about 90 percent of us are Russian citizens," And so, the mobilization order "partly also concerns the residents of our republic." He concluded, "We agree, we accept it, and if necessary, we will have to carry out the partial mobilization. We will, of course, do so when we receive a formal separate directive from our direct superiors" (JAMnews, September 9).
The incompetent statements of the Abkhazian official were met with stormy discontent in Abkhazia. Tarba's remarks increased hysteria on social media about whether Abkhazians will be included in the draft. The Ministry of Defense of Abkhazia called the words of its own military commissar "Tarbas' private opinion" and "personal views," which "do not reflect the position of the Abkhaz government."
The Abkhaz Foreign Ministry released a separate statement that same day, attributing Pankov's quote to the machinations of "opponents aiming to sow panic in Abkhaz society" and efforts to damage Abkhaz-Russian relations.
After the start of Russia's aggression against Ukraine on February 24, Abkhazia did not send a single official military unit to Ukraine. On the Russian side, only a small detachment of volunteers under the command of Akhra Avidzba is actively fighting in Ukraine. On the other hand, several thousand volunteers have traveled from Georgia to fight for Ukraine's freedom and territorial integrity (Primtime.ge, October 21).
A few days after these statements, faced with the furious rejection of the Abkhaz society and authorities, Moscow retreated from its plans to recruit Abkhazians: Statements from Russian officials clarified that the "partial mobilization" only applies to those Russian citizens who are registered in the officially recognized territory of the Russian Federation. If a Russian citizen is living in separatist Abkhazia, Armenia or Turkey but is not registered in Russia, he is not required to participate in the mobilization and will not be sent to fight against Ukraine. As mentioned, almost all Abkhazians have a Russian passport but only a small part of them are registered in Russia and live in Moscow or other Russian cities. However, most have returned to Abkhazia, where Russian military commissars would not be able to mobilize them.
Paata Zakareishvili, who served as the Georgian state minister for reconciliation and civil equality (formerly the minister of reintegration), in an October 20 interview with this author, highlighted two interesting points in connection with the Russian mobilization (Author's interview, October 20). According to him, the authorities of North Ossetia, bordering another Georgian breakaway territory—South Ossetia, whose independence was recognized by Russia in 2008—did not allow those Ossetians, who were registered in Russia, to return to South Ossetia. Yet, at the same time, Russia did not prevent Abkhazians from returning to Abkhazia, despite the fact that many were obliged to obey Putin's decree. Zakareishvili contended, "The authorities of the North Ossetian Republic have shown loyalty to Moscow. In addition, they were dissatisfied with the fact that North Ossetians were sent to war and South Ossetians could hide in formally 'independent' South Ossetia."
The second remarkable moment underlined by the Georgian expert, referred to the actions of Abkhaz President Aslan Bzhania: The Abkhaz leader announced mobilization but stressed that the purpose of the Abkhaz mobilization is not a war against Ukraine but rather "protection against Georgian aggression" (Nsn.fm, October 13). According to the former state minister, "Bzhania used the statement of the head of the ruling Georgian Dream (GD) party about a referendum on the opening of a 'second front against Russia' in Georgia."
Indeed, during his September 13 briefing, GD chair Irakli Kobakhidze noted that the Georgian authorities had presented the idea of ​​holding a plebiscite wherein the Georgian people would be asked if they want to open a "second front" against Russia in Georgia (see EDM, October 14). Gocha Mirtskhulava, editor in chief of Nation.ge, noted that Bzhania, like other leaders of Abkhazia, "understands how much they angered Putin by refusing to participate in the war against Ukraine," at a time when Russia needs at least symbolic allies for its aggression against Ukraine. "To calm the Russian leadership, Bzhania announced a fake mobilization against Georgia," Mirtskhulava concluded (Author's interview, October 21).
The refusal to participate in the Russian mobilization was voiced against the backdrop of many disagreements between separatist Abkhazia and Russia: Sukhumi does not want to give Putin a villa in Pitsunda, does not allow Russians to buy apartments in Abkhazia and, by law, prohibits those residents who do not speak the Abkhaz language from holding public office. As such, opposition to Moscow's mobilization will only serve to further exacerbate tensions between the center and periphery.