About Turn: Arms, Oil, Gas and Politics in Bulgaria
Publication: Eurasia Daily Monitor Volume: 19 Issue: 66
By: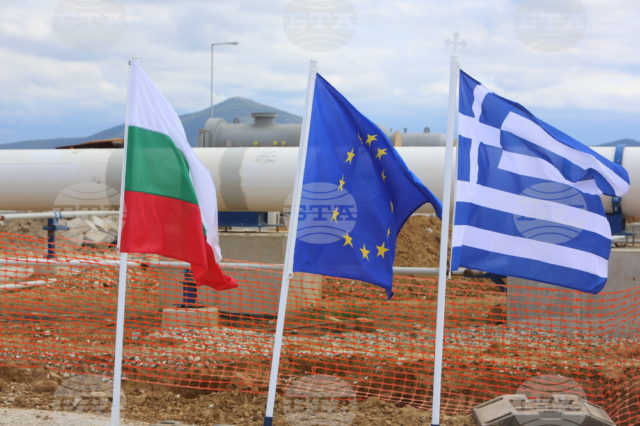 Russian President Vladimir Putin miscalculated again when he stopped natural gas shipments to Poland and Bulgaria on April 27. Now Russia appears to have lost the gas markets in both countries as they are preparing to permanently wean themselves from Russian energy supplies. The official reason for the sudden severing of gas exports was the refusal of Poland and Bulgaria to pay for the Russian gas in rubles instead of euros or dollars. But the Kremlin ruling on gas payments is notably based on Putin's March 1 decree on economic measures in retaliation for the "unfriendly actions" of the United States and its allies (Kremlin.ru, March 31). Clearly, Poland was punished for its critical military aid to Ukraine, while Bulgaria was warned to refrain from sending any weapons to the embattled East European country.
The latest weaponization of energy by the Kremlin has backfired in Sofia, strengthening instead of weakening the government's resolve to provide military assistance to Kyiv (BNR, April 27). The day after Russia stopped gas supplies, Bulgarian Prime Minister Kiril Petkov reiterated from Kyiv that his government supported donating war materiel to Ukraine (Dariknews.bg, April 28).
The country's internal political landscape, however, is extremely polarized and complicated, which resulted in approving certain military aid to Ukraine but not the direct delivery of weapons and ammunition. This maneuver saved the government from collapsing when the Socialist Party, a staunch supporter of Putin, threatened to drop out of the ruling coalition if the parliament voted for arms deliveries to Ukraine. Nevertheless, Bulgarian arms and ammunition exports are going to continue reaching Ukraine through third-party sales (Capital.bg, May 4).
Poland had all along planned to replace all Russian gas by the end of 2022 with imports from Norway via the Baltic Pipe pipeline and by expanding its liquefied natural gas (LNG) terminal at Świnoujście (see EDM, May 2), Russia's gas cutoff to Bulgaria, on the other hand, caught the East Balkan country less well prepared. Despite earlier government statements that Sofia would not renew its contract with Gazprom at the end of the year, 90 percent of Bulgaria's natural gas imports had heretofore been coming exclusively from Russia. Successive Bulgarian governments have supported ambitious Russian gas pipeline projects in Bulgaria and the Balkans since 2008, initially through the now-defunct South Stream pipeline and then its replacement, TurkStream (News.bg, January 18, 2008; see EDM, December 6, 2018).
TurkStream, which became operational in January 2020, delivers Russian gas to Serbia and Hungary, and these supplies have not been blocked by Gazprom. Sofia said it would not interrupt transit to neighboring countries, regardless of the fact that the pipeline is owned by Bulgaria and built entirely with independent loans and in record time to accommodate Russia's goal to compete with the Southern Gas Corridor from Azerbaijan (see EDM, January 16, 2020).
Bulgaria still receives only minute volumes from the Southern Gas Corridor (SGC) because the trans-border pipeline link between Greece and Bulgaria is not ready. While the Russia-supported TurkStream project was built in just 18 months, it took 18 years for Interconnector Greece–Bulgaria (IGB) to near completion. IGB is the only pipeline designed to deliver alternative, non-Russian gas to Bulgaria in substantial quantities—it has a capacity of three billion cubic meters (bcm) and is expandable to five bcm. Its development finally began in 2009, but construction only started in 2020. Energy experts attribute the extraordinary delays to corruption, mostly generated by Gazprom in order to compete with alternative projects and preserve its dominance in the Balkan energy market. Russian strategic corruption penetrated the political leadership and state energy companies in successive Bulgarian governments (Corruptionbg.com, accessed May 5, 2022).
IGB is now scheduled to be completed by the end of June and become operational in September. Under Sofia's current contract with Azerbaijan's national oil and gas company SOCAR, the link will deliver one bcm of gas from the Trans-Adriatic Pipeline (TAP), part of the SGC. This is only one third of the country's total consumption, but Bulgaria had failed to intake even these small volumes since 2020, when TAP became operational. Imports have been less than a quarter of contracted deliveries in 2021 because IGB has not been ready (Altanalyses.org, December 15, 2021).
Compared to Poland, Bulgaria's gas sector is quite small, and natural gas comprises only 14 percent the energy mix. In fact, Southeastern Europe, as a region, imports less than 10 bcm of Russian gas—as much as Poland imported last year and less that 20 percent of the gas Germany receives from Russia per annum. Nevertheless, Moscow has been able to exert immense economic and political influence in the region because of its monopolistic position.
Bulgaria is unlikely to have difficulties finding extra volumes of natural gas. Azerbaijan is planning to double deliveries through TAP, Greece is expanding its LNG terminal at Revithoussa, and another LNG terminal will be ready next year on the Aegean coast at Alexandropoulos. Bulgaria owns a 20 percent share in that latter terminal. At the same time, the European Union, Greece, Azerbaijan and the US are helping the country secure gas volumes in the short run.
The current energy emergency may also prompt Sofia to complete the expansion of the gas storage facility at Chiren (500 million cubic meters capacity now), a project that has been in the works for several years. Lack of sufficient storage capacity has been a persistent risk, stemming from Russian gas interruptions (see Jamestown.org, December 2018).
Bulgaria will face another challenge if the EU adopts a full embargo on Russian oil. The country's only refinery is owned by Russian Lukoil, and currently uses 50–60 percent Russian crude. A Lukoil representative said that the refinery will stop operations if Russian petroleum is completely banned because, technologically, it needs at least 10 percent supplies of Russian Urals oils (Mediapool, May 4). The refinery provides 70 percent of the gasoline sold in the country. Deputy Prime Minister Assen Vassilev said the Bulgarian government had requested an exemption from a full embargo together with Hungary, Slovakia and Czechia (the Czech Republic) (Capital, May 4).