TurkStream: Triumph or Failure for Russia?
Publication: Eurasia Daily Monitor Volume: 17 Issue: 4
By: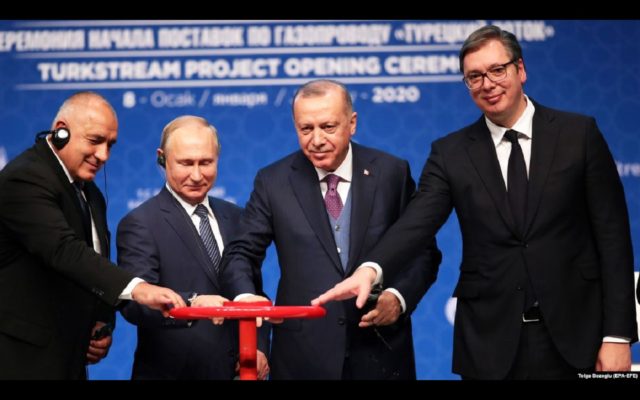 In a grand ceremony in Istanbul, on January 9, Turkish President Recep Tayyip Erdoğan and his Russian counterpart, Vladimir Putin, officially opened the TurkStream natural gas pipeline, running from Russia to Turkey along the Black Sea seabed (TRT World, January 9, 2020). The pipeline is intended to deliver Russian gas to the Turkish market and further to the Balkans and Central Europe, while bypassing Ukraine.
As Moscow expects Bulgaria and Serbia to play a major role in transmitting natural gas from TurkStream to Europe, Serbian President Aleksandar Vučić and Bulgarian Prime Minister Boyko Borisov were present as honorary guests at the ceremony (bTV, January 8, 2020). Bulgaria began receiving Russian gas from TurkStream on January 1, through the new gas transmission point Strandja-2, at the border with Turkey, instead of (as had heretofore been the case) via the Trans-Balkan pipeline coming from Ukraine through Romania (Interfax, January 6, 2020).
However, the fanfares in Istanbul seemed mostly for Turkey rather than Russia. While Erdoğan could be proud of successfully diversifying his country's natural gas supplies, Putin looked far from victorious in his attempt to fully divert Russian gas transit from Ukraine to the two new direct-supply pipelines under the Baltic and Black seas—Nord Stream Two and TurkStream, respectively. The construction of Nord Stream Two was suspended in December 2019, as a result of sanctions by the United States (EurActiv, December 25, 2019); while potential gas deliveries to Europe via TurkStream also remain uncertain, since they will fall under the provisions of the European Union's Gas Directive. Consequently, Moscow was forced to sign a new gas transit contract with Kyiv at the end of 2019 (Meduza, December 22, 2019).
Turkish President Erdoğan, however, appeared triumphant. He stressed that Turkey now has the infrastructure to become an important hub of global energy supply. Sharing the stage with Putin, he switched from TurkStream to praising the Trans-Anatolian Pipeline (TANAP) for Azerbaijani gas to Turkey. The Turkish leader opened TANAP a month earlier, alongside his Azerbaijani counterpart, Ilham Aliyev, whom he again referred to during that ceremony as "my dear brother" (APA, November 30, 2019). With the Russian president standing next to him in Istanbul, Erdoğan stressed that TANAP will soon increase transmission volumes from 16 billion to 31 billion cubic meters per year (bcm/y) of natural gas from Azerbaijan—nearly equal to the annual flows of Russian gas via TurkStream (TRT World, January 9, 2020)
The newest Russian trans–Black Sea gas pipeline starts at the Russkaya compressor station (near Anapa, Krasnodar Krai), which had been built for the purposes of the now-defunct South Stream pipeline project; and TurkStream comes ashore at the receiving terminal at Kiyikoy, Turkey. The pipeline consists of two strings, each with a capacity of 15.75 bcm/y, to a total of 31.5 bcm. The first string, TurkStream One, will bring Russian gas to the western part of Turkey, while the second, TurkStream Two, is planned to deliver gas to the Balkans and further to South and Central Europe. Gazprom considers Greece, Italy, Bulgaria, Serbia and Hungary as potential markets (TASS, January 8, 2020).
TurkStream Two's capacity of 15.75 bcm is only a quarter of the demised 63 bcm South Stream natural gas pipeline, which would have stretched under the Black Sea, from Russia to Bulgaria. This small capacity will not allow Gazprom to flood Central and Eastern Europe with Russian gas, will limit Gazprom's ability to control the markets in Southeastern Europe, and will impede its ability to compete with the Southern Gas Corridor from Azerbaijan and increased liquefied natural gas (LNG) deliveries to Europe.
In addition, the EU may constrain Gazprom from using the full capacity of the on-shore extension of TurkStream Two. According to the EU Gas Directive, half of the pipeline's capacity would have to be reserved for alternative suppliers, such as delivering Azerbaijani gas or LNG. The recent decision by the European Court of Justice on limiting Gazprom's use of the OPAL pipeline in Germany to 50 percent, would serve as a precedent for Bulgaria (see EDM, September 30, 2019).
Despite efforts by Sofia and Belgrade to build the necessary infrastructure for transiting Russian gas to Europe, Gazprom may end up shipping no more than 7.5 bcm/y through the prospective Balkan Gas Hub, a pet project of Bulgarian Prime Minister Boyko Borisov (see EDM, December 6, 2018). Borisov has been unsuccessful in securing an exemption from the EU energy regulations for the Balkan Gas Hub (Bulgarian Analytica, November 30, 2019).
Arguably, TurkStream is set to face the same challenges that led to the demise of the 63 bcm South Stream natural gas pipeline mega-project, which was canceled after Russia refused to comply with EU energy regulations (Bulgaria Analytica, December 6, 2019).
Moscow is now in a hurry to start supplying Russian gas to the Balkans ahead of its competitors and thus lock the local markets to alternative suppliers. Putin is becoming visibly inpatient with Sofia for not completing its part of the project on time. He accused Bulgaria of deliberately delaying the implementation of TurkStream on its territory and warned that Moscow could find alternative routes to sidestep the Eastern Balkan state if needed (Daily Sabah, December 22, 2019).
Considering Putin's criticism and facing staunch opposition to TurkStream by both the EU and the United States, Borisov has undertaken steps to diversify gas supplies to the prospective Balkan Gas Hub. Brussels has already stated that the project would be approved only if Bulgaria can secure gas supplies from three different sources (see EDM, December 6, 2018). Apart from TurkStream, Sofia listed local gas production and the Southern Gas Corridor—a project of strategic interest to the EU.
After a decade of delays, work on the Bulgaria–Greece Interconnector finally commenced in May 2019, and the 182-kilometer cross-border pipeline, designed to deliver Azerbaijani gas to Bulgaria, is expected to become operational this year. Its transportation capacity will be 3 bcm/y, scalable to 5 bcm/y by installing a compressor station in future (NS Energy, accessed January 16, 2020). Sofia is working to increase the contracted volumes of Azerbaijani gas from 1 bcm/y to 3 bcm/y.
Additionally, Bulgaria decided to purchase a 20 percent share in the prospective floating LNG storage and regasification terminal in Alexandropoulos, Greece. The terminal will receive LNG from the US and Qatar (Balkan Insight, January 10). Notably, the decision was made the day after TurkStream was officially inaugurated in Turkey.
Despite its opening ceremony, the TurkStream pipeline's prospects of reaching large European markets remain elusive—for as long as the EU upholds its own energy rules.