Action Plan to End War in Ukraine Charted at Berlin Meeting (Part Two)
Publication: Eurasia Daily Monitor Volume: 12 Issue: 158
By: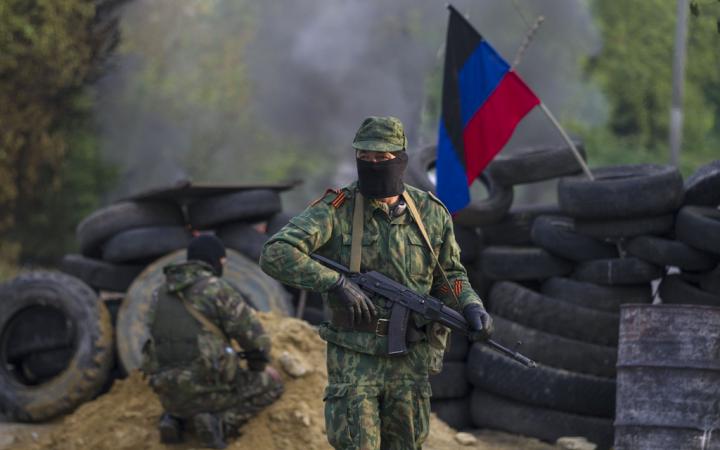 On August 24, German Chancellor Angela Merkel called together a unique meeting, in Berlin, of the "Normandy" format minus Russia (though essentially in consensus with Moscow). Merkel, along with French President François Hollande and Ukrainian President Petro Poroshenko, outlined a series of steps that need to be taken to resolve the Ukraine conflict, on terms acceptable to the Kremlin, prior to the December 31 deadline imposed by the Minsk Two accord (see EDM, September 2).
The German and French readouts of the meeting, first of all, call on both sides to adhere to a full, verifiable ceasefire. Second, they propose a pull-back of light artillery and tanks to a depth of 15 kilometers on each side of the demarcation line. Third, they demand the end to Russian/proxy forces' harassment of the monitoring mission of the Organization for Security and Cooperation in Europe (OSCE) (see Part One).
The fourth step listed in the German and French readouts of the Berlin meeting specified the need to resolve the status of the Russian-controlled Ukrainian territory in Donetsk-Luhansk. Russia has been adamant that, regarding this matter, Kyiv must reach "mutually acceptable solutions" with Donetsk-Luhansk (see Part One). Ukraine has, until quite recently, refused to turn its constitution into an object of bargaining with Moscow and Donetsk-Luhansk (Interfax, Ukrinform, August 21; RFE/RL, August 22). But in an August 29 triangular phone call, Putin again told Merkel and Hollande that the relevant constitutional and legislative amendments need to be agreed upon between Kyiv and Donetsk-Luhansk (Kremlin.ru, August 29).
On August 31, the Verkhovna Rada (Ukrainian national parliament) passed the constitutional amendment on the Russian-controlled territory's self-administration in the first reading (Ukrinform, August 31, September 1). Whether Kyiv's "unilateral" enactment would satisfy Moscow, in content and procedure, seems far from certain. Moscow may well encourage Donetsk and Luhansk to insist on a negotiated, "mutually acceptable" constitutional status. This is, almost certainly, the main part of those persisting "differences" to which Merkel alluded in her August 24 readout of the Berlin meeting (see Part One).
The fifth step refers to holding elections in the Russian-controlled Donetsk-Luhansk: Local elections there would go hand in hand with that territory's constitutional status in Ukraine (currently in the process of being enacted as "self-administration"). To exercise that status, the authorities in Donetsk-Luhansk must be deemed legitimately elected, in conformance with OSCE standards, as part of Ukraine's country-wide local elections scheduled for October 25.
Moscow, Berlin and Paris in the Normandy group, as well as Washington and the OSCE, all follow this legalistic approach. Politically, however, Russia would recognize the outcome of elections in that territory regardless of any standards. Ukraine's Western partners suggest that such elections could be validated if the OSCE's Office of Democratic Institutions and Human Rights (ODIHR) assists with preparing those elections, monitors them, and determines that they complied with the OSCE's standards.
Ukraine has, all along, argued that no valid elections would be possible under the rule of the Donetsk and Luhansk "people's republics" ("DPR-LPR"), under Russian military occupation, and with mass-scale population displacements. Such elections could only be, in Kyiv's words, "fake elections." President Poroshenko and the governing coalition have said this many times. They now feel compelled, however, to retreat from that position under external pressure. Having yielded on the constitutional status, Kyiv must now advance from A to B and accept even "fake elections" in the Russian-controlled territory.
Under the Minsk armistice, elections in that territory are to be held under Ukrainian law. But, under that same document, the "modalities" of those elections (i.e., the ground rules and actual practices) are subject to negotiation between Kyiv and Donetsk-Luhansk for "mutually acceptable solutions." That means something other than Ukrainian law. Following the August 24 Berlin meeting, the Minsk working group has jump-started negotiations between Kyiv and Donetsk-Luhansk on those "election modalities." In her annual end-of-summer press conference (August 31), Chancellor Merkel stated that Ukraine's parliament should "formulate Ukraine's electoral law in such a way that the separatists [sic] could accept it" (Bundeskanzlerin.de, August 31).
Russia and the "DPR-LPR" are heavily invested in staging those local elections. They need, therefore, to halt their military actions at least temporarily, in order for the elections to proceed. It is equally in the interest of Moscow and Donetsk-Luhansk to allow the OSCE to verify their compliance with the ceasefire. They would not be able to stage their elections unless the OSCE's monitoring mission confirms that the ceasefire holds, at least for the duration.
Taking all those factors into account, the political settlement is developing in Russia's favor, and fast. The key dates are drawing close: local elections on October 25; the Verhkovna Rada's second reading of the constitutional amendment and its court review in late November and early December; the deadline for Ukraine's political compliance with the Minsk armistice by December 31. While the process advances in Russia's favor, at this accelerated tempo, and under external prodding of Kyiv as has recently been the case, Moscow has no reason to re-start hostilities. It is now reaping the political fruits of previous military operations and its capacity to conduct attrition warfare against Ukraine as long as necessary, below the threshold that could provoke new economic sanctions from an already sanctions-fatigued Europe.