Aggravated Situation Around Azerbaijan's Nakhchivan Exclave
Publication: Eurasia Daily Monitor Volume: 15 Issue: 85
By: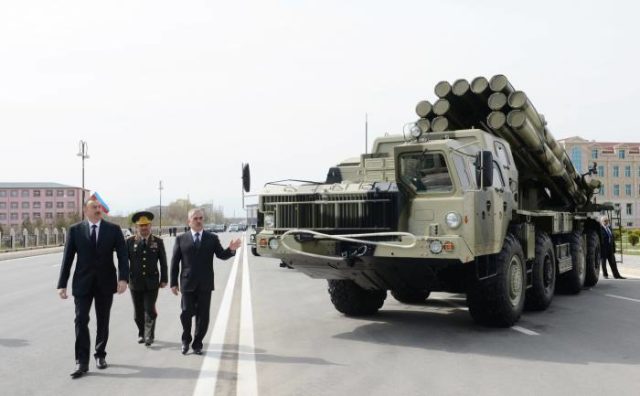 An Azerbaijani soldier stationed in the country's large western exclave of Nakhchivan was killed, on May 20, during a combat mission while suppressing enemy provocations coming across the border from Armenia. The incident came only two days after a visit by Armenia's defense and foreign ministers to military bases located near the Azerbaijani-Armenian border around Nakhchivan (Mod.gov.az, May 20). The Armenian Ministry of Defense justified the clashes by noting that the Azerbaijani military had been carrying out engineering works on this border to advance their positions (1in.am, May 21). But Azerbaijan's defense ministry rejected those statements, alleging that Yerevan was trying to conceal the Armenian provocations (Defence.az, May 21). In fact, the engineering works carried out by Nakhchivan-based army forces proceeded according to seasonal plans for improving local defensive lines and fortifications (Azertag.az, May 24). According to Edik Baghdasaryan, the editor-in-chief of the Armenian online news platform Hetq, "In a neutral sector, the Azerbaijanis were able to move their positions forward and take control of huge territories" close to Armenian positions (Eadaily.com, May 26). To date, Baku has neither confirmed nor denied those allegations.
The Nakhchivan Autonomous Republic (NAR), which shares an 11-kilometer border with Turkey and a 246-kilometer frontier with Armenia, was separated from mainland Azerbaijan when the historical Zengezur (now Syunik) province was granted to Armenia soon after World War One; under the Treaty of Kars (1921) the autonomous territory came under Azerbaijani protection (Azerbaijan.az, accessed on May 26). In more recent decades, Turkey developed military ties with the NAR through joint military exercises and consultations to ensure the immediate survival of the isolated Azerbaijani exclave (see EDM, October 26, 2017). Yet, Armenia's historical irredentist claims towards Nakhchivan have never ceased (see EDM, August 3, 2017; 1in.am, May 21, 2018).
The Spokesperson for Azerbijan's Ministry of Foreign Affairs, Hikmet Hajiyev, declared last month that Armenian Foreign Minister Zohrab Mnatsakanyan's recent visit to Azerbaijan's occupied territories and the border with Nakhchivan encourages tensions (Trend, May 20). The new prime minister of Armenia, Nikol Pashinyan, who was elected as a result of the so-called "Velvet Revolution" in Yerevan, has taken a much more hardline position toward the conflict settlement process with Baku (see EDM, May 10, 15), which many Azerbaijani experts believe will make constructive dialogue and positive progress difficult going forward (Armiya.az, May 14). Earlier, in response to Pashinyan's statements, Azerbaijani Defense Minister Zakir Hasanov noted that "the Azerbaijani Army is fully prepared for large-scale combat operations" and is monitoring Armenia's frontline activities, ready to prevent any possible provocations (Mod.gov.az, May 12).
Azerbaijan's President Ilham Aliyev established the Nakhchivan-based Combined Army on the basis of the 5th Army Corps, in 2013, in order to strengthen the NAR's defense/combat capacity (Apa.az, December 20, 2013). The Combined Army in the NAR includes mechanized, infantry, special operations, intelligence, mountain infantry, tank, rocket-artillery, air-defense, communications and aviation squadron units (Mod.gov.az, October 18, 2017; Azeridefence.com, October 19, 2017). Nakhchivan has long been a relatively stable frontline between Azerbaijan and Armenia; but Yerevan fears it could become a second offensive direction for an Azerbaijani attack. Nakhchivan's strategic position west of Armenia potentially enables Baku to shift the focus of Armenian troops from the Karabakh front to another theater in case of a resumption of large-scale war; and this tactic could change the balance in Azerbaijan's favor (Bellingcat.com, October 4, 2017). On May 16, during his visit to the NAR, President Aliyev declared that local military forces in Nakhchivan are equipped with the latest weapons and equipment; this, combined with the exclave's distinct geographical location, will enable the NAR's forces to successfully and accurately counter-attack the enemy (President.az, May 16). Shortly before the president's visit, the Combined Army had conducted tactical artillery exercises simulating firing tasks to repel sudden attacks by enemy units and restore favorable defensive positions (Mod.gov.az, May 15).
The NAR's strategic posture has hitherto been consolidated through regular local and joint (with Turkey's 3rd Army Corps) training and exercises aimed at boosting the Combined Army's operational/tactical and combat capabilities (Mod.gov.az, accessed on May 26). Nakhchivan's military arsenal features almost all air- and ground-based assets that Azerbaijan has for years been purchasing from abroad (Mod.gov.az, May 16, 2018; October 18, 2017). Specifically, the NAR forces field around 400 armored vehicles, aircraft, air-defense systems and artillery, as well as 20,000 on-duty soldiers under autonomous command, ready to react to a developing security threat. Moreover, Nakhchivan is only 60–70 kilometers away from Yerevan, which means Azerbaijan's artillery here can target the Armenian capital (EurasiaNet, August 10, 2017). Also within range of NAR artillery are Armenian military camps in Azerbaijan's occupied territories, roads linking these territories to Armenia, as well as S-300PS air-defense systems (deployed in Goris) that protect Armenian forces in Karabakh (Azeridefence.com, October 19, 2017; Bellingcat.com, October 4, 2017).
After President Aliyev's Nakhchivan visit and Prime Minister Pashinyan's trip to Sochi, Russia, a Kasta-2-1 radar station (used for air-defense systems and rapid reaction forces) was deployed to the Russian military base in Gyumri, Armenia (Tvzvezda.ru, May 18). Afterwards, Armenian media reported that Armenia soon will receive the Russian Tor air-defense system (1in.am, May 22), believed to be a counterweight against the country's strategic vulnerability from military forces stationed in Nakhchivan. However, the operational capability of the Tor system to promptly intercept and destroy rockets launched from Azerbaijan's Smerch, Lynx/Extra or Grad missile launchers deployed in Nakhchivan is questionable. Notably, the Tor anti-aircraft batteries are not designed to combat artillery missiles (Istiglal.com, May 22).
Since Nakhchivan (unlike the Karabakh front) forms part of Azerbaijan's internationally recognized border with Armenia, responding to hostilities here would fall under the responsibility of the Collective Security Treaty Organization (CSTO) and the Russian-Armenian Joint Forces (RAJF) (Yerkramas.org, May 19). The RAJF includes Armenia's 5th Army Corps and Russia's 102nd Military Base in Gyumri. In peacetime it is subordinated to Armenian military structures; while in wartime, Russia will take over the command (see EDM, November 30, 2016). The current secretary general of the CSTO, Yuri Khachaturov (former Armenian chief of the General Staff), recently visited Yerevan to talk with Prime Minister Pashinyan (News.az, May 24; Armiya.az, May 21). And in May 2017, RAJF commander Andranik Makaryan (former commander of Armenia's 4th Army Corps, protecting the Armenian frontier with Nakhchivan) noted that if Armenian borders, including with Nakhchivan, are threatened, the joint forces will be obligated to stand against the enemy (Aysor.am, May 6, 2017; Mid.ru, November 30, 2016). Yerevan's heightened provocations along the border with the NAR in recent weeks are surely in part driven by these calculations.