Agitation Over Obama's Visit Betrays the Kremlin's Nervousness
Publication: Eurasia Daily Monitor Volume: 6 Issue: 128
By: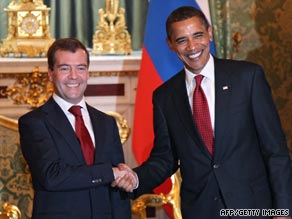 U.S. President Barack Obama's visit to Moscow which started a few hours ago as Air Force One landed in Vnukovo was awaited with such anxiety and generated so much commentary in the Russian media, as if it could miraculously bring the economic crisis to an end. Aides to President Dmitry Medvedev tried simultaneously to spin the importance of the visit and to lower expectations, and the special entry in Medvedev's – rather pedestrian – blog emphasized the need to break the trend towards the deterioration of bilateral relations that had "declined to a level practically on a par with the Cold War era" (www.newsru.com, July 2). In the mainstream commentary and in the greater part of public opinion, the blame for such deterioration is put squarely on the U.S., so the expectations are centered on Obama who has – as the Russians believe – to take practical steps in order to substantiate his well-expressed intention to push the proverbial "reset button" (www.gazeta.ru, July 2).
This self-righteous attitude should have put the Kremlin in the psychologically comfortable position of receiving offers and concessions from its counterpart, but in fact there is a great deal of nervousness in Medvedev's team. This is partly related to the obvious desire to move fast with a deal on strategic arsenals, while the president has neither the experience nor any particular interest in matters of nuclear deterrence. It is not just petty technicalities, like the optimal ceilings for warheads and delivery vehicles that need to be ironed out, but also the fundamental propositions that stand in the way of a new treaty, such as the linkage of reductions in offensive weapons with the non-deployment of U.S. defensive weapon systems in Poland and the Czech Republic – Medvedev is worried about making an amateurish blunder (Kommersant, July 3; Vremya Novostei, July 2). Many commentators, however, point out that the centrality of arms control, which in essence belongs to the Brezhnev-Nixon era, shows the lack of a positive agenda relating to current pivotal issues (Vedomosti, July 3; RIA-Novosti, June 30).
U.S.-Russian relations are indeed lacking a solid foundation of economic ties as the volume of trade and investment remains unimpressive and shrinking. Obama is plainly uninterested in discussing Medvedev's ideas about replacing the U.S. dollar as the universal reserve currency with other financial instruments, and probably would not want to be reminded about Russia's irrelevance in the global anti-crisis debates. One embarrassing issue for the U.S. president is the unfinished business of canceling the Jackson-Vanik amendment that remains a symbol of political exploitation of economic stimuli, rather than an obstacle for developing commercial ties (Vremya Novostei, July 3). A key element of the economic package that had been prepared for the summit by U.S. experts was the final arrangements for Russia's accession to the World Trade Organization (WTO), but this question suddenly disappeared as Moscow opted for a collective entry with Belarus and Kazakhstan (members of the yet-to-be-operationalized customs union), which in essence means an indefinite postponement of the claim. One of the promising topics for cooperation might be energy efficiency, which Medvedev has recently prioritized as a key direction of modernization, but it cannot qualify as a "strategic" breakthrough (Kommersant, June 19).
In the absence of an economic agenda, it is a very particular "ideology" of Obama's visit that triggers the most passionate debates and constitutes a major headache for the Kremlin. The meaning of "reset" for the Russian political establishment boils down to abandoning the pointless discussions about values and human rights and focusing on really important matters of pragmatically defined interests. The liberal camp, divided and marginalized as it is, on the contrary expects that Obama will re-launch the campaign for promoting democracy that had been seriously compromised by George W. Bush (Nezavisimaya Gazeta, July 3). Russian policy-makers assume that Washington is facing risks stemming from two unwinnable wars at a time of protracted recession, which is mostly of its own making, and so has to concentrate on tangible issues like transit to Afghanistan or military-to-military contacts. They may have little understanding of the political phenomenon of Obama's leadership, but they still suspect that there is more to this U.S. president than horse-trading in the best tradition of realpolitik and therefore Medvedev and Putin are bracing for surprises (Novaya Gazeta, July 3).
What has already shaken the Russian elites is that Obama has resolutely dismissed all the peculiar balances that underpin the division of authority between Medvedev and Putin in the so-called "tandem" arrangement. He acknowledged that the prime minister "still has a lot of sway" in Russian politics and therefore scheduled a 90 minute working breakfast with him and his aides. That however is minute compared with the 8-9 hours of talks with Medvedev, a good part of which was planned in the one-on-one format. As if that is not enough to show the difference, Obama also mentioned in a recent interview that "Putin has one foot in the old ways of doing business and one foot in the new" (Moskovsky Komsomolets, July 3). Putin was so astounded by that remark that he found no better way of responding than to assert that "Russia is always standing firm on both feet and looks into the future," which may or may not be true – but this national characteristic has little to do with his own posture. According to some observers, the Medvedev team is very worried that Putin will find a way to demonstrate his displeasure (Ezhednevny Zhurnal, July 3).
Personal chemistry certainly matters in international relations, and with Putin it matters a lot, but Obama is aiming at more than just exploiting the differences in the odd duumvirate that currently rules Russia's enormous bureaucratic pyramid. He understands perfectly well that anti-Americanism is an essential part of Putin's policy and not just style, while Medvedev's priority on innovation and modernization requires a functioning partnership with the U.S. (Vedomosti, July 2). Unlike most European leaders, Obama will hardly have difficulties mentioning the name "Khodorkovsky," and that leaves Medvedev with a question more serious than finding a perfect number for warheads – how to bring closure to the embarrassing trial that holds him hostage to Putin's autarchy.