Nine Chechen Policemen Killed in Rebel Ambush
Publication: Eurasia Daily Monitor Volume: 6 Issue: 128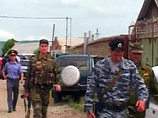 In one of their deadliest recent attacks, rebels in Ingushetia on July 4 ambushed a convoy of Chechen policemen in a wooded area on the road between the villages of Chemulga and Arshty in the republic's Sunzha district, killing nine policemen and wounding ten others.
Agence France-Presse quoted an Ingush security source as saying that 45 members of Chechnya's police force were returning from a joint special counter-insurgency operation with Ingush police near Ingushetia's administrative border with Chechnya when their six-vehicle convoy came under fire. One of the vehicles reportedly burst into flames in what an Ingush security source told RIA Novosti appears to have been a "well-planned ambush" in which militants fired from at least three different points with machine guns and grenade launchers. Newsru.com reported that all of the victims were members of the police department in Chechnya's Achkhoi-Martan district. The head of the administration of the village of Arshty was also travelling in the convoy but was not hurt in the attack (AFP, RIA Novosti, www.newru.com, July 4).
Chechen President Ramzan Kadyrov vowed that the rebels involved in the attack would be killed in the same woods from which they launched the ambush. "I officially state that those involved in this crime will meet their death in those woods," he told a meeting of commanders of units involved in special counter-insurgency operations along the Chechen-Ingush administrative border. The meeting, which Chechen Interior Minister Ruslan Alkhanov also attended, was held in the village of Arshty. Kadyrov said the slain policemen "heroically died" in an operation to "liquidate terrorists" in order to ensure that "two peoples – Chechen and Ingush – live in peace." The Chechen leader conveyed his condolences to the relatives and friends of those killed. Alkhanov likewise vowed that the attack would not go unpunished and that all efforts would be made to find and destroy "the bandits." Ingushetia's acting president, Rashid Gaisanov, offered his condolences to the families of the slain Chechen policemen and to Kadyrov personally (www.newsru.com, July 4).
Interfax on July 5 quoted a source in Ingushetia's interior ministry as saying that a group of 20 militants involved in the ambush had been blockaded near the village of Bamut in Chechnya, located on the Chechen-Ingush administrative border, and that security forces were firing mortars at the trapped rebels (Interfax, July 5). Two Chechen policeman taking part in the operation targeting the blockaded militants were injured late on July 5 by a landmine in Ingushetia's Sunzha district (RIA Novosti, July 6).
The July 4 ambush in Ingushetia was only one of several violent incidents in the republic that day. Unidentified gunmen in Nazran's Plievo municipal district fired on the car of a police captain, Vakha Aushev, wounding him. In a separate attack earlier in the day, unidentified gunmen in the Gamurzievo municipal district of the city of Nazran fired on the home of a police officer. No one was hurt in the attack. Meanwhile, an officer from Ingushetia's OMON special purpose police unit was seriously wounded when gunmen fired on a police post in Ingushetia's Nazran district on July 3. On July 2, two policemen were wounded in a shootout in Nazran district in which a suspected rebel was killed. One of the wounded policemen later died in the hospital. On July 1, a policeman was killed when his car came under fired in the city of Karabulak. Earlier that day, unidentified gunmen fired machine guns and grenade launchers at the home of an Ingush policeman (www.kavkaz-uzel, July 4).
As the Kavkazsky Uzel website noted, attacks are occurring constantly in Ingushetia despite the ongoing large-scale joint counter-insurgency operation along the Chechen-Ingush administrative border. According to the website, Ingushetia remains the most unstable republic in the North Caucasus, with 58 attacks on military servicemen and police that killed 37 and wounded 79 during the first half of this year. In addition, 39 civilians were killed in Ingushetia in the first half of 2008, while another ten were abducted, four of whom were subsequently found dead (www.kavkaz-uzel, July 4).
There have been multiple attacks on law-enforcement personnel and military servicemen in other parts of the North Caucasus over the last several days. A police officer was wounded when gunmen in Khasavyurt, Dagestan, fired on policemen guarding the home of the head of the Khasavyurt city police department, Shamsutdin Khalitov. On July 3, three policemen were wounded when a remote-controlled roadside bomb went off in Khasavyurt. On July 2, two bombs detonated on a railway in Dagestan's Karabudakhkentsky district. A bomb disposal expert was killed in one of the blasts (www.kavkaz-uzel.ru, July 4).
A Russian serviceman was wounded when suspected militants fired at a Mi-8 helicopter from a forest in Chechnya's Shatoi district on July 5 (RIA Novosti, July 6). On July 3, a Russian military officer and a soldier were killed in separate attacks in Chechnya. AFP quoted a local police sources as saying that a lieutenant colonel with Russian interior ministry troops was killed and two soldiers with him wounded by a remote-controlled bomb that had been placed in a trash bin in Chechnya's Urus Martan district. Another soldier was killed and three others wounded in separate explosions in the same district (AFP, July 3).
Chechnya's interior ministry reported on July 2 that suspected militant Said-Selim Abdulkadyrov was killed in a private house in the village of Staraya Sunzha near Grozny in a shootout with security forces after he and a female accomplice refused to surrender. The woman was reportedly wounded and captured. Chechen Interior Minister Ruslan Alkhanov claimed that an Arab "mercenary" named Mukhanad, who is a leader and financier of rebel groups in Chechnya, had instructed Abdulkadyrov to assassinate Ramzan Kadyrov at a public square in Grozny while the Chechen president was making a public appearance (AP, July 2; RIA Novosti, July 3).