Al-Qaeda Issues Call for Revenge Against Nordic Countries Following Quran Burnings
Publication: Terrorism Monitor Volume: 21 Issue: 18
By: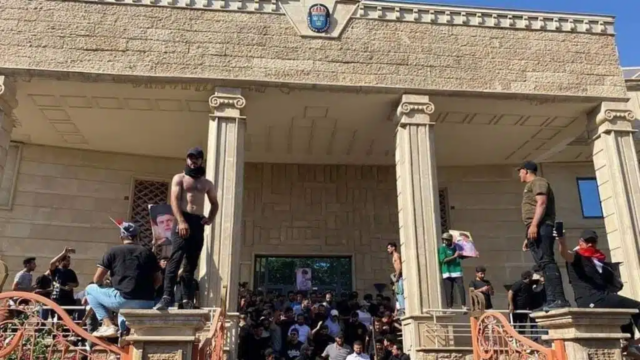 On August 13, al-Qaeda's Al-Sahab Media issued a call on a Telegram channel for Muslims to "take revenge" on Denmark and Sweden for Quran-burning protests, which had been carried out for several months in both countries. The announcement was ominously titled, "The obligation to attack the aggressive peoples," and the three-page document they posted stated that: "Denmark and Sweden are two small, despicable countries that amount to no more than two small spots on the world map." The statement closed with threats that the "Quran burnings in Sweden and Denmark are a coordinated attack by the countries' populations and governments—which have learned nothing from Charlie Hebdo … People of Islam in Sweden, Denmark, and all of Europe, the duty of revenge is placed upon you (SITE, August 13).
With the call for attacks against Sweden and Denmark's interests and their diplomats, al-Qaeda is attempting to tap into a well-known theme that it has used previously to mobilize supporters: the extremely emotionally charged issue of behavior deemed disrespectful towards the Prophet Mohammad and the Quran. Al-Sahab's exhortation was the most direct call from a jihadist to carry out terror attacks against Denmark since the Jyllands-Posten Muhammad cartoons controversy in 2005; said event resulted in protests, violent clashes, and eventually terrorist attacks (Reuters, November 2, 2020). These violent attacks included an assassination plot and subsequent attempt on the life of the Danish cartoonist Kurt Westergaard in 2008 and 2010, respectively; an al-Qaeda suicide bombing against the Danish embassy in Pakistan in 2008; and a foiled Mumbai-style attack in Copenhagen in 2010 against Jyllands-Posten itself, which published the cartoons.
In addition, in February 2015, Omar Abdel Hamid El-Hussein attacked two locations in Copenhagen. His primary target was a small afternoon public event called "Art, Blasphemy, and Freedom of Expression" at the Krudttønden cultural center, where he killed one civilian who tried to stop him and wounded three police officers. The main objective, however, was the Swedish artist Lars Vilks, who in 2007 had caused yet another controversy after he depicted the Prophet Muhammad as a roundabout dog (a form of street art) (The Local, February 16, 2015). The threats eventually materialized in Denmark within three years of the publication of the cartoons, which points to a time delay between propagandist threats and jihadists acting upon them.
France in the Crosshairs
The terrorist campaign against individuals deemed to have disrespected the Prophet Mohammed culminated in the January 2015 attack against the French magazine Charlie Hebdo, which left 12 people dead and 11 injured (France24, January 16, 2015). The satirical magazine had published its own set of Prophet Mohammed caricatures in 2012. The attackers, brothers Saïd and Chérif Kouachi, identified themselves as belonging to al-Qaeda in the Arabian Peninsula (AQAP), which also claimed responsibility for their attack on Charlie Hebdo. A close friend of the Kouachi brothers, Amedy Coulibaly, conducted follow-up shooting attacks and pledged his allegiance to al-Qaeda's rival, IS. This pointed to the rise of IS, to the detriment of al-Qaeda.
After the Charlie Hebdo attack, France was targeted by several smaller terrorist attacks, where the perpetrators claimed to have acted in revenge for the Charlie Hebdo cartoons or for other instances of disrespect towards the Prophet Muhammed. France was, for example, shocked in 2020 by the murder of secondary teacher Samuel Paty. He had shown some of his teenage students a caricature of Prophet Muhammad from Charlie Hebdo during a class discussion about freedom of speech (France24, October 15, 2021).
Scandinavian Troubles
The current controversy over Quran burnings in Sweden started with Salwan Momika. He is alleged to be a former head of a Christian militia within the Imam Ali Brigades, which itself is an Iraqi militia with close ties to Iran. He is also a 37-year-old Christian-turned-atheist Iraqi refugee in Sweden, who burned pages of a Quran in front of Stockholm's largest mosque on June 28, during the Eid al-Adha festival. This was followed by subsequent acts that can be seen as disrespectful—but not illegal, under Swedish law—towards the Quran. However, before al-Qaeda's Al-Sahab Media issued its threat, the controversy had already provoked violence in Iraq. Supporters of the influential Shia theologian and political leader Muqtada al-Sadr called Sweden "hostile to Islam" and demanded the burning of the Swedish embassy. Hundreds of Iraqis stormed the embassy in Baghdad on June 29 and again on July 20, setting fire to it (Aftonbladet, July 20). A few days later, Hezbollah's leader, Hassan Nasrallah, weighed in by calling for Muslim countries to cut ties with Sweden over the desecration of the Quran (Tasnim News Agency, July 23).
It is also noteworthy that already in June—several weeks before its parent organization—al-Qaeda in the Indian Subcontinent (AQIS) called for the beheading of those who insult Islam. The organization then specifically accused Sweden, Europe, and the United States of a "Continuing Crusade and War on Islam" (MEMRI, July 3). It remains to be seen if al-Qaeda in its current state still possesses the mobilizing power to actually inspire attacks against Sweden and Denmark. However, the fact that both of these countries and their Nordic neighbors, Norway and Finland, have had sizeable resident jihadist networks that have previously mobilized hundreds of local IS-sympathizers to join IS must be worrying to the leaders of all four states. This further suggests that Nordic IS-sympathizers and their al-Qaeda-aligned colleagues are united on the issue of Quran burnings. Sweden alone is assessed to have a salafi-jihadist underground of up to 2,000 individuals; this includes around 150 returnees who left Sweden to join IS, but have since returned (Studies in Conflict and Terrorism, July 31, 2022).
Conclusion
While Denmark, Norway, and Finland have not yet raised their national threat levels, the Swedish Security Police (SÄPO) did so on August 17, increasing it to the second highest level (SVT, August 17). Within Europe, the potential epicenter of Jihadist terrorism seems to have moved geographically to the Nordic countries, for the time being. Danish security and intelligence services have a history of successful counter-terrorism operations and prosecutions.
However, the situation is more difficult for its larger neighbor. Sweden witnessed its first successful jihadist terrorist attack in April 2017, when a hijacked truck was deliberately driven into crowds in Stockholm, killing five people (Expressen, April 8, 2017). Despite this, Sweden struggles with its jihadist caseload—as do other Nordic countries. For Sweden, the latest controversy (besides the implications for a heightened terrorist threat) comes at a most inopportune moment, as the country is still waiting to be accepted as a full member in NATO. The Swedish state has condemned the burnings of Qurans as Islamophobia, but the controversy has irked Turkey, which now adds Islamophobia to its list of complaints, beyond the accusation that Sweden has been harboring Kurdish PKK terrorists (Al-Arabiya News, June 26; see also TM, February 2).
Besides this, Sweden is struggling with gang violence and tensions within the Eritrean community in the country, which led to clashes in August in Järva (Politico, August 16; SVT, August 6). Amid these problems, the intensified threat from jihadism will only further strain Swedish security capabilities.