Al-Shabaab Threatens Ethiopian Security Ahead of ATMIS Withdrawal from Somalia
Publication: Terrorism Monitor Volume: 21 Issue: 18
By: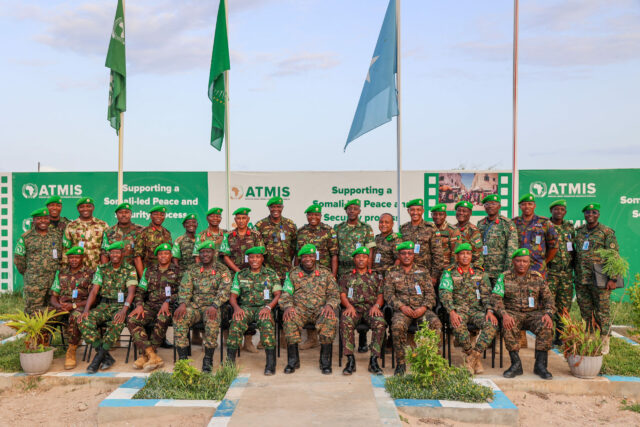 Al-Shabaab is increasingly threatening Ethiopia amid the escalating conflict between its militants and Ethiopian and other foreign troops in Somalia (The Reporter, July 1). With the African Union Transition Mission in Somalia (ATMIS) set to fully withdraw from Somalia by the end of 2024, it is likely that al-Shabaab will continue to intensify its current offensive to gain more control over Somali territory. This could draw neighboring Ethiopia into a protracted conflict in the coming years—on both sides of its border with Somalia.
Al-Shabaab's Anti-Ethiopian Sentiment
Al-Shabaab's grievances with Ethiopia primarily stem from the latter's 2006-2009 occupation of Somalia, during which time the Mogadishu-based Islamic Courts Union (ICU) was overthrown. Having initially risen to prominence alongside the ICU, al-Shabaab's power has grown substantially in the years since this initial occupation, with the group now controlling much of Somalia's fertile southern countryside (The East African, January 17). Ethiopia, meanwhile, participated in the African Union Mission in Somalia (AMISOM) that lasted between 2007 and 2022. Likewise, as previously stated, Addis Ababa is a key contributor to the African Transition Mission in Somalia (ATMIS), which succeeded AMISOM in April 2022 (ATMIS, August 12).
Ethiopia's role in the nearly two-decade-long military occupation of Somalia has made it a longstanding target of al-Shabaab, and the intensity of the group's animosity against Ethiopia appears to be on the rise (Voice of Nigeria, June 8). Al-Shabaab and the broader al-Qaeda network—of which al-Shabaab is its wealthiest and most capable branch—have mentioned Ethiopia multiple times in their propaganda literature in recent months. For example, a June 19 statement from al-Qaeda's General Command called on "the people of Islam as a whole to stand with their mujahideen brothers in the Mujahideen Youth Movement (al-Shabaab) in Somalia … to hold Ethiopia accountable for their blatant transgressions." This was in response to the recent destruction of mosques in Ethiopia (al-Qaeda General Command, June 19). Further, a May 19 fatwa by al-Shabaab scholars called on "the Muslims of East Africa to rise up in support of their religion, to defend their lands, and to [repel the invading forces of] the Ansar of Abyssinia [Ethiopians] and the rest of the infidels and apostates." Finally, al-Shabaab released a pamphlet on March 10, entitled: "The Only Way of Salvation for Muslims in Ethiopia: The Shari'ah System" (Harakat al-Shabaab, March 10).
Although most such statements are written in Arabic, the latter of these was published in English—Ethiopia's most broadly spoken language—in a likely attempt to sow dissent within the country. This came amid ongoing efforts by al-Shabaab to radicalize and recruit Ethiopians into its ranks (Ethiopia Insight, June 23). Al-Shabaab has also targeted other groups in East Africa by using social media accounts in a wide range of languages, including Swahili and Arabic.
Tensions Mount in Somalia and on Ethiopia's border
ATMIS withdrew 2,000 of its 22,000 troops from Somalia in June, and plans to pull out another 3,000 in September before withdrawing completely by December 31, 2024 (Africa News, June 27). Although the official role of ATMIS is to stabilize the troubled East African country while transferring the responsibility of security to the Federal Government of Somalia (FGS), al-Shabaab violence has been rising steadily; 2022 was the deadliest year in the country since 2018 (The East African, March 6, 2022; ACLED, March 3). For this reason, one Somali official noted that it would be difficult for FGS forces to secure areas vacated by ATMIS and referred to the planned withdrawal as "hasty" and "ill conceived" (All Africa, July 4).
On March 2, Ethiopia agreed to send an additional 1,000 soldiers outside its role in ATMIS, while Kenya and Djibouti agreed to commit additional forces (Garowe Online, March 2). This came as al-Shabaab focused more of its attacks on foreign forces—including Ethiopian troops—rather than those of the FGS. Attacks on ATMIS personnel rose roughly proportionally to the decline in violence against FGS forces between August 2022 and June 2023 (ACLED, June 30).
Al-Shabaab has also focused heavily on the Ethiopian border over the past year. On June 8, Ethiopian forces thwarted an al-Shabaab attack on the border town of Dolo, reportedly eliminating would-be suicide bombers and destroying al-Shabaab weapons in the fighting (Africa News, June 8). Although al-Shabaab was able to carry out two successful attacks on an Ethiopian military installation in the neighboring Somali border town of Doolow, the resulting casualties of these attacks remain unknown because Ethiopia designates all military operations in Somalia as "top secret" (Garowe Online, June 7). In August, al-Shabaab launched a series of unsuccessful attacks on the Ethiopian border. Ethiopian authorities claim that over 800 combatants were killed over several days of heavy fighting, including senior commander Fuad Muhammad Khalaf, on whose head the United States had placed a $5 million bounty (Sudan Tribune, August 7).
Conclusion
Ethiopia's longstanding history as an occupying force in Somalia—coupled with its commitment to providing further troops outside its role in ATMIS—make it a likely target for al-Shabaab moving forward (Ethiopia Insight, September 9, 2022). This is because al-Shabaab understands that, after more than a decade and a half of foreign military intervention, its most powerful neighbor will likely be a key obstacle to overcome in its efforts to gain control of Somalia. The ability of the FGS to control Somali territory after the scheduled ATMIS withdrawal remains questionable, and al-Shabaab has shown itself capable of maintaining a vast and well-equipped force that has been resilient in the face of numerous setbacks (Militant Wire, December 14, 2022).
Moreover, Ethiopia's vast border region with Somalia is predominantly inhabited by Somali or Oromo Muslims, who have a longstanding history of separatist sentiment. These factors make it possible that Ethiopia will face a protracted conflict with al-Shabaab in the coming months and years. Should this occur, al-Shabaab has shown itself willing to exploit every possible opportunity to undermine Ethiopian security, including fomenting dissent from within Ethiopia, which itself is highly prone to internal strife and civil unrest (Addis Standard, June 14).