Two Years on, State of Pakistani Security Continues to Deteriorate After Taliban Seizure of Afghanistan
Publication: Terrorism Monitor Volume: 21 Issue: 18
By: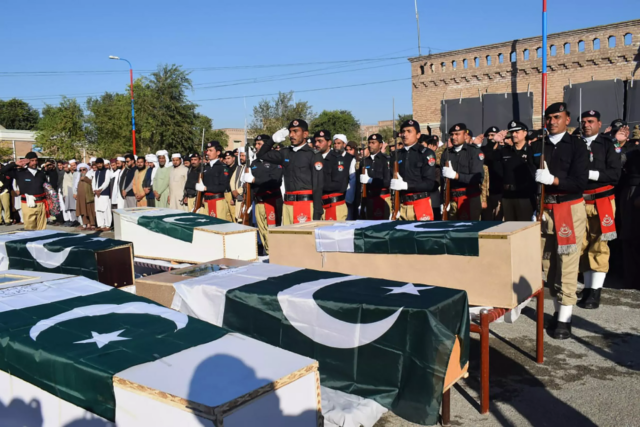 The Baloch separatist insurgency in Pakistan's southwestern Balochistan province has been taking on more dangerous features since the Taliban's takeover of Kabul in August 2021. Separatist violence has dramatically increased, with women carrying out suicide bombings (see TM, May 20, 2022; MLM, August 5, 2022) as the Pakistani army struggles to combat the two-decade-long insurgency, which is often downplayed as a low-intensity conflict. A concerning trend in Baloch militancy is the rising incidence of female suicide bombers, as seen again on June 24 in Turbat, a southern district bordering Iran (see MLM, August 3). According to officials from Turbat, at least one police officer was killed and another injured when a female suicide bomber detonated her explosives near a security forces convoy on June 24 (Dawn, June 24). The suicide attacker targeted Brigadier Irfan, a top officer with Military Intelligence (MI), the Pakistan Army's intelligence arm (The Balochistan Post, June 30; July 1). There has been no official comment from the Pakistani army on this event. However, in a conflict zone like Balochistan, where the military strictly controls the media and does not permit journalists or even civilian officials access, it is often difficult to independently verify casualties and the intensity of such attacks.
Pakistan's Surge in Violence Since Kabul's Fall
Two years since the Taliban takeover of Kabul, Pakistani officials have failed to anticipate the impact that the Taliban's control of Afghanistan would have on Pakistan's security situation, particularly in the troubled southwestern province of Balochistan and northern province of Khyber Pakhtunkhwa (KP). Initially, the fall of Kabul was viewed as a positive development for Pakistan's security environment. For example, Lieutenant General Faiz Hameed—the controversial head of the Inter-Services Intelligence (ISI) at the time, Pakistan's main intelligence agency—told media during his visit to Kabul just two weeks after the ouster of Ashraf Ghani's government, "Don't worry, everything will be okay" (Dawn, September 4, 2021).
The retired three-star Lieutenant General, who is accused of widespread political interference as ISI Director General, made this statement in a triumphant and celebratory manner, indicating a sense of Pakistani victory. The Afghan Taliban, who now rule Afghanistan, had long been considered by Rawalpindi (shorthand for Pakistan's military leadership, which have their headquarters in the city), as offering Pakistan "strategic depth." Once, Taliban officials enjoyed luxurious lives in posh areas of Quetta; the capital of Balochistan province also offered a host of opportunities for not only the Taliban, but also criminals, drug traffickers, and human smugglers during the American-led war in Afghanistan (Dawn, May 15, 2020; September 27, 2009).
While two years have passed since the Afghan Taliban captured Kabul, the security situation has deteriorated, contrary to the Lieutenant General's initial expectations. Pakistan once again is experiencing a wave of killings, bombings, suicide attacks, and targeted assaults on the police, army, and government officials. Its southwestern and northern provinces that border Afghanistan are reeling from devastating militant attacks. Overall, 2022 remained one of the bloodiest years since 2018, with a reported 376 terror attacks occurring throughout the year (Dawn, December 2022). [1] Militant groups, however, have continued to increase their operations in 2023.
Pakistan's Disturbing New Reality in 2023
This year began with a series of bombings, and January became one of the deadliest months in Pakistan since July 2018. A total of 134 people lost their lives in at least 44 militant attacks across the country (Dawn, February 2). There were also two suicide bombings reported in KP Province, including a deadly attack on police that claimed the lives of 101 officers on January 30. Overall, during the first 21 months after the Taliban's seizure of power, Pakistan saw a 73 percent surge in militant attacks, resulting in a 138 percent rise in the number of fatalities from August 2021 to April 2023, with Balochistan and KP provinces being most affected (Dawn, June 1). Another worrying report shows that 389 people were killed and another 656 injured due to terror and suicide attacks in Pakistan in the first half of 2023, up from 293 deaths and 487 injuries in the first half of 2022 (Dawn, July 3).
Among the most concerning trends in Balochistan is represented by data released from the Balochistan Liberation Front (BLF), an ethno-separatist militant organization seeking independence from Pakistan. The group claims it conducted approximately 23 targeted attacks in Balochistan against the army, the Frontier Corps (a paramilitary force overseen by the Pakistani army), and state-backed agents in May alone (Sangar, June 24). In the second and third week of February, two separate improvised explosive device (IED) blasts in Balochistan's tribal Kohlu District resulted in the deaths of three Pakistan Army officers, including two army captains and a major. A faction of the Baloch Liberation Army (BLA) claimed responsibility for the attacks (Quetta Voice, February 10; Dawn, February 21). The faction of the BLA led by student-turned-militant Bashir Zaib—known for being the deadliest of all Baloch insurgent groups—claimed responsibility for 188 attacks across Balochistan in 2022, including three suicide attacks, according to the militant group's media wing, Hakkal (The Balochistan Post, January 10; see MLM, September 2022).
Meanwhile, a concerning and dramatic surge in jihadist activities has also been seen in Balochistan's Pashtun region bordering Afghanistan. On May 19, a suicide attacker from the Islamic State Pakistan Province (ISSP; the group is likely subordinate to Islamic State Khorasan Province) targeted Siraj-ul-Haq, the head of the right-wing Islamist Party Jamaat-e-Islami, during a political event in Zhob, Balochistan. He survived unharmed, (Express Tribune, May 19). Similarly, on May 12, militants from the recently formed potential front group Tehreek-e-Jihad Pakistan (TJP, or "Pakistan Jihad Movement") attacked the base of the paramilitary Frontier Corps in the town of Muslim Bagh, resulting in the deaths of at least 13 individuals, including seven soldiers (Express Tribune, May 12; see TM, August 21). The same group also attacked security forces in northern Balochistan, killing at least nine soldiers on July 12 (SAMAA, July 12).
War of Words
The recent surge in militant activities in Pakistan sparked a new war of words between old friends: Pakistani rulers and the Afghan Taliban. Pakistan's Defense Minister, Khawaja Asif—who once cherished the Taliban's takeover of Kabul—tweeted on July 15: "Afghanistan is neither fulfilling its neighborly duty nor abiding by the Doha agreement" (Twitter/@KhawajaMAsif, July 15). In response, Taliban government spokesman Zabihullah Mujahid—once considered a faithful friend by Rawalpindi—replied more harshly: "The interim rulers of Afghanistan signed the Doha agreement with the United States, not Pakistan" (AAJ News, July 15). Two years ago, few if any in Pakistan would conceive of a world where the Taliban would be fighting on Twitter with its former Pakistani allies.
Khawaja Muhammad Asif and the ISI chief also visited Kabul on February 22, following a terror attack in the southern port city of Karachi (Dawn, February 23). The visit differed from the previous visit by the ISI Director General, because this time the Pakistani delegation was not there to celebrate. Rather, the delegation urged their former Taliban allies to crack down on militant sanctuaries on Afghan soil which have been connected to attacks within Pakistan (Dawn, February 23).
Conclusion
The chief minister of the troubled Balochistan Province has once again urged Baloch insurgents to come down from the mountains and engage in dialogue with the government to resolve existing issues (Dawn, March 12). For dialogue to take place, however, Pakistan first needs to acknowledge that the Balochistan issue is a domestic one, resulting from long-standing suppressive policies. Blaming India and Afghanistan for the Balochistan conundrum will not ameliorate the situation with the region's longest and most severe insurgency.
Before the Taliban seized Kabul, Pakistan's military establishment consistently accused Afghanistan's democratic governments of providing safe havens and support to the Pakistani Taliban and Baloch separatist insurgents. Further, during the tenures of Hamid Karzai and Ashraf Ghani, the Pakistani government repeatedly accused India of providing financial support to Baloch separatists through its network of consulates in Afghanistan (Express Tribune, July 2, 2020). However, after the Taliban's takeover of Kabul, India closed its embassy and all of its consulates, also pulling away millions of dollars of investment.
Following this, Balochistan's security condition has deteriorated further. As previously mentioned, women are now becoming active in the region's militant movements, even participating in suicide bombings, as was witnessed in April 2022 and more recently on June 24. The Pakistani military establishment must revisit its Balochistan policies and security-centric approach. The Baloch ethnic conflict is the continuation of four previous uprisings, with the first beginning in 1948; as such, it cannot be crushed by force, enforced disappearances, or political engineering. Instead, a political approach is necessary, focusing on dialogue and concepts of inclusivity to underpin the modern Pakistani state.
Notes:
[1] Data from the Pakistan Institute for Conflict and Security Studies (PICSS) relies on incidents reported by the mainstream Pakistani media or independent journalists on social media. However, due to strict military control in Balochistan, the press often refrains from reporting smaller-scale attacks unless an incident results in many casualties. For example, journalist Bahot Baluch, who closely follows ethnic Baloch armed groups and tracks incidents of violence in Balochistan, reported that several Baloch separatist groups conducted 36 attacks in various parts of the troubled southwestern province in January. He also reported that four separatists were killed in January (Twitter/@Bahot_Baluch, January 31).