Al-Qaeda's Quiet Resurgence in India
Publication: Terrorism Monitor Volume: 15 Issue: 16
By: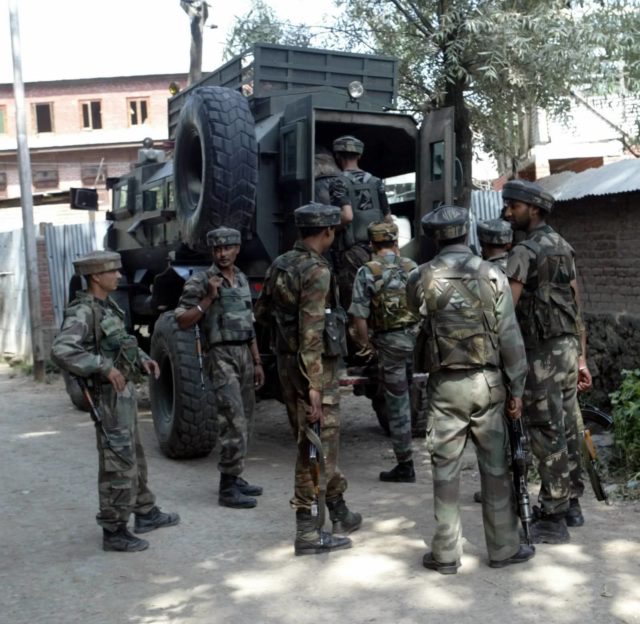 Al-Qaeda in the Indian Subcontinent (AQIS), the official South Asian branch of the transnational al-Qaeda network, has spread its tentacles in the region beyond its strongholds. Beyond Afghanistan, Pakistan and Bangladesh, its influence has reached neighboring India and Myanmar. The emergence of the so-called Base Movement AQIS has not only found support and garnered much ground over the past few years with the existing militant formations and disgruntled militants in India, but it has also taken advantage of existing community conflicts, mostly in southern India, and troubled Kashmir in the north.
AQIS and India
Al-Qaeda's South Asian branch is headquartered in Pakistan and Afghanistan, but it has been attempting to infiltrate India since September 2014, when Ayman al-Zawahiri announced the formation of this dedicated South Asia branch (in Arabic, Jamaat Qaidat al-jihad fishibhi al-Qarrat al-Hindiya). However, with a relatively strong presence in neighboring Bangladesh and Pakistan, AQIS has struggled to make headway in India, despite the efforts of its chief, Sheikh Asim Umar — his legal name is Sana ul Haq— an Indian national from Sambhal, Uttar Pradesh, who is now based in Pakistan.
He attempted to recruit and nurture an exclusively Indian branch. In late 2015, an embryonic AQIS unit was exposed, and at least 12 of its core operatives have since been either arrested or identified, including Muhammed Asif, Abdur Rehman and Abdul Sami, operatives from Uttar Pradesh, Odisha and Jharkhand respectively (Zee News, January 19, 2016).
On August 11, another suspected core operative of AQIS, Syed Mohammed Zeshan Ali, was arrested by Delhi police after he was deported back to India from Saudi Arabia. Zeshan is reportedly married to the sister of Kafeel Ahmed, one of the perpetrators of an unsuccessful attack on the Glasgow airport in the United Kingdom in June 2007 (Times of India, August 11).
Long before the establishment of AQIS, al-Qaeda has attempted to recruit from the Indian Muslim community. In June 2013, Asim Umar, the present chief of AQIS, made specific calls to Indian Muslims in a video message titled "Why is there no storm in your Ocean?," in which he exhorts Indian Muslims to join the global Jihadist movement (YouTube, May 23, 2015).
Most recently, in an attempt to reinvigorate its efforts to expand its footprints in South Asia, AQIS released a 20-page "code of conduct" document, reiterating its allegiance to al-Zawahiri and Afghan Taliban leader Hibatullah Akhundzada. The document also depicted its long-term Islamist objectives and noted AQIS' belief that "[the] Indian state is the fundamental obstacle in the formation of an Islamic India." [1]
Even though the nascent AQIS unit in India is currently in disarray, al-Qaeda's jihadist ideology has helped to consolidate militant and extremist elements in the hinterlands of India. An August 2016 message purportedly from AQIS highlighted the death of Hizbul Mujahdeen commander Burhan Wani of Kashmir in an attempt to unite Muslim youths in South India. Social media pages sympathetic to the AQIS cause also published appeals to potential members in South India in local languages.
The Base Movement Emerges
In southern India, the so-called "Base Movement" (BM) came to public attention with a series of bombings in 2016. Little is known about this al-Qaeda affiliate's origin, but it appears to have existed in some form since January 2015 when, shortly after the attack on the French satirical magazine Charlie Hebdo, a threatening letter bearing the group's name was sent to the Tamil daily Dinamalar newspaper. It read "Yesterday Paris – Charlie Hebdo, Tomorrow Dinamalar" apparently indicating a planned attack similar to the one in Paris (The Hindu, January 28, 2015). However, the authorities questioned the letter's authenticity and no attack occurred.
The BM name surfaced again in January 2016 when similar threatening letters were set to state authorities in Karnataka and Tamil Nadu. One of these letters also issued a threat in response to the visit of then French President Francois Hollande, who was schedule to visit India that month (DNA India, January 21, 2016).
The letters reportedly threatened attacks mostly in Southern states. At least five low intensity blasts targeting law courts occurred in 2016: in Chittoor, Andhra Pradesh (April 7); Kollam and Mysore, Karnataka (June 15 and August 1, respectively); Nellore, Andhra Pradesh (September 12); and Malappuram, Kerala (November 1).
The letters spoke in general terms about "retaliation for injustices to the Muslim community in India," and they threatened to avenge the hanging of Yakub Memon, the man convicted over 1993 Mumbai bombings, and the June 2004 killing of Lashkar- e Taiba's Ishrat Jahan in Ahmedabad, Gujarat (Manorama Online November 3, 2016). The letters were signed "Base Movement – Kovai," providing an early lead to investigators — Kovai is the local name of Coimbatore in Tamil Nadu. The letters were traced back to Singanallur in the city of Coimbatore (Deccan Chronicle, October 2).
Since then, India's National Investigation Authority (NIA) has taken over the probe into the alleged Base Movement attacks, arresting four suspects in November last year — Abbas Ali, Suleiman Muhammad Abdullah, Samsun Karim Raja and Mohamed Ayub Ali. It appeared that most of the court blasts were connected with the judicial trials of Student Islamic Movement of India (SIMI) cadres. All of the bombings were said to be linked to remnants of the banned al-Umma militant group, active in South India since the late 1990s, and SIMI members, organized under the Base Movement.
Leaflets and digital thumb-drives found at the sites of the blasts appeared to corroborate the link. Interrogations of the suspects, as well as forensic investigations into the letters and the materials used in the blasts, appeared to substantiate the findings. Information available to the investigating agencies suggested that the now defunct al-Umma cadres and other fringe elements had pledged their allegiance to AQIS sometime in 2015.
Police suspected a senior al-Umma operative, Abdul Rahman, was in touch with AQIS members in Pakistan and India. Meanwhile, media reports citing intelligence sources claim that Abu Bakr Siddique, the al-Umma leader, heads the Base Movement (News Minute, November 5, 2016).
Several of the group's operatives have been arrested since November 2016. Most recently, in April this year, two individuals from the city of Madurai in Tamil Nadu, Abu Bakr and Abdur Rahman, were apprehended (Manorama Online, April 10).
Although its origins are unclear, al-Umma has been around since the mid-1980s, but it turned to violence and became well organized all over the state of Tamil Nadu only following the demolition of the Babri Masjid in December 1992, under Syed Ahmed Basha.
Al-Umma became well-known within Islamist circles after it perpetrated a series of bomb blasts targeting the offices of the Hindu right-wing organization Rashtriya Swayamsevak Sangh (RSS) in Chennai in August 1993, and later as a result of the Coimbatore bombings in February 1998 (DNA India, June 21, 2007; Rediff.com, February 14, 1998).
Renewing a 'Holy War'
The June 2017 "code of conduct" document specifically focuses on Kashmir in India, making it amply clear that India's security apparatus — the police, military and intelligence agencies — as well as leaders of right wing Hindu organizations would be prime targets. This is in tandem with al-Zawahiri's April 2006 video message praising jihadist movements against the Indian establishment in Jammu and Kashmir.
Shortly after the "code of conduct" was released, AQIS formally established and endorsed a new jihadist group, Ansar Ghazwat-ul-Hind (AGH, Supporters of Holy War in India), in Kashmir under the Hizbul Mujahideen renegade militant Zakir Rashid Bhat (Musa), with a media wing named al-Hurr.
The formation of the new outfit was announced in a statement on July 27 by the Global Islamic Media Front (GIMF), an al-Qaeda-affiliated information network (Telegraph India, July 27).  But the newly formed group has faced a few successive setbacks in the early weeks of August this year, when Abu Dujana al-Pasha and Arif Lelhari, two top AGH leaders, were killed in an ongoing Indian army counter offensive against militant leaders in Kashmir's Pulwama district (India Today, August 1). On August 9, three more AGH operatives — identified as Zahid Ahmad Bhat, Mohammad Ishaq Bhat and Mohammad Ashraf Dar — were killed by the Indian military in the Tral area of Pulwama (Telegraph India, August 10).
Both Musa and al-Zawahiri paid tribute to al-Pasha, declaring that the Lashkar-e Taiba militant was a driving force behind AGH who had been instrumental in uniting several jihadist groups in India (Brighter Kashmir, August 5; India Today, August 4).
AQIS' renewed efforts to reinvigorate jihad against India comes at a time when the international focus has been on defeating Islamic State (IS) in its Middle Eastern strongholds and the Indian government's attention has been on containing the spread of IS influence over the many caliphate sympathizers at home. Among those are returnees from the conflicts in Syria and Iraq. However, while the authorities have been intently focused on IS, al-Qaeda's quiet resurgence in India has been largely overlooked.
NOTES
[1] "Code of Conduct: Al Qaeda in Indian Subcontinent", As Sahab Media Subcontinent, June 2017. https://azelin.files.wordpress.com/2017/06/al-qacc84_idah-in-the-indian-subcontinent-22code-of-conduct22-en.pdf