Al-Shabaab's Top Leader Transfers Power Amid Factional Strife
Publication: Terrorism Monitor Volume: 18 Issue: 19
By: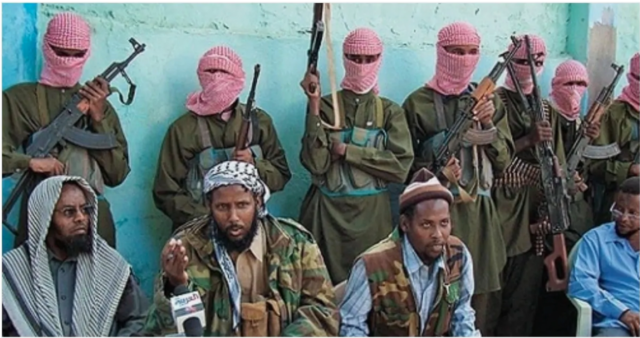 Al-Shabaab—the Somali al-Qaeda affiliate in East Africa—has reportedly experienced a change in its top leadership in order to better organize its terrorist activities amid an increasing onslaught by African Union troops and the continued loss of key leaders to U.S airstrikes.
Shaykh Ahmed Diriye, a.k.a Abu Ubaidah, allegedly transferred power to his deputy Shaykh Abukar Ali Aden, a move that has further widened internal disagreements within the deadly terrorist group (The Standard, August 31). It is not clear when the actual transfer occurred, but the change had been widely anticipated following earlier reports that the militant organization's supreme leader was ailing and unable to discharge his duties efficiently.
According to Somalia's intelligence agency, the National Intelligence Security Agency (NISA), Aden is currently supervising the activities of the group. Like Ubaidah, he is on the U.S list of wanted terrorists (GaroweOnline, August 28).
Aden became one of the new faces at the apex of al-Shabaab leadership in 2018, when the emir appointed him as a deputy leader and one of his principal advisors. He had spent several years as al-Shabaab's military chief, after previously heading the Jabhat, al-Shabaab's army. In 2018, his jihadist credentials increased after the U.S. State Department listed him as a Specially Designated Global Terrorist (State Department, January 4, 2018).
Ubaidah's worsening health condition had been the subject of news for some time. Reports that he was ailing first emerged in 2018, when speculation spread that the organization had begun to re-organize its top leadership ahead of the emir's possible demise.
The emir had reportedly been bedridden for six months. Although it was speculated that the leader may have been injured in the battlefield, a source in Mogadishu told the Terrorism Monitor that Ubaidah was suffering from a serious ailment affecting both of his kidneys, confining him to bed for treatment (Terrorism Monitor, May 18, 2018).
Ubaidah has been the emir since 2014 when he took over from the late Shaykh Ahmed Godane, a.k.a. Mukhtar Abu Zubeir, who was killed in a U.S airstrike. Like Aden, he was part of his predecessor's inner circle and was a brutal hardliner who ordered the assassination of dissidents and rivals. Ubaidah appeared to follow in Godane's footsteps, maintaining the group's allegiance to al-Qaeda. In 2015, some members of the group pushed for a shift of allegiance to Islamic State (IS), but he rejected the proposal and launched a crackdown against the alleged IS supporters.
With his illness becoming a liability to al-Shabaab's operations at a time when it faced more pressure from African Union Mission in Somalia (AMISOM) troops and increased U.S. airstrikes, the shura, the al-Shabaab executive council, began discussing who would succeed Ubaidah. At the time, they could not agree who would replace him as the emir (Tuko, April 23, 2018).
The shura—which makes the group's policy decisions on issues including ideological direction, finances, and operations—had been concerned that the prolonged absence of the leader was creating a vacuum, reducing its operational capacity as an organization. Al-Shabaab's shura is composed of an unspecified number of people appointed by the emir. Ubaidah's council size has ranged from eight to ten members. It has included prominent leaders such as Abdirahaman Mohammed Warsame, a.k.a. Mahad Karate, the head of al-Shabaab's financials and its intelligence wing, Amniyat, Maalim Osman, the infantry commander, and Ali Mohammed Rage, a.k.a. Ali Dheere, the group's spokesman.
Under the current emir, the terrorist group has lost key territory and strategic towns crucial to its revenue collection, recruitment, and arms shipments (The Star, July 1, 2017). Al-Shabaab has traditionally funded its activities through Zakat—a form of alms-giving treated as obligatory in Islam. Reports also indicate that some foreigners who share the group's ideology also send funds to support its activities.
When he appointed Aden, Ubaidah could have bolstered the 14-year-old organization, but his actions appeared to worsen the disputes between Ubaidah's supporters and those of Karate, who is also on the U.S. list of wanted terrorists. With the powerful departments of intelligence and finance under his control, Karate felt he had the clout to take over the militant group's leadership. The feud peaked early this year, with reports detailing attempts by the intelligence chief to wrestle power from the emir (The Standard, August 31).
For some time, Karate had allegedly refused to provide the emir access to the group's finances, crippling Ubaidah's ability to pay his fighters. In retaliation, the emir started to purge Karate's supporters, the majority of whom are from his Habagedir-ayr clan.
In retaliation, Karate began targeting Ubaidah's stronghold, striking his kinsmen from the Rahawein clan, where most of the emir's support came from. Attempts by Ubaidah to expel Karate from al-Shabaab early this year failed after his clan threatened to launch a parallel group. The clan elders accused Ubaidah of arrogance and demanded he cede power to the younger generation (Garowe Online, August 29).
Apart from disagreements over leadership, the militant group is split on which international terrorist group to pledge allegiance. Some leaders within the group insist it should keep its allegiance to al-Qaeda, while others suggest it's the time to shift to IS (The Standard, August 31).
With the amount of internal disputes growing and the group operating on reduced income, al-Shabaab fighters had reportedly intensified extortion and illegal taxation inside Somalia and northeastern Kenya to meet their needs (Daily Nation, April 26).
The disputes are evidently affecting the militant group's activities and its income. While this could be good news for the militaries countering the insurgents, a new leadership could eventually lead to a strengthened and re-energized fighting force. Meanwhile, with his extensive military experience as an insurgent, Aden cannot be underestimated.