Briefs
Publication: Terrorism Monitor Volume: 18 Issue: 19
By: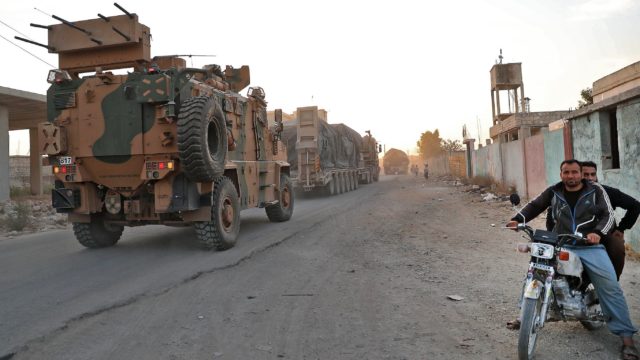 Does Turkish Withdrawal from Morek Base Signal Renewed Conflict in Idlib?
 John Foulkes
On October 20, Turkish forces withdrew from the Morek observation post, the country's largest base located north of the city of Hama near the border with Syria's northwestern Idlib province (Syrian Observatory for Human Rights, October 20). The post was surrounded by Russian-supported forces loyal to Syrian President Bashar al-Assad in August 2019, following a breakdown in a 2018 deal that established the base in an attempt to calm fighting between the Syrian government and Turkish-backed rebel forces (al-Monitor, October 20).
According to a report from Middle East Eye, Turkey made an agreement with Russia to pull out of four observation posts and two military sites that had been surrounded by al-Assad forces. Eight Turkish posts and five military positions in total are currently surrounded  (Middle East Eye, October 19). The Turkish forces moving out of Morek and other future observation points will reinforce current positions within opposition-held Idlib province.
The withdrawal comes as speculation is rising that Russia and its allies in Damascus will soon launch an offensive to attempt a seizure of territory in southern Idlib (Zaitun Agency, October 18). Negotiations between Turkish and Russian officials, which took place in Ankara in mid-September, ended without an agreement. Some sources claimed that Russian insistence for the closing of Turkish posts and drawdown of troops in Idlib led to the disagreement (Enab Baladi, September 20).
On September 17, Russian Foreign Ministry spokesperson Maria Zakharova stated that Turkey was failing to live up to its end of the March 5 agreement, citing the continued presence of jihadist groups such as Haya'at Tahrir al-Sham and Huras al-Deen (TASS, September 17). The comments were followed by the most intense strikes taking place since the March 5 agreement, with regime artillery and missile strikes and Russian airstrikes hitting several villages in southern Idlib between September 17-19.
The most recent agreement came after a push by Russian-backed Assad forces into Idlib in late February resulted in airstrikes that killed approximately 60 Turkish soldiers and displaced nearly one million Syrians. The Turkish response halted the advance, with a ceasefire agreed to by Ankara and Moscow on March 5. Opposition forces initially lost a sizable amount of territory near the strategic M5 highway, but vigorous Turkish-led counterattacks, involving significant unmanned aerial vehicles (UAVs) assets, reversed some of the losses and resulted in significant losses to the Assad forces (Al Jazeera, March 2).
Ultimately, the current state of Idlib is unsustainable for all sides. Damascus remains set on reconquering all of its lost territory, while Turkey has made clear that it cannot take in any further refugees. Turkey already hosts 3.5 million Syrian refugees, and has no interest in taking any more while experiencing severe economic issues. A violent takeover of Idlib by regime forces would certainly result in a large refugee flow into Turkey.
The withdrawal from Morak is also contrary to past Turkish policies against pulling out of Idlib bases and observation posts. Ankara's refusal to budge from the surrounded bases was reportedly a sticking point in the September negotiations (Enab Baladi, September 20). While the sudden change in policy might be as a result of Ankara recognizing the reality that the surrounded bases would prove indefensible if/when conflict re-erupts, it could also be as a result of geopolitical jostling in other theaters.
Russian President Vladimir Putin has been relatively unsupportive of the Armenian government, with whom Moscow holds a mutual defense treaty, in its ongoing war in Nagorno Karabakh, despite significant gains by Turkish ally Azerbaijan. In statements made on October 7, Putin indicated that the mutual defense treaty does not extend to Nagorno Karabakh (Moscow Times, October 7). In meetings between Russian and Turkish defense ministers on October 12, the conflict in the Caucasus was reportedly discussed alongside Syria and Libya; meetings in Moscow on October 23 between Turkish and Russian officials are also discussing a solution to those latter two conflicts (Hurriyet, October 12; Daily Sabah, October 23). It is possible that Turkey's pullout from Morak is linked to negotiations over these other conflicts.
Turkey vacating indefensible observation posts in territory held by al-Assad forces and moving those troops to new positions, while reinforcing opposition-held Idlib with additional materiel, strengthens its position in the province (Arab News, October 3). An estimated 10,000 to 15,000 Turkish troops are currently located there, sending a message to Moscow and Damascus that Ankara has real interests in maintaining a buffer zone to keep out additional refugees and extremists.
Russia and its Syrian allies might still be tempted to seize strategic areas such as Jisr al-Shughour or Jabal al-Zawiya, in order to strengthen its grip on the strategic M4 highway and the areas south of it. (Enab Baladi, October 12; Middle East Eye, October 19). However, the Turkish troops who vacated Morek were reportedly sent to reinforce Jabal al-Zawiya, demonstrating the substantial risk to Russian and Syrian forces and equipment should an attempt be made (Arab News, October 20).
***
Violence in Helmand Reflect Problems in Doha Negotiations
John Foulkes
As negotiations between the Afghan government and the Taliban continue in Doha, Qatar, violence is increasing in the country's southern province of Helmand. On October 11, the Taliban launched a multidirectional attack on the provincial capital of Lashkar Gah. Over 5,000 families have had to evacuate from the area, and reportedly over 200 Taliban fighters have been killed (TOLONews, October 19).
In the days following the initial assault on Lashkar Gar, the nearby districts of Babaji, Chae-e-anjir, Nad Ali, and Nawa-e-Barakzaiy also became a focus of the fighting. The strategic 601 highway, connecting Lashkar Gah to Kandahar City, was also targeted. It, along with many other roads in the area, became impassable due to the wide range of improvised explosive materials (IEDs) that were been planted. Multiple bridges were reportedly destroyed, further inhibiting travel through the province, according to a spokesperson with the office of the Helmand governor. Several security checkpoints in the area were overrun before the United States launched airstrikes against Taliban forces (Al Jazeera, October 19; Twitter.com/USFOR_A, October 12).
The Taliban accused the United States of violating the February 29 peace agreement by engaging in airstrikes that it claims were outside active conflict zones. The spokesperson for U.S. Forces-Afghanistan "categorically" rejected the claim, saying that airstrikes were only used to support Afghan partners facing Taliban attacks on the ground. In a separate statement, the U.S. posited that the Taliban actions were not "consistent with the US-Taliban agreement and undermines the ongoing Afghan Peace Talks" (Twitter.com/USFOR_A, October 12; Twitter.com/USFOR_A, October 18; TOLONews, October 18).
After the tit-for-tat responses, U.S. special envoy Zalmay Khalilzad stated that the increase in violence had resulted in a meeting with the Taliban in Doha, where all sides agreed to decrease attacks and "reduce violence and casualties" (Twitter.com/US4AfghanPeace, October 18). The governor of Helmand, Yasin Khan, has since stated that Taliban attempts to seize Lashkar Gah were "foiled" (TOLONews, October 23).
The violence in Helmand comes as peace negotiations between the Taliban and the Afghan government have moved arduously slow over disagreements focused on following the Hanafi school of Islamic jurisprudence during deadlocks; issues of inclusivity for Afghanistan's minorities; disagreements over the describing the war as a "jihad" or a "conflict"; and more (Al Jazeera, September 23).
The slow negotiations and the rise in violence in the country are additional body blows to the U.S.-Taliban peace deal signed on February 29. Since its signing, the Taliban has continually violated certain segments of the deal. The Afghan insurgent group has failed to completely cut ties to al-Qaeda, and are unlikely to do so due to long-standing relationships and inter-marriage between families of the groups' leaders. Some of the 5,000 Taliban fighters freed by the Afghan government as a prerequisite to begin negotiations have returned to fighting, according to Afghan Chief Executive Abdullah Abdullah, contrary to promises made in the February 29 agreement (Al Jazeera, September 23). This is on top of growing violence, reduction of which is not an explicit requirement of the U.S.-Taliban agreement, but is continually pointed to by Afghan and American leaders as being in violation of the expectations set by peace negotiations (State.gov, February 29).
A substantive and meaningful decrease in violence in Afghanistan is unlikely to occur within the near future. The Taliban's and Kabul government's positions are too far apart, and it is ultimately likely that the insurgents will continue to use violence to get what it cannot at the negotiation table.