Fragile Pro-Iranian Militia Ceasefire Highlights Inter-Shia Polarization
Publication: Terrorism Monitor Volume: 18 Issue: 19
By: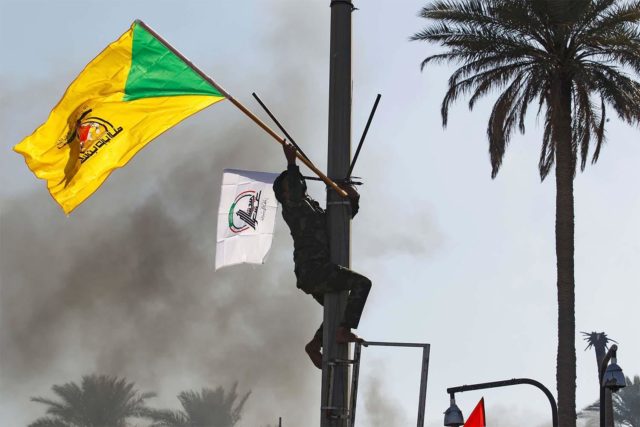 On September 24, reports surfaced that U.S. Secretary of State Mike Pompeo had threatened to close the U.S. embassy in Baghdad if the Iraqi authorities did not stop the frequent pro-Iranian militia attacks on U.S. diplomatic assets (Al-Monitor, September 25). The militias initially appeared emboldened following Pompeo's threat, with eight improvised explosive devices (IEDs) and rocket attacks targeting U.S. military and diplomatic positions from September 24 until October 1. [1]
However, the newly formed Iraqi Resistance Committee, containing prominent militias such as Kata'ib Hezbollah (KH), announced a ceasefire of all operations targeting U.S. forces countrywide on October 10. A spokesman for KH stated that the continuation of the ceasefire is contingent on Iraqi authorities implementing a timetable for the complete withdrawal of U.S. forces from Iraq (Al Jazeera, October 11).
A Conditional Ceasefire
The potential for large-scale U.S. targeting of Iranian-backed militia sites following the withdrawal from the U.S. embassy in Baghdad may have forced the militias into a ceasefire, but a return to hostilities remains likely. Although Iraqi Prime Minister Mustafa al-Kadhimi has made it clear he wants a working relationship with the United States, the ultimate goal of these militias is to expedite the complete withdrawal of American forces from Iraq. Militias will recommence the harassment of U.S. diplomatic and military forces through regular IED and rocket attacks when Iraq inevitably fails to present a timetable for a U.S. withdrawal.
While Pompeo's warning may have only brought about a temporary halt to the attacks, it unified support behind Kadhimi's project of counter-balancing the influence of pro-Iranian militia groups. Following the warning, influential Shia cleric and head of the Sairoon coalition in parliament Muqtada al-Sadr called for the creation of a security committee to prevent further attacks (al-Sadr, September 25). Hadi al-Amiri, head of the Fatah bloc, similarly condemned the attacks (Rudaw, September 24). The Popular Mobilization Units (PMU), in which some of the pro-Iranian militias are embedded, implicitly denounced the attacks by affirming its commitment to the Iraqi state (Al Jazeera, September 24).
With Sadr and Amiri's condemnation of the attacks, Kadhimi has the backing of the two largest political blocs in the Iraqi parliament. The PMU's statement is also significant, due to its implicit disapproval of factions within its apparent control. This represents a significant coup for Kadhimi and highlights how far Iraq has come since June, when these voices remained silent or were ambivalent when KH stormed the Green Zone in Baghdad and forced the authorities to release detained militia members (Terrorism Monitor, July 15).
While Pompeo has galvanized support for Kadhimi, an actual U.S. withdrawal from Baghdad would have disastrous consequences. Not only would it hand a propaganda boost to groups such as KH, it would undermine the steady progress Kadhimi has made over recent months. Ali al-Sistani, the highest authority in the Iraqi Shia clergy whose 2014 fatwa calling for Iraqis to support the government against Islamic State led to the creation of the PMU, threw his support behind Kadhimi in September (Sistani, September 13). Sistani's support for early elections and limiting militia influence in September was a major boost for Kadhimi's long-term goals of building a strong and sovereign state.
Inter-Shia Polarization
The more Kadhimi succeeds in regaining control of the security environment, the more the country's inter-Shia polarization becomes apparent. The Iraqi Shia militias are largely divided between supporters of the Najaf clergy headed by Sistani and those adhering to the Iranian Wilayat al-Fiqh (Guardianship of the Islamic Jurist) ideology (Rudaw, June 10). Whereas the former has taken a broadly quietist approach to politics, the latter is inherently interventionist. KH and others consider the Supreme Leader of Iran to be the highest political and religious authority and thus seek to serve the interests of Tehran. With Kadhimi winning the support of important Shia voices and facilitating the defection of Sistani-aligned militias under direct Iraqi government control, the pro-Iranian camp has grown increasingly insecure. Following his support for elections, Sistani was attacked by an Iranian cleric close to the Supreme Leader of Iran Ali Khamenei (al-Quds, October 3). Similarly, pro-Iranian militias began to talk about betrayal (Al-Monitor, September 28).
This polarization is equally evident amid the general Shia population. During the recent Arba'een Pilgrimage, a Shia religious festival in Karbala, some pilgrims erected effigies of Iranian General Qassem Soleimani, who was killed in a U.S. drone strike (Press TV, September 29). Others aligned with October 2019's protest movement chanted both anti-Iran and anti-U.S. slogans, held up pictures of assassinated activists, and clashed with the security forces near the Imam Husayn Shrine (Youth of Change, October 6). [2]
If pro-Iranian militias restart attacks targeting U.S forces and the United States were to withdraw from its embassy in Baghdad, it could decide to finally launch retaliatory airstrikes (Middle East Eye, October 8). This would likely lead to significant retaliation. With U.S. assets withdrawn to Kurdistan and other regions less accessible for militias to operate in, the Iranian-backed groups would likely turn their focus to Kadhimi. The prime minister could see himself faced with ceding to maximalist militia demands or mobilizing state-aligned PMU factions in support of a direct confrontation.
An inter-Shia conflict is not in the interests of Iran, and Iranian President Hassan Rouhani has been quick to underline the importance of Shia unity (Mehr News Agency, September 26). Iran has built up a powerful position in Iraq over the past decade, enabling it to influence policy by imposing costs for adopting directions that it does not approve. Iran does not want to see that influence threatened by conflict. However, Iran lost its intermediary with the militias when the United States assassinated Soleimani in January. With Iranian control over KH and similar militias increasingly doubtful, it is not clear that Iran could rein in its militias if conflict were to escalate significantly.
Notes
[1] Author access to private database of Iraqi security incidents, October 2020
[2] Author interview with Karbala-based security contact, October 2020