Algeria's Response to the Revolt in Libya
Publication: Terrorism Monitor Volume: 9 Issue: 21
By: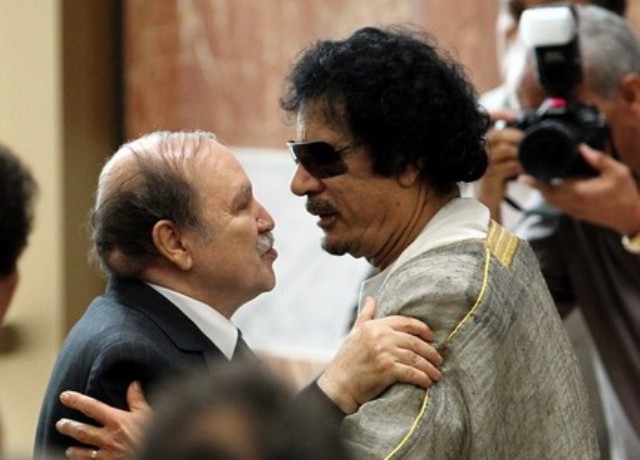 African support for military intervention in Libya against Colonel Qaddafi has been far cooler than that displayed by the United States and Europe (see Terrorism Monitor, April 14). Among the African countries critical to the success of NATO activities in Libya, Algeria has rapidly emerged as one of the most critical voices against international intervention in neighboring Libya.
In March, Algeria voted against the Arab League's resolution calling for a no-fly zone over Libya, fearing that it would lead to the intervention of foreign ground forces and stressing the need to preserve Libya's security and territorial integrity (AP, March 12).
In April, Algerian Foreign Minister Mourad Medelci once again expressed Algeria's fear that some forces were aiming to split Libya and that terrorists could take advantage of the resulting instability, turning the country in a major regional black market for weapons. Medelci also announced his total support for the political solution suggested by the African Union (Le Temps d'Algérie, April 10). Algeria avoided condemning the Qaddafi regime when the Libyan army crossed the border into the Tunisian town of Dhuheiba in pursuit of rebels on April 29—an incursion that sparked protests from the Tunisian government concerning the infringement of its sovereignty (Tout Sur l'Algérie, April 30).
Libyan rebels have accused Algeria of supporting Qaddafi in several ways. The rebel Transitional National Council (TNC) sent a memorandum to Arab League Secretary-General Amr Musa claiming Algeria had provided military equipment, weapons and mercenaries to Libya, but Medelci strongly denied these allegations (al-Sharq al-Awsat, April 19; Ennahar, April 19). A few days later, Medelci returned to the accusations, saying that the charges from the TNC were dilatory tactics that had nothing to do with the current crisis in Libya (Echorouck, April 22; L'Expression, April 22). Algerian Interior Minister Dahou Ould Kablialater stated during an interview that he expected very tense relations between his country and Libya if the rebels seize power (Ennahar, May 3).
If seen only through the historical prism of Algerian-Libyan relations, Algiers' stance on the intervention in Libya cannot be easily explained. Like many other countries, Algeria has had a very volatile relationship with Qaddafi's Libya. Algeria supported Libya against Egypt in the border war of 1977, and brokered a peace deal between Libya and Chad in the late 1980s. For many years, the two countries shared good relations based on their support for the West Saharan Polisario Front, a common anti-colonial rhetoric and their criticism of Israel. That said, several points of tension emerged in their relations:
• Algeria remained cool to Qaddafi's efforts to increase influence over Tuareg groups in the Sahara/Sahel region.
• Algeria alleged that Libya allowed weapons to be shipped through its territory to Islamist forces during the Algerian civil war of the 1990s.
• Relations were disturbed by the signing of a unity pact between Libya and Algerian rival Morocco (the Treaty of Oujda) in 1984, a realpolitik response to the exclusion of these two countries from the Treaty of Concord and Fraternity signed in 1983 by Algeria, Tunisia and Mauritania. [1]
Nonetheless, Algeria is more or less openly supportive of Qaddafi in this conflict for a complex mix of reasons related to its security, its political stability and its regional geopolitical role:
• Security concerns: The greatest concern for Algeria is that an unstable Libya could turn into a major safe haven and source of weapons for al-Qaeda in the Islamic Maghreb (AQIM). Documents recently found in the Bin Laden residence in Abbottabad concerning the "specific attention" paid to Algeria will further aggravate Algerian perception of this threat (L'Expression, May 14). Even though AQIM's threat is not as strong as in the past, it still represents a major security concern for Algeria. A Libyan implosion could provide AQIM with greater opportunities to buy weapons from Libyan arsenals and to expand its activities to new territories. Algerian officials have strongly stressed this point since the very beginning of the conflict. Moreover, these concerns are shared by other regional countries such as Chad, Mali and Niger (AFP, May 1; El Moudjahid, April 29).
• Political concerns: It is worth recalling that the wave of uprisings in the Middle East and North Africa started with protests in Tunisia and Algeria in December 2010. While the Tunisian revolt ended with the fall of the Ben Ali regime, in Algeria these events did not end in the overthrow of President Abdul-Aziz Bouteflika. It is likely that memories related to the violence of the civil war are still too recent and represent a powerful deterrent to a full-scale revolt. However, the Algerian government is mindful that continuing social turmoil within that country could provide the base for stronger future revolts aimed at overthrowing the current Algerian government. If Qaddafi should lose power, Algeria fears that it could be next in line for a revolution. A Qaddafi defeat could boost the ambitions of those groups looking for a regime change in Algeria. Moreover, Algeria's hostility to NATO action in Libya was dictated by the resilience of its colonial memory; the idea of having French troops at its borders is seen as a major psychological threat to the Algerian people.
• Regional concerns: Given the highly personalized foreign policy of Qaddafi and the intensity of clashes between Tripoli's government and the rebels, it is likely that the foreign policy of a Libya freed from the Qaddafi regime will be completely different from that currently in place, which would have the potential of harming Algerian interests. Diplomatic dynamics suggest that France could have a stronger influence over Libya, given the support that Sarkozy has provided to the rebels. A new Libya could also have different regional policies dependent on its relationship with Western powers, characterized by a total rupture with Qaddafi's choices. In this sense, a major threat to Algeria could be represented by a Libyan-Moroccan rapprochement, or, once its internal situation calms down, by Egypt increasing its influence over its western neighbor.
Conclusion
Algeria has a clear interest in avoiding a Qaddafi defeat, which could turn into a major security and geopolitical disaster for Algiers. However, this does not imply that Algeria is actively supporting Qaddafi's forces. Like any other state, Algeria has its own geopolitical interests to advance. These interests are not related to a specific, privileged relationship between Algeria and Qaddafi. They stem more from concrete security and political realities. A regime change or prolonged conflict in Libya could strongly harm Algerian interests, explaining why Algeria has assumed a diplomatic position of opposing NATO intervention as well as criticizing the choices and the declarations of the rebel TNC.
Notes:
1. Gerald J. Bender, James S. Coleman and Richard L. Sklar, African Crisis Areas and U.S. Foreign Policy, Berkeley, p.272, fn.7.