Allies Set to Consider Ukrainian Membership in Vilnius
Publication: Eurasia Daily Monitor Volume: 20 Issue: 110
By: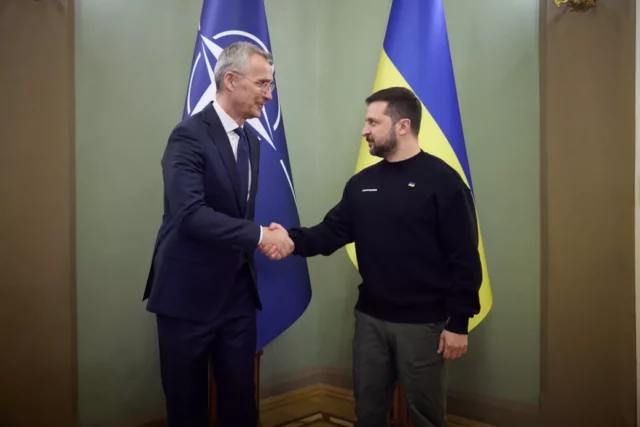 According to recent survey data, over 80 percent of Ukrainians living in Ukraine and throughout Europe support their country joining the North Atlantic Treaty Organization (NATO) (Ukrainska Pravda, July 10). On July 11 and 12, the annual NATO summit will take place in Vilnius, where the issue of Ukrainian accession will be at the top of the agenda—a path that began more than 15 years ago. In 2008, at the Bucharest summit, NATO announced it would initiate Membership Action Plans for both Ukraine and Georgia to facilitate their joining the alliance, though those arrangements were soon postponed. Three months after the Bucharest summit, Russian President Vladimir Putin launched his August 2008 invasion of Georgia, occupying part of its territory. Since then, the Kremlin invaded eastern Ukraine and annexed Crimea in 2014 and, in February 2022, resorted to a full-scale invasion of the country, thus giving a fresh impetus for considering Kyiv's pleas to join NATO (Euractiv, October 3, 2022; Zeit.de, December 7, 2022)
Russia's war against Ukraine has undermined the established security structures in Europe. and alliances such as NATO must take into account these new challenges. Refusal to accept new members—in particular Ukraine, with its experience in modern mobile and high-tech warfare—could maintain Moscow's ability to carry out military aggression and potentially lead to Russian military dominance in Europe. Furthermore, Russian aggression seeks to significantly weaken the security of Western countries that underestimate the need for experience in real combat operations and in responding to these new threats. Ukraine's membership in NATO would allow for the rapid reconfiguration of the alliance, especially on its eastern flank, while taking into account the new security environment.
It is quite apparent that the United States' position on Ukrainian membership in NATO will be central in pushing the alliance one way or the other. Washington is still considering whether to give the green light to Ukrainian membership, worried, on some level, about admitting a new member in the midst of a hot war on its territory (Radio Free Europe/Radio Liberty, June 17). Yet, some officials support "fast-tracking" membership as granting Ukraine NATO membership would, first of all, break with the stereotypes of "Old Europe," which until recently had been viewing the situation in Eastern Europe through the prism of Russian interests and prospects. Furthermore, such a move could help further facilitate the development of reliable security guarantees that would prevent future Russian imperialism and militancy. Washington clearly understands the dangers that Putin's Russia poses, and Ukraine's integration into NATO is likely a key prerequisite for preventing another major war in Europe as triggered by the Kremlin. Even so, US President Joe Biden has declared that his administration would support "incremental steps" for Ukrainian membership, rather than immediate membership (TVP World, June 28).
In truth, if an agreement cannot be reached in Vilnius, the West will likely face persistent instability due to the ongoing Russian military threat. Europe will be forced to formulate the budgets of EU member states with possible militarization in mind, which will have a negative impact on the economies of the various European states. In addition, the absence of stable security guarantees, which might be addressed with Ukrainian accession to the alliance, could weaken Ukraine in the future as it prepares for the specter of repeated aggression from Russia.
Not to mention, the current war itself could leave Ukraine in much worse conditions than it was before the invasion. To begin with, the country will have to address serious economic concerns and demographic issues. Ukraine has already experienced disappointing results in this regard: According to some forecasts, around 31 million people currently live in the territory controlled by Ukraine—though estimates vary between 28 million and 31 million. As a result, if Ukraine's economy is slow to revive after the war, and if employment opportunities are unsatisfactory, Ukrainian families that are now divided, with men remaining in the country to fight and many women and children fleeing abroad, may choose to reunify abroad, not within the country. This means that Ukraine could lose an additional 1.5 million young, educated men (Rfi.fr, June 26).
The acceptance of Ukraine into NATO would likely inspire confidence not only for investors but also the Ukrainian people themselves, who will be given assurances that they will not have to go through the events of war again. This in turn brings with it the potential for Ukraine to integrate more with the European Union and to attract increased investments for the extraction of rare minerals, in particular titanium, germanium, gallium and neon gas, as well as many other resources for which the EU is particularly dependent on China (Codastory.com, March 29).
Moreover, and perhaps most importantly, Ukrainian membership might help stymie the loss of valuable personnel for its workforce—whether it be to the emigration of highly qualified men abroad to reunite with their families or the drain of military personnel with precious experience in modern warfare. Increased participation in the alliance could help Kyiv, first of all, with its postwar rebuild in utilizing the experience of other members to inform that process. It will also make Ukraine available to carry out, or assist in carrying out, those tasks that other NATO members have had a hard time coping with—and not only in the military arena (Zeit.de, June 26). The Ukrainian Armed Forces have proven themselves, in this war and others, as units that are ready to act as protectors, and it is in NATO's interest to make the most of this potential both within Europe and abroad (Svidomi.in.ua, June 12).
Indeed, the 2023 NATO summit in Vilnius provides an opportunity to follow through on the promises of the Bucharest summit in 2008. The current war has revealed Russia's military weaknesses, and Ukrainian membership, whether immediate or in the near future, would help reinforce the notion that Moscow will not resort to full-scale aggression against Europe if NATO's eastern flank is reinforced in this way (Euromaidan Press, July 8). The Vilnius summit will give member states the chance to discuss the specific conditions and lay out a clear plan for Ukraine's accession. A unified NATO commitment will send a strong signal to the Kremlin that it has gravely miscalculated and that there is no chance of Ukraine returning to its sphere of influence. Failure to provide Ukraine with a comprehensive action plan for NATO membership has become a "geopolitical Rubicon" for Putin, who started a war against his neighbor convinced of the West's weakness. The allies have a chance to right that ship with the upcoming critical discussions in Vilnius.
And this is a crucial moment as the world is at a bifurcation point. In its withdrawal from the conflict in Vietnam, the US left South Vietnam in positions similar to those that Ukraine has faced or is yet to face. These difficulties include economic problems regarding main exports, the inability to carry out mobilization campaigns (the shortage of mobilized recruits as of June 2023 was 50 percent), as well as heavy dependence on the supply of foreign arms and aid (Cia.gov, March 1973; Ukrmilitary.com, June 24). These consequences can be avoided by providing an umbrella in the form of NATO membership. This will allow Ukraine to recover effectively and will be a much better scenario than shallow guarantees that will not be taken seriously and will only slow down the process.