Alyaksandr Lukashenka and the War in Ukraine
Publication: Eurasia Daily Monitor Volume: 19 Issue: 26
By: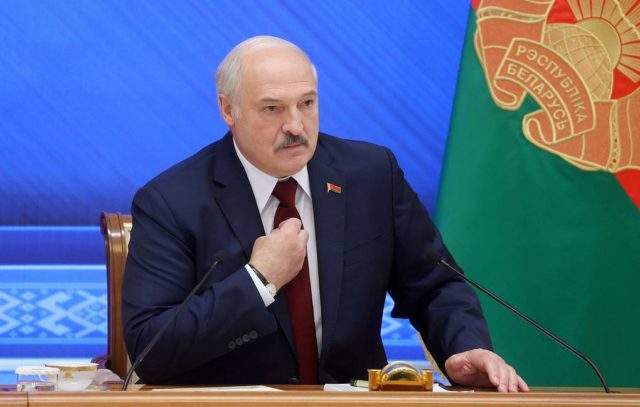 On February 26, Belarusian President Alyaksandr Lukashenka expressed anger about President Volodymyr Zelenskyy of Ukraine rejecting the idea of the Ukrainian delegation coming to Minsk right away to hold talks with the Russians. "Listen, Kyiv is actually surrounded, and they are pontificating. People are dying, and they are still ranting," Lukashenko said indignantly (Lenta, February 26). Subsequently, the city of Gomel was proposed as the venue for the Russian-Ukrainian negotiations, but the Ukrainian side rejected the idea (Interfax, February 27), only to change its mind after Lukashenka spoke with Zelenskyy directly (see below).
To be sure, it did not seem possible for Belarus to once again become the venue of peace talks. Back in 2015, Minsk was not a side to the conflict, while Lukashenka himself was Ukrainians' most popular foreign leader. Subsequent polls showed that roughly 60 percent of Ukrainians thought so (Liga.net, November 11, 2019; Lenta.ru, February 3, 2021).
Today, the situation is different. Despite Lukashenka's initial claims that the Belarusian army is not taking part in the war (Svaboda.org, February 24), some available evidence suggests otherwise. In his televised February 27 appeal to the Belarusian people (YouTube, February 27), Zelenskyy flatly accused the Belarusian government of being an active party to the conflict, and Lukashenka actually confirmed that rockets were launched from the territory of Belarus at positions in Ukraine (BelTA, February 27).
In the meantime, even before Belarus's Defense Minister Victor Khrenin announced (on February 20) that Russian troops would stay in Belarus indefinitely, Belarusian opposition-minded journalists and their interviewees accentuated Belarus's ostensible loss of sovereignty while depicting Lukashenka as a surrogate leader. Valer Karbalevich of Radio Liberty (RL) noted, "Lukashenka lost control over Belarus but purports to prove the opposite" (Svaboda.org, February 24). Pavel Usov, a Warsaw-based Belarusian political commentator, wrote on his Facebook page, "Since the beginning of the war in Ukraine, Belarus as a sovereign state actually ceased to exist" (Facebook.com/pavel.usov.10, February 24). Alexei Yusupov, a member of the Social-Democratic Party of Germany, in his interview to Yury Drakakhrust, declared, "It is with Russia that they will talk about Belarus. As for Belarus, everybody will relate to it as they would to, say, Belgorod Oblast of Russia (Svaboda.org, February 16).
In his speech marking the Defender of the Fatherland Day (February 23), a day before Russia launched its re-invasion of Ukraine, Lukashenka made an impassioned plea to Ukrainians to return to Slavic brotherhood and to reject their "overseas masters" who would "throw you into the dustbin of history" once they use you (YouTube, February 22). Since the war started, Lukashenka tried his best to go about business as usual. For example, on February 25, he paid a visit to the Minsk-based Research and Practical Center for Surgery, Transplantology and Hematology and made an impromptu speech devoted to such disparate issues as health care, inflation ("because Americans printed too many dollars during the pandemic") and Ukrainian nationalism (President.gov, February 25). Above all, Lukashenka demonstrated his preoccupation with the constitutional referendum of February 27, given that early voting started five days earlier.
An unexpected event took place on Saturday, February 26: French President Emmanuel Macron telephoned Lukashenka and talked to him for an hour and twenty minutes. According to Le Figaro, "Macron called the Belarusian president […] to underline the seriousness of a decision that would authorize Russia to deploy nuclear weapons on Belarusian soil. He also asked Lukashenka 'to demand the withdrawal of Russian troops from Belarusian soil as soon as possible because they are waging a unilateral and unjust war' "(LeFigaro, February 26). According to Sputnik.by, a significant part of the conversation was devoted to "the future of Europe and the place of Belarus in this world order; the two presidents also talked about the relationship between Belarus and Russia." As for the potential deployment of nuclear weapons on the territory of Belarus (see EDM, February 1, 8), Lukashenka called it a piece of fake news. "If the people of Belarus are not strangled, there will be no talk not only about nuclear weapons, but about conventional either," he underscored. The heads of state agreed on contacts in the near future (Sputnik.by, February 26).
One should neither overstate the significance of this contact nor attribute it solely to Macron's domestic political agenda. Yet it is hard to shrug off the idea that a call from the leader of a major Western country undeniably props up Lukashenka's legitimacy as the head of a sovereign country and downplays the demeaning observations of his opponents. Under the current circumstances, this is particularly apparent. It is noteworthy that in the wake of the crackdown on the 2020 post-election protests in Minsk, Macron declared that "Lukashenka has to go" (France24, September 27, 2020). Objectively speaking, this recent phone call undermined the recent declaration by Vilnius-based Svetlana Tikhanovskaya that she "assumes the duties of a representative of the Belarusian people and creates a transitional government" (Belsat, February 24).
But the biggest surprise came on the morning of February 27, when Zelenskyy called Lukashenka and the two agreed that Russian-Ukrainian talks would take place along the Belarusian-Ukrainian border, near the Pripyat River in Gomel Oblast of Belarus. The Russian delegation, headed by Vladimir Medinsky, Putin's aide born in Cherkassy, Ukraine, arrived in Gomel but was expected to wait only until 3 PM; so Lukashenka asked Putin to extend their stay. Earlier, some unnamed representatives of the Ukrainian elite reportedly asked Lukashenka to organize the talks and conveyed Lukashenka's request for Zelenskyy to call (Gazeta.ru, February 27). The talks started in the afternoon of February 28 because of the itinerary of the Ukrainian delegation. Apparently, due to considerations of security, the Ukrainians decided to enter Belarus from Poland aboard helicopters instead of traveling straight to the venue of the talks (BBC—Russian service, February 28).
On March 27, in Minsk, an attempt was made to conduct a protest rally against the war and in support of Ukraine; but law enforcement preventively apprehended more than 200 people (Meduza, February 27).
So while the overall implications of Belarus's participation in the ongoing war remain to be seen, Lukashenka has still managed to showcase his resilience in the midst of the fast-moving crisis.