The Nuclear Potential of Belarus in the Context of NATO-Russia Relations (Part Two)
Publication: Eurasia Daily Monitor Volume: 19 Issue: 15
By: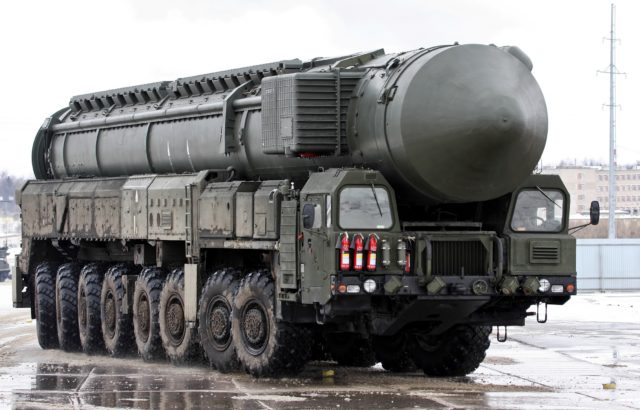 After the United States and the North Atlantic Treaty Organization (NATO) predictably rebuked Russia's maximalist proposals for new security guarantees, President Vladimir Putin promised a "military-technical response. Some in the Russian military expert community have suggested that these retaliatory measures could include deploying nuclear weapons on Belarusian soil—arguably permitted under the recently approved new Military Doctrine of the Russia-Belarus Union State as well as the amended Belarusian constitution (see Part One in EDM, February 1). Russian military specialists have already begun to suggest ways such a policy might be undertaken.
In November 1991, on the eve of the Soviet breakup, the Belarusian Soviet Socialist Republic (SSR) hosted 81 nuclear warheads for the Topol strategic missile complex and about 1,120 tactical warheads. But by 1997, all those weapons and launchers were removed, and the associated missile division was disbanded. Those particular legacy systems, of course, will not be returning. However, the redeployment of Russian nuclear weapons to Belarus is feasible, voices in Moscow assert, to mirror the hosting of US nuclear weapons in Western European countries.
Late last year, Belarusian President Alyaksandr Lukashenka noted that all the sites on his country's territory where Topol missiles used to be located, except for one, have been fully preserved and are still ready for use (RIA Novosti, December 2, 2021). However, this contradicts his government's statements from over a decade ago. In 2007, former Belarusian defense minister Pavel Kozlovsky said that, from a technical point of view, everything that Belarus once had in Soviet times is now lost and destroyed: "I mean the infrastructure for nuclear weapons. Belarus cannot host such objects by itself" (Deutsche Welle—Russian service, August 27, 2007). Alexander Mikhailovsky, an expert at the MGIMO Center for Military Studies, nonetheless suggests that relocating Russian strategic missiles to Belarus may be necessary and could involve new Yars and Topol-M road-mobile strategic complexes. However, he adds, this would be financially burdensome since Russia would first need to develop or build new infrastructure, storages, camouflage and protection measures, air defense, as well as safety and security systems for these wheeled missile launchers (Moskovsky Komsomolets, December 1, 2021).
Another option is to utilize the preexisting Belarusian potential. Belarus has several artillery and missile systems in service today that could theoretically be armed with a nuclear warhead. These include the Soviet-built 2S5 Hyacinth-S 152-millimeter self-propelled gun and the Soviet-era OTR-21 Tochka tactical ballistic missile. Belarus also wields aging 2A36 Hyacinth-B towed guns, which could carry a small (1–200 kilotons) nuclear warhead (Svobodnaya Pressa, December 2, 2021). Such an option would require political will as well as technical readiness by Russian industry to quickly make the necessary modifications to the Belarusian systems or their potential nuclear payloads.
The next possibility, considered by the likes of Konstantin Sivkov, a doctor of Military Sciences (Vesti, December 1, 2021), and retired Colonel Viktor Baranets (Pravda.ru, December 13, 2021), is the deployment of Iskander-M tactical missile systems on the territory of Belarus. Those weapons can fire missiles topped with a nuclear warhead and, if stationed in Belarus, could hit targets almost throughout Poland (thanks to a range of 500 kilometers). In November, Lukashenka explicitly stated that Minsk would like to receive several divisions of Iskander-M tactical missile systems from Russia in order to deploy them in the western and southern directions (Interfax, December 18, 2021). It is possible that the Belarusian leader's earlier remarks about the possibility of deploying nuclear weapons (see EDM, February 1, 2022) and this statement about wanting Iskanders were related.
The fourth option being floated in the Russian media may be the most realistic. Since 2020, after the protests following the Belarusian presidential election and tensions on the border, Russian Tu-160 strategic bombers and Tu-22M3 long-range bombers have begun regularly patrolling the western frontiers of Belarus. This more routinized appearance over Belarus of aviation assets that are a key part of the Russian nuclear triad (for example, the Tu-22M3) could be a harbinger of their permanent deployment in the near future. This possibility was proposed, for example, by the deputy chairperson of the Belarusian parliamentary Commission on International Affairs and National Security, Andrei Rusakovich (Eurasia.expert, December 8, 2021). Adding to the plausibility of this scenario is the fact that, during Soviet times, Tu-22M aircraft were stationed in Baranovichi, Belarusian SSR.
Here, Russia could be repeating the experience of the appearance of Iskander missile systems in Kaliningrad. Since 2007, Moscow had repeatedly threatened Euro-Atlantic countries that it would deploy Iskanders to western Russia (Kommersant, December 2, 2017). But their regular appearance in western-oriented exercises notwithstanding, Iskander missiles were permanently deployed to Kaliningrad only ten years later, as a response, according to presidential spokesperson Dmitry Peskov, to US missile defenses (RIA Novosti, January 21, 2017).
In addition to the above ideas, retired Russian Colonel Viktor Litovkin has suggested that MiG-31 aircraft armed with nuclear-tipped Kinzhal missiles could be sent to Belarus. He continued, "If the Americans supply Poland and Romania with nuclear Tomahawks, then we can send a ground-based version of the Kalibr cruise missile to Belarus" (Life.ru, December 2, 2021). The ground-based version of the missile is just being developed; the flight radius of a sea-based Kalibr with a nuclear payload is up to 2,600 kilometers (Eurasian-defence.ru, October 15, 2014).
Similarly, Alexander Khrolenko, a captain of the first rank in the Russian reserve, does not rule out the appearance of Russia's Zircon hypersonic missile in Belarus. In theory, Khrolenko said, such a rocket, launched from Belarus's Brest region, could hit Warsaw—160 kilometers away—within one minute, and reach as far as Brussels. However, to date, only a sea-based version of this missile, with a range of more than 1,000 kilometers, exists. A ground-launched Zircon remains under development (Sputnik.by, December 21, 2021).
All of the above proposals ostensibly represent contingency plans if US strike weapons and missile-defense systems appear in Poland and Romania as well as US nuclear weapons continue to be stationed in Europe. In Moscow's view, these concerns remain unresolved and, apparently, are not open to discussion by the Western side. So, formally, Russia is posturing itself as ready to undertake retaliatory actions, while, importantly, asserting that it was not the first to start. Taken together, it is no longer outside the realm of possibility that Iskander-Ms or Tu-22M3s armed with nuclear warheads could eventually appear in Belarus.