Belarus and the Showdown Over Ukraine
Publication: Eurasia Daily Monitor Volume: 19 Issue: 15
By: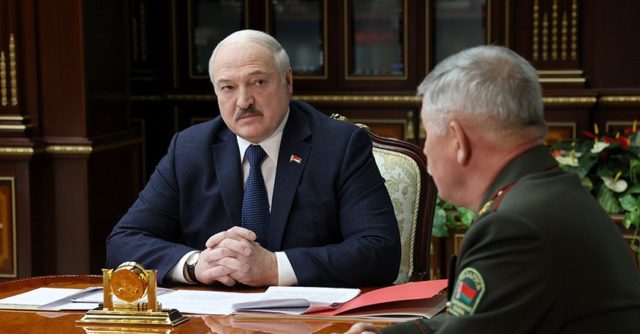 Belarusian President Alyaksandr Lukashenka annually convenes a meeting devoted to the major tasks of the state border service. During the latest such meeting, on January 24, he unexpectedly responded to Zenon Poznyak's assertion that Belarus was being militarily occupied by Russia (Pool Pervogo, January 24).
The founder of the Belarusian Popular Front, Poznyak (also sometimes written as Paznyak), was active in Belarusian politics from the late 1980s to 1996, when he left the country out of, apparently, a fear for his life. He had not returned to his native Belarus since then but remains an authority in the eyes of some older opposition-minded Belarusians. During the aforementioned meeting on border security, Lukashenka noted that "he had not stooped to the level" of engaging in polemics with his opponents before. However, in the daily review provided by his media service, he happened to read that an "occupation of Belarus was underway"—something that he, despite being commander-in-chief, had strangely failed to notice. So in a playful manner, he asked the head of the State Border Committee (SBC), Anatoly Lappo, if the latter had failed to inform his president about this. "Absolutely not," Lappo replied. Lukashenka then read out fragments of Poznyak's article, in Belarusian, from the review: "Troops introduced"; "200 trains, 50 cars per train should come here"; "it will amount to 80,000–100,000 men plus equipment. The whole plan of occupation has been detailed." After reading those excerpts, Lukashenka stressed that he repeated the words of Zenon Stanislavovich (Poznyak's patronymic) not because he is a kind of a role model but, on the contrary, because he is antipodal to the Belarusian authorities. "But I must say," Lukashenka stressed, "I know him very well, and he knows me. He is not stupid, he understands everything. All our fugitives [referring to opposition protesters who fled the country since 2020] are very far from him in terms of understanding." At that point, the SBC boss pointed out that everything was going according to the plan, but the fearful see danger everywhere (Pool Pervogo, January 24).
In that highly nuanced exchange, Lukashenka not only countered Poznyak's statement but also exploited a wedge between the "old" and "new" Belarusian opposition—i.e., the "fugitives." To wit, Poznyak is of the opinion that Western sanctions harm Belarus, not Lukashenka; whereas the Vilnius- and Warsaw-based opposition tends to appeal to Western governments for additional sanctions on Minsk. Moreover, Poznyak infamously believes that those people are Russia's "useful idiots." Not only are they Russia's creatures to begin with, but they also take part in its long game, aiming at the absorption of Belarus, he has alleged (see EDM, December 6, 2021).
Poznyak's original statement was made in response to a question about whether a Russian-Ukrainian war was imminent. "I think the probability for it in the near future is small," said Poznyak. "Rather, this is a distracting maneuver, the entire West has taken the bait, but the reality is that under the cloak of this chatter about the Ukrainian-Russian war, the occupation of Belarus has taken place. This strategic balcony is already in [Russian President Vladimir] Putin's hands. And NATO [North Atlantic Treaty Organization] does not understand what happened" (Svaboda, January 23, 2022).
It turns out that Poznyak is not alone in his misgivings. It is not by accident that a question about the potential moves of the Belarusian army—i.e., whether it is going to fight in an upcoming war not of Belarus's making—was posed following Lukashenka's address to the parliament (see EDM, January 31). Since it is highly unlikely that any non-vetted query were allowed to slip into the question-and-answer session, its conspicuous presence was indicative of concerns even among Lukashenka loyalists.
However, evidently not everybody shares such concerns. According to Russian political commentator Pavel Luzin, interviewed by the Belarusian Service of Radio Liberty, "if someone says that Lukashenka is Putin's puppet and it is enough for Putin to bang his fist on the table to achieve his goal, that someone exaggerates the personification of Russia's power. It is very convenient to say that we have a personalist dictatorship. But in fact, the Russian system is much less personalized than the Kazakh or Belarusian one. In Russia, some political functions are entrusted to state corporations such as Gazprom and Sberbank. You should not assume that everything in Russia depends on Putin. It is also absurd to consider Lukashenka to be a puppet. He is an experienced politician who knows how to exploit opportunities. And he is not alone, he has a consolidated ruling elite. And he represents the interests of this elite… His second resource is the system of international relations, with an implication that Belarus is an independent state—a dogma that is not disputed." At the time of the interview, Luzin estimated Russian military manpower in Belarus to be 10,000 at the maximum. This may not translate into a permanent military base. After all, Russia has been talking about it since the mid-2010s. After each meeting with Putin, Lukashenka says that the issue of the base was not discussed. Which suggests that it was," Luzin opined (Svaboda.org, February 1).
A similar idea was shared by Dmitry Butrin, the deputy editor of Russia's Kommersant daily, when interviewed by Radio Liberty. Only Butrin derived his conviction that Belarus is not about to lose statehood from the logic of economic integration. In fact, every Russian-Belarusian Union State program that becomes known to the public takes Belarusian concerns into account. According to Butrin's subtle formulation, although laws underlying economic and financial activities are indeed being harmonized by those programs, lawlessness will remain sovereign and country-specific. Over the course of the last two years, "Belarus definitely exercised sovereignty in that realm," Butrin remarked caustically to Yury Drakakhrust, his interviewer (Svaboda.org, January 31).
In turn, Carnegie's non-resident Belarusian scholar Artyom Shraibman opined that both extreme scenarios in the showdown between Russia and the West over Ukraine—an outright war or a stable truce—would be inconvenient for Lukashenka. In the former case, he would have to make risky and probably self-destructive concessions to the Kremlin; and in the latter case, it would be difficult for him to fascinate Moscow with his ostentatious anti-Western stance (Carnegie.ru, February 4).
To paraphrase Mark Twain, the reports of Belarus's imminent death as an independent state may be greatly exaggerated.