American 'Boojahideen': The Boogaloo Bois' Blueprint for Extreme Libertarianism and Response to the Biden Administration
Publication: Terrorism Monitor Volume: 19 Issue: 1
By: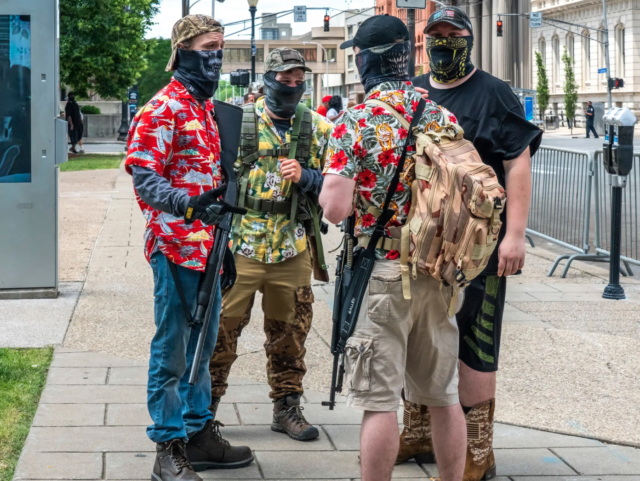 The Boogaloo Bois is a recently formed decentralized armed movement comprised of loosely knit cells scattered throughout the United States. Boogaloo participants have also been involved in several attacks and plots, including the attempted kidnapping of Michigan's governor, an attempt to sell weapons to Hamas, and a deadly attack on a federal security officer in northern California. The movement is centered on participants' belief that the U.S. government has become excessively tyrannical. Participants, therefore, have concluded that a second civil war is unfortunate, but inevitable, in order to obtain "true liberty." The movement refers to this idealized second civil war as "the Boogaloo" (Spotify [Buck Johsnon], July 2020). Occasionally, the word "Boogaloo" is exchanged for slang terms, however, such as "the big luau," the "Bungalow," or the "Big Igloo."
Boogaloo, Internet Culture, and Black Lives Matter
Boogaloo cells contain a mix of civilians and former military personnel. These participants call themselves "boojahideen," a linguistic spin-off of "mujahideen" (Liberty Actual, Boojahideen Shop). They have also been forced to utilize secondary online public forums like Reddit, Gab, and Parler because mainstream platforms like Facebook and Twitter have prohibited their content. (Reddit [RealRhettEBoogie]; Parler [Boojahideen Outfitters]). Despite this deplatforming, they are still able to circulate their ideology and connect with boojahideen in different regions of the United States.
This internet culture plays a key role in amplifying Boogaloo's ideology. Many Boogaloo participants accordingly first connect with one another online (Sofrep.com, December 24, 2020). Similarly, a fundamental component of Boogaloo internet culture is utilizing memes, which became a method of propagandizing Boogaloo perspectives of civil war. One Boogaloo flag even has "meme-based insurgency" inscribed on it (Onlyfeds.com, January 2021). Boogaloo propaganda also enables a more violent ideology to become palatable and communicable to both existing boojahideen and the general public.
The Boogaloo movement is not, however, racialist. Instead, Boogaloo cells congregate around a libertarian political ideology that deviates from traditional "right" and "left" positions. Boogaloo cells across the United States have participated in and supported leftist-led Black Lives Matter rallies since the death of George Floyd (Youtube/Black Lives Matter757, August 10, 2020). Boogaloo participants believe Black Lives Matters is "Disneyfied" and its supporters consist of some "Marxists" and "white Karens" who are not supported by Boogaloo, but Boogaloo participants hope to win them to Boogaloo ideology and have "Blacks and whites walk arm-in-arm against the feds" (Spotify [Buck Johsnon], July 2020).
In some instances, Boogaloo cells have provided security for protesters during Black Lives Matter events. (Twitter.com/ryanteeter98, August 27, 2020) In addition, a Boogaloo participant, Ivan Hunter, was arrested for contributing to the burning down of a Minneapolis police precinct after George Floyd's death and screaming "Justice for George Floyd" (startribune.com, October 24, 2020). Hunter was also "affiliated" with Steve Carillo, another Boogaloo participant who killed a California federal protective security officer after George Floyd's death (justice.gov, October 23, 2020). However, Boogaloo is also a vociferous proponent of the typically right-leaning view that Americans are entitled to an entirely unrestrained second amendment right to bear arms, open carry, and form well-regulated militias.
FBI Prevention of Boogaloo Attacks
Boojahideen insist they are not radicals, seek a peaceful revolution, and kick out any white supremacists on the "margins of society" if they try to participate (Spotify [Buck Johsnon], July 2020). However, multiple Boogaloo participants are facing serious charges following both attempted and executed attacks on law enforcement and public officials. The FBI has played a crucial role in deterring these boojahideen plots often through the use of inside informants and undercover officers' infiltration of Boogaloo cells.
In September 2020, boojahideen Benjamin Teeter Michael Solomon, who were in the communication with Ivan Hunter, were charged with attempting to provide material weapons support to Hamas (justice.gov, September 4, 2020). Believing Hamas was a mutual enemy of the United States, these two boojahideen considered themselves to be in alignment with Hamas. They, therefore, offered to manufacture unmarked firearms and firearm accessories for Hamas.
Unbeknownst to Teeter and Harrison, they were, in fact, attempting to deal arms to one of the FBI's undercover informants. Following an initial meeting with the informant, these boojahideen later delivered five firearm suppressors and a "drop in auto sear" firearm converter to the undercover FBI agent who they believed to be a senior Hamas official. At that time, they even offered to provide automatic weapons to Hamas and work as Hamas mercenaries in the future. Their actions, however, resulted in prompt charges from the Bureau of Alcohol, Tobacco, Firearms and Explosives (ATF) and FBI Joint Terrorism Task Force (justice.gov, September 4, 2020).
Multiple Boogaloo Bois are also facing charges in Michigan after plotting to kidnap the state's Governor, Gretchen Whitmer, and lay siege to the state Capitol building (justice.gov, October 8, 2020; see Militant Leadership Monitor, January 5). While the militia responsible called itself "Wolverine Watchmen," individuals within that militia referred to themselves as "boojahideen." In addition, a leader of the Whitmer kidnapping plot, Joseph Morrison, used the online nickname "Boogaloo Bunyan" in digital forums (Michigan.gov, October 2020).
Morrison and other plot participants were interviewed by a local TV station prior to their arrest during a second amendment gun rights rally. In the interview, Morrison sported a trucker hat with the Boogaloo flag patch on the front. His co-conspirators also donned Hawai'ian shirts, a fashion trademark of Boogaloo participants (Youtube/Target8News, October 9, 2020).
The kidnapping plot was launched in response to what the participants called "government tyranny" stemming from Whitmer's COVID-19 lockdown orders. The cell had been developing detailed plans to kidnap Whitmer, "try" her for "crimes," and lay siege to the Michigan state capitol building. Confidential FBI informants were able to leak plot information, meeting audios, and chat room conversations with the FBI Joint Terrorism Task Force (Michigan.gov, October 2020). This collaboration led to the arrest of everyone involved in the plot.
Boogaloo Responses to the Biden Administration
With the Joseph R. Biden-Kamala Harris administration transitioning into the White House, new dynamics will emerge between the Boogaloo movement and the U.S. government. Some Boogaloo cells have a history of seeking unity and offering aid to peaceful Black Lives Matter protesters (Youtube/Black Lives Matter757, August 10, 2020; Youtube/UnicornRiot, August 26, 2020). The Biden-Harris administration's criminal justice policy is expected to address Black Lives Matter protesters' demands (joebiden.com/justice, January 2021). Thus, it is likely the Boogaloo movement will support these agenda items.
However, Boogaloo participants still have a rigid stance that U.S. citizens must maintain unimpeded constitutional second amendment rights, including the right to carry firearms in all capacities (Youtube/MatthewRodier, October 17, 2020). The Biden-Harris administration, however, aims to eliminate the sale and import of assault weapons and high-capacity magazines (joebiden.com/gunsafety, January 2021). It is highly likely the Boogaloo movement will push back against these changes.
In the past, boojahideen have voiced their discontent with firearm restrictions. On August 18, 2020 in Richmond, Virginia, for example, a large group of Boogaloo participants marched in full tactical gear while open-carrying weapons. During the event, Boogaloo participant Mike Dunn read an open letter that stated "any gun legislation proposed and passed will be seen as a direct act of war against the free people of Virginia. This includes any firearms ban and magazine capacity limitations" (Youtube/News2Share, August 18, 2020). It is highly likely that the Biden administration's gun control laws will be viewed as a "direct act of war" in the eyes of the Boogaloo movement.
While the rallies Boogaloo militias have attended in 2020 remained peaceful, it is impossible to ignore the multiple terrorism-related incidents in which its participants have planned and participated. The attempted kidnapping of Governor Whitmer, attempt to provide material support to Hamas, and attack on federal building personnel display the willingness of boojahideen to attack government officials to advance their political agenda. While it is likely Boogaloo cells will support Joe Biden's decision to reform policing operations, the Biden administration's restrictions on select firearms will likely trigger rebellious activity from boojahideen nationwide.