Briefs
Publication: Terrorism Monitor Volume: 19 Issue: 1
By: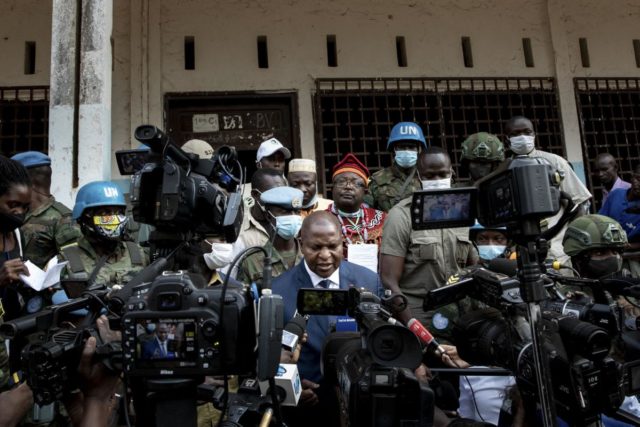 Russia Defends 'Protectorate' in Central African Republic as Rebels Advance
Jacob Zenn 
France has historically been the major Western power guaranteeing political stability in the Francophone countries of northwest and central Africa. However, Turkey has increasingly matched French influence in North Africa, while the United States, to an extent, has done the same in Niger and perhaps Rwanda (France24, December 24, 2020). While Russia provides weapons to various Francophone countries, it has also become the protector of the Central African Republic (CAR). Prior to this, France had been the most influential foreign power in CAR and neighboring countries, including, for example, Chad, where Paris has consistently "propped up" its three decades-long President Idriss Déby (rfi.fr, March 20, 2019).
In 2013, France secured Bangui, CAR's capital, during the country's civil war and prevented Seleka rebels from taking the city (France24, September 12, 2013). After 2013, however, Russia began "exchanging arms and cash for access to oil, minerals, strategic bases and rare earths" from CAR. Moscow is also training the country's armed forces and providing the security detail for CAR President Faustin-Archange Touadéra. This indicated Russia was assuming France's traditional role as the security guarantor of the country (Eurasia Daily Monitor, May 15, 2018). France accordingly criticized Moscow's role in CAR as unproductive, while the Kremlin increasingly became seen as Touadéra's backer (dw.com, November 16, 2018).
In the weeks ahead of CAR's most recent crisis in December 2020, Russia also sent two weapons shipments, including tanks, to Bangui to help CAR's army maneuver throughout the country's expansive territory. In addition, there were soft power exchanges, such as music concerts, where Russian soldiers gave candy to children (rosbalt.ru, October 24, 2020). The recent crisis, however, began in the run-up to December 27 elections when the Unity for Peace in Central Africa (UPC) militia seized Bambari, the country's fourth-largest city, and threatened Bangui. Suspicions were rampant that former president François Bozize was behind the rebels (France24, December).
Russia's Ministry of Foreign Affairs (MFA) responded by dispatching 300 military instructors to CAR at "to train [CAR] military personnel" upon the government's request (rbc.ru, December 22, 2020). Russian military contractors were also seen around Bangui (vk.com, December 23, 2020). Ultimately France deployed warplanes to CAR and Rwanda sent several hundred troops into the country, but more than any other external power, it was the Russian forces who protected Touadéra and deterred the rebels from continuing toward Bangui (France24, December 23, 2020). Moscow, therefore, can currently be considered CAR's security guarantor, or least Touadéra's, and its support has prevented the militias from approaching Bangui, despite their attempts as recently as January 13 to launch offensives toward the capital (lequotidien.com, January 9; Al Jazeera, January 13). Russia, in turn, can be expected to continue receiving beneficial mining contracts (repubblica.it, December 27, 2020).
***
Islamic State Sinai Province Targets Egypt-Israel Gas Pipeline
Jacob Zenn
Since February 2018, Egypt has waged an intense counter-insurgency against Islamic State (IS) Sinai Province (Arab News, December 25, 2020). Despite this, Sinai Province has claimed more attacks than any other IS external province except for Islamic State in West Africa Province (ISWAP). Sinai Province attacks have included firing mortars at Egyptian military posts and ambushing Egyptian troops, executing "collaborators," and massacring Christians and Sufis.
However, one of the more geopolitically significant types of attack has been Sinai Province's targeting of the gas pipeline that extends from the province into Israel. Three have occurred this year, including on February 3, November 19, and, most recently, on December 26 near Sabika in North Sinai. This is west of al-Arish and around 30 miles from Rafah in the Gaza Strip. When IS claimed the latest pipeline attack, the group unsurprisingly stated Sinai Province's motive was to disrupt the pipeline because it is connected to Israel. The attack was not particularly effective because it did not disrupt gas supply, civilians' housing, or the nearby industrial park (Egypttoday.com, December 24, 2020).
The impact of the explosion was nevertheless large enough that smoke was seen 30 miles away (alaraby.co.uk, December 25, 2020). Various Egyptians have since posted to social media their video recordings of the explosion from a distance (Youtube.com, December 24, 2020). Although little proof in terms of photos or videos was provided to substantiate Sinai Province's involvement, the IS claim is likely true given the lack of other possible perpetrators and Sinai Province's record of targeting the gas pipeline (TimesofIsrael.com, December 25).
Also notable about the gas pipeline attack claim was that it came during a week in which Sinai Province claimed no other attacks, which is rare. Thus, the high-profile attack, if not successful given its failure to disrupt gas supply, compensated for the downturn in Sinai Province's operational tempo. The attack will not, however, affect Israel's forward momentum in developing and expanding ties with Turkey and Arab and other Mediterranean nations in the oil and gas sector (jns.org, December 6, 2020). Meanwhile, Sinai Province's release of a long propaganda video in early 2021 demonstrates its fighters maintain sophisticated weapons and tactics and are able to resist Egypt's own most sophisticated counter-terrorism operations whether or not it presents a threat to gas flow between Sinai and Israel (Twitter.com/@evacool, January 9).