An Anatomy of the Chinese Private Security Contracting Industry
By: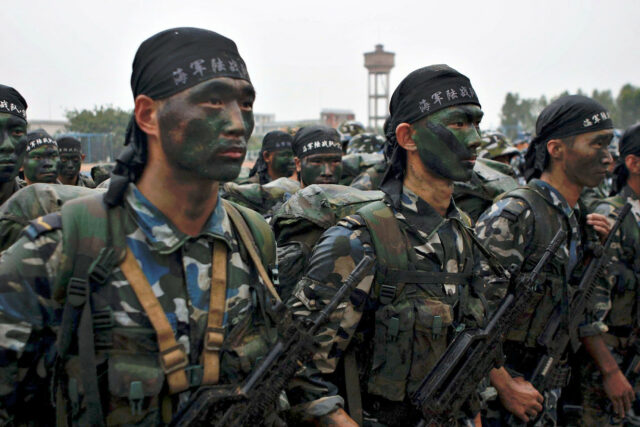 Executive Summary
The re-emergence of the Chinese "security for hire" industry—which is deeply rooted in Chinese history and trade practices—is largely a result of the beginning of market reforms in the 1980s and China's growing integration into global trade. Since 2013, after the inauguration of the Belt and Road Initiative (BRI), discussions on the use (and methods of use) of private security companies (PSCs) in protecting Chinese nationals and material assets abroad has increased. In the future, given China`s growing involvement in resource-rich but unstable regions, the role and use of PSCs is expected to increase.
While China could boast the world`s largest PSC industry in terms of personnel employed, its level of preparedness and sophistication remains incomparably lower than that of its Western counterparts. This owes to a broad range of factors and pre-conditions, ranging from the hesitancy of the Chinese political elite to the lack of necessary skills and experience on the part of PSC operators.
While development of land-based PSCs will remain a clear priority for the Chinese side, other types of PSCs and similar entities should be expected. Beijing could also make an attempt to connect development of its PSCs with United Nations–mandated missions as a way of improving China's reputation and to gain access to regions prioritized by Beijing in a less-aggressive way.
In the near future (five to 10 years), it is unlikely that Chinese PSCs will either transform into full-fledged private military and security companies (PM/SCs) or match, in terms of skills and competence, their Western counterparts.
The rapid growth of China's outbound foreign direct investment (FDI) and expansion of trade ties with foreign countries and overseas regions (many of which are located in challenging areas from a security perspective) has resulted in a growing number of incidents involving Chinese nationals and property. Given the spread of the People's Republic of China's (PRC) BRI mega-project, to mitigate risks and concerns of large businesses and the state, the Chinese side has started strengthening its "security for hire" industry. That being said, despite several legislative decisions and practical steps, China's PSCs have multiple structural weaknesses, which—unless addressed and overcome in an expeditious and decisive manner—are likely to continue rendering the Chinese PSC industry hardly competitive vis-à-vis its Western counterparts.
This second report in the "Guardians of the Belt and Road: The Role of Private Security Companies in Securing China's Overseas Interests" series aims to discuss the anatomy of the Chinese PSC industry through the lens of its historical transformation. To achieve this, the report will first discuss key historical milestones of the Chinese PSC industry in conjunction with Beijing`s growing involvement in global trade. Second, it will explain key traits and distinctive characteristics of the Chinese PSC industry in contemporary times, paying special attention to the post-2013 period. Third, a brief SWOT (strengths, weaknesses, opportunities and threats) analysis will be conducted of the Chinese PSC industry in its current and prospective forms.
While working on this article, I employed a broad range of secondary Chinese and English-language sources. In addition, I conducted an in-depth analysis of the websites of various Chinese PSCs. Furthermore, for primary data I conducted three interviews with renowned experts on China:
Robert Spalding,[1] Brigadier General, US Air Force (ret.) and the author of Stealth War: How China Took Over While the American Elite Slept[2];
Helena Legarda,[3] a lead analyst at the Mercator Institute for China Studies (MERICS) and a co-author of the "Guardians of the Belt and Road" MERICS report[4];
Alessandro Arduino,[5] a Singapore-based author of numerous books, research articles and policy papers that discuss the Chinese PSC industry—arguably, the most well-known and best-informed Western expert on Chinese PSCs.
The Chinese PSC Industry: A Historical Perspective
The development of Chinese PSCs has a significant historical background, with some experts attributing the emergence of groups that could be roughly defined as proto-PSCs to the time of the Song Dynasty (宋朝) (960–1279), when the so-called culture of biaoju (标居; security/armed escort) started to develop. This trend continued during both the Yuan and Ming dynasties, reaching its peak under the Qing Dynasty.[6] During the Great Ming Dynasty (大明) (1368–1644)—when foreign commercial ties boomed—these entities were primarily involved in services associated with providing armed escorts to merchants and ensuring safety of goods as well as property.
As noted by some experts, Chinese proto-PSCs were primarily employed in activities whose geography rarely went beyond imperial boundaries, primarily covering land-based operations; however, sometimes these proto-PSCs took part in anti-piracy raids as well.[7] Later, following the economic, political and military stagnation of imperial China during the late Qing Dynasty (大清; 1644–1911), the need for these proto-PSCs decreased, making them de facto disappear from the scene by the early 1920s.[8]
After a gap of several decades, the process of partial re-emergence of the "biaoju culture" began after Mao Zedong's death in 1976 and the advent of the second stage of market reforms in 1984, when government controls were somewhat eased and some economic decentralization was introduced.[9] Specifically, 1984 was marked by the emergence of what could be called the first Chinese PSC under the auspices of the Public Security Bureau (公安局; PSB) in the PRC's first Special Economic Zone in Shenzhen, thereby paving the way for the formation of the security and guard services companies (SGSCs) in China.[10]
Theoretically, this should have resulted in the emergence of a relatively independent PSC industry enjoying greater autonomy; yet, this did not happen. The Chinese state did—despite some economic liberalization—retain a de facto monopoly and completed oversight over the nascent PSC industry.[11] As Chinese experts have argued, despite some traces of privatization, "the private security 'industry' is not really a private industry as such, as it is controlled entirely by a PSB monopoly."[12]
In addition to other reasons related to well-known "specificities" of the Chinese socioeconomic and political model, the PRC firmly upholds "the Party controls the gun" (党指挥枪) principle, which not only decreases the level of sophistication and professionalism of Chinese PSCs (through depriving them of firearms) but also de facto enables the state to retain a sole monopoly on power and violence.
Another major milestone in, and stimulus for, the development of the Chinese "security for hire" industry was related to China becoming an integral part of the global economy, reflected in Beijing's "Go Out" policy (走出去战略; 1999).[13] The country also saw a dramatic increase in outbound FDI, which, by 2004, made China one of the world leaders in terms of outbound investment.[14] Meanwhile, Beijing`s rapid integration into the global supply chain network—undoubtedly positive from an economic and business perspective—exposed Chinese capital and assets to a range of security-related dilemmas faced by Chinese businesses abroad. This led to the further transformation of Beijing's perception of the PSC industry, which occurred between 2004 and 2010 and can largely be attributed to two main episodes. First, 11 Chinese workers were assassinated in Afghanistan in 2004, which resulted in the attempt of a Ningbo-based businessman to create the first China-based, foreign-focused private security firm.[15] The second major episode, directed against Chinese investors, happened in 2010 when separatists from the Baloch Liberation Army in Pakistan attacked the Zaver Pearl Continental Hotel in Gwadar. The group justified its attack with the assumption that "Chinese investment … is of little benefit to local people."[16]
Chinese sources provide the following sequence of chronological steps between 2008 and 2012 that marked key milestones in the evolution and development of a PRC legislative framework pertaining to the domestic security contracting industry[17]:
Creating the Center for Consular Assistance and Protection;
Issuing investment guides and early warnings by categorization of countries and regions by the Ministry of Commerce[18];
Launching the armed escort, patrol and evacuation mission of the People's Liberation Army Navy (PLAN) as part of the international efforts to combat piracy off the Somali coast;
Creating the overseas police liaison department of the Ministry of Public Security, which had further developed the capabilities to protect overseas Chinese security interests;
De facto legalization of the PSC industry in September 2009, which ensued after the PRC State Council issued the "Regulation on the Administration of Security and Guarding Services" (保安服务管理条例).
This final measure introduced two main types of PSCs: "security companies" (保安服务公司) and "security companies engaged in armed escorting services" (从事武装守护押运服务的保安服务公司). The regulation provided a basic legal framework for PSCs operating domestically within China but made no clear reference to overseas activities—a point that will be discussed later in this report.
The need for further development of China's own and more professional PSC industry was highlighted during the fifth session of the 11th Chinese People's Political Consultative Conference (中国人民政治协商会议; March 2012) when a proposal was presented calling for the need to establish "security companies similar to Blackwater." Later, in December 2015, a non-governmental think tank published a report de facto proposing the same idea.[19] However, due to numerous factors, Beijing did not move ahead with transforming its PSC sector into a PM/SC industry that would have matched its Western counterparts in professionalism and preparedness.
That being said, however, China's growing involvement in, from a security point of view, unstable and perilous areas—a trend that became particularly visible after Beijing launched the BRI in 2013, which traverses some of the world's most-dangerous areas—warrants strengthening protections for both material assets and Chinese nationals in these regions. This, in turn, brings the issue of strengthening the PSC sector to a new level.[20] Notably, in the same year, then–Chinese Premier Wen Jiabao (温家宝) clearly stated that protection of China's overseas interests was a top priority for the Chinese leadership.[21]
China's Contemporary PSC Industry
Based on the type of end-user, two major reasons underline why Beijing is working to further develop and grow the Chinese security contracting industry.
The first factors are economic and business-related motifs that cater to both private and public interests, though these two aspects can hardly be separated given the specifics of the Chinese political system. From the start of its global economic expansion until 2016, China's outward direct investment (ODI) skyrocketed from $915 million to $183.1 billion.[22] In many ways, this is premised on investment initiatives that take place along and in the framework of the BRI. Once dubbed as "a Marshall Plan with Chinese characteristics,"[23] the BRI includes projects in some 126 countries and 29 international organizations,[24] and Chinese President Xi Jinping officially characterized it as "the project of the century."[25] However, multiple security concerns, divided by Chinese experts between "extraneous" and "endogenous" risks, could pose a certain challenge to Chinese economic expansion abroad.[26]
In his analysis, Alessandro Arduino gave the following explanation to these two types of risks:[27]
Extraneous risks—those that do not have Chinese origins—are understood as "those that Chinese actors confront in the often-weak state [that include] criminality, extremism, terrorism, ethnic strife and separatism." Two of the above-mentioned examples – attacks in Afghanistan and Pakistan – that might have triggered the Chinese side to start seriously considering strengthening its PSC industry belong to this type of risks.
Endogenous risks are those that are Chinese in origin. Specifically, these risks may arise "due to poor working conditions, the upset caused to the local economic status quo, a disregard for environmental degradations, a failure to engage fulsomely with local populations, and cultural insensitivity."
According to China expert Martin Purbrick, other specific examples of risks associated with operations along the BRI (and the Indo-Pacific region in particular) include[28]:
Online fraud (including pyramid schemes) has become an issue of particular concern for Beijing due to its massive and rapidly expanding scale. In May 2021, Chinese state media published announcements on the subject.[29] According to Chinese official data, in 2020, criminal activities of this type resulted in 322,000 cases, causing approximate economic damage of 187 billion yuan ($28.53 billion).[30]
Online gambling has resulted in 1 trillion yuan ($150 billion) in illicit proceeds flowing out of China annually.
Human trafficking for slavery and prostitution is proliferating.
Animal/animal parts trafficking is being carried out for use in traditional Chinese medicine.
Money laundering of the proceeds of PRC crime is also becoming a concern.
To deal with these risks, China will not be able to engage its armed forces to protect its personnel and tangible assets primarily because many of these crimes occur outside China, where Beijing has no jurisdiction. In these cases—if an agreement with the domestic authorities is reached—Chinese PSCs could then be used to render necessary security services.
Furthermore, geopolitical and state interests, including surveillance and intelligence gathering, among other factors, are essential elements of China's strategy in terms of expansion of its presence in strategically important regions.[31] Another reason for the development of a stronger PSC industry can be found in the Chinese military reforms that took place in 2016,[32] which, according to Niva Yau, a senior researcher at the OSCE (Organization for Security and Co-operation in Europe) Academy in Bishkek, "pushed a lot of former military personnel into the private security sector."[33]
While the second set of reasons for the development of China's PSCs industry seems less pronounced—in many ways also due to the PRC's concern over the negative implications that might ensue—in the future, especially in the case that Beijing's rivalry with the Washington and its regional partners grows, these formations could be used for such purposes on a larger scale, though this might cause the endogenous risks to expand.
The Chinese PSC Industry Today: A General Outlook 
China's PSC industry presents a quite complex and, in many ways, still developing sector. While actual data on the industry's size is not publicly revealed by Beijing (neither by the government nor by the PSCs themselves), available information suggests that, in 2018, the registered number of Chinese PSCs stood at 5,000, employing more than 4.3 million security personnel, with only 20 (employing 3,200 personnel) providing international services.[34] In an interview, Arduino noted that, in mainland China, the number of firms involved in providing security services may stand at between 8,000 and 10,000, employing some 3.5 million employees.[35] Yet, the number of professional PSCs operating outside of China is not above 20 companies. According to Helena Legarda, the absolute majority of Chinese PSCs are operating domestically with just a handful of operators engaged in overseas activities. Based on data from 2016–2018, the number of Chinese PSC employees working abroad did not exceed a few thousand contractors. At the same time, the most recent calculations from 2022 suggest that the number of these entities has increased dramatically, reaching a staggering 7,000.
However, these numbers are a bit deceiving, as the sheer size of the PSC industry does not correspond to neither the level of professionalism nor expertise. In addition to government-related factors and other objective hindrances, the development of the Chinese security contracting industry is strongly influenced by the needs of the end-users that procure their services. In practice, the absolute majority (up to 80 percent) of Chinese PSCs operating in China perform functions more commensurate with bodyguarding and consultancy rather than armed escort activities.[36] Interestingly, the popularity of female bodyguards within the industry is quite notable.[37] Thus, in terms of staffing practices, the absolute majority of Chinese PSCs heavily rely on the recruitment of personnel from diverse backgrounds and who sometimes are not even directly prepared for the task, such as martial arts practitioners and police veterans.[38] Recent studies have shown that "Chinese PSCs that attempt to globalize are usually formed by and focus on hiring former soldiers."[39] Apparently, this background is viewed by the Chinese contractors as a key precondition for success and a sign of superior quality and combat readiness, since many of these potential recruits have had some operational experience in the PLA's Special Operation Forces.[40] According to retired US Army Lieutenant Colonel Dennis J. Blasko, the Chinese Armed Forces had, at one time, approximately 20,000–30,000 of these contractors, which is by no means their maximum capacity.[41] From his side, Arduino noted that, as a consequence of China`s growing economic expansion, as well as other factors, the Chinese PSC industry started to demonstrate signs of transformation reflected in the fact that "China's private security companies are evolving from local security enterprises operating at the municipal level in China to international companies able to maneuver abroad in high-risk areas."[42]
According to Arduino, Chinese PSCs can be divided onto four macro groups:[43]
The first group consists of domestic companies focused on basic personnel, close protection and credit recovery. This macro group involves "hundreds of companies that are benefiting from a cheap workforce, some municipal or provincial links to police and military police officials, and a favorable environment due to the lack of regulations in this line of business."
The second cohort involves domestic companies that "have evolved from the first category, offering more specialized services ranging from intellectual property protection, corporate security, HR security management and logistic armored protection." According to Arduino, this macro-group "is only marginally related to companies that are going on to evolve into a full PSC."
The third macro group is made up of domestic companies that "cooperate with foreign ones to provide local bidding support on Chinese tenders for international security services, risk assessment and overseas support to Chinese insurance companies. They have a strong network of connections with big state-owned enterprises [SOEs: the Ministry of Defense, Ministry of Foreign Affairs] and the banking and insurance sectors." The author notes that the main weakness of these operators is found not in the lack of suitable clients but is rather attributed to "inner weaknesses related to the scarcity of properly trained domestic human resources, especially the ones with skillsets ranging from risk assessment, logistical expertise, foreign cultures and languages, the lack of risk management and insurance coverage to their employee."
The fourth and final group consists of Chinese companies "with a developed international background in security services that cooperate with the Chinese Ministry of Foreign Affairs and large SOEs." Such companies include VSS Security Group (involved with the security duties for the Chinese National Petroleum Corporation in Iraq and Afghanistan); Huawei Security Company; Dingtai Anyuan International Security & Defense (mainly in Iraq); and Shanghai Huaxin Securities. Overall, this segment of the Chinese PSC industry is also said to be experiencing growth, yet at a slower pace than that of the other three aforementioned macro groups of actors.
Operational Domains
When dividing Chinese PSCs in accordance with their pertinence to certain operational areas (current, prospective and potential), this should be done through the lens of China's security motives associated with the BRI. PRC legislation and officials divide the BRI into four main spaces: land, sea, cyber and space. Given the strategic importance of these areas, it makes sense to break down the analysis of current PSCs in accordance with these operational domains.
First, land-based operators—given that the BRI consists of rail and energy transmission corridors from China to the European Union (the "belt") and a series of deep-water ports in Asia, Africa, the Middle East and Europe (the "road"), which involve some 30,000 Chinese companies operating overseas[44]—constitute the largest and most developed group within the Chinese PSC industry. The land-based part of the BRI and related projects covers much of the so-called "arc of crisis" area,[45] a territory stretching from the Indian Ocean to the Horn of Africa, which explains the high level of security-related incidents involving Chinese nationals and assets in these areas. For instance, official reports show that between 2010 and 2015, the number of such incidents stood at no less than 350 cases causing over 1,000 casualties.[46] Other studies suggest that between 2001 and 2017, over 77,000 terrorist attacks took place in more than 60 countries along BRI routes, of which about 8,600 were directed at businesses. According to open sources, Chinese businesses abroad encounter two fundamental types of risks: kidnappings and ambushes, with the most frequently targeted personnel being employed in sectors related to oil extraction, construction and mining. Table 1 summarizes the available information on key Chinese PSCs.[47]
Table 1. Selected Chinese PSCs With International Outreach
Company Name

Number of Employees
Top Leadership
Date Established
Areas of Operation
China Security and Protection Group

(中安保实业有限公司)

+30,000
Liu Wei (刘伟)
1994
Focused on the BRI
Shandong Huawei Security Group (山东华威保安集团股份有限公司)
+6,000
Xun Jinqing (荀金庆)
1993
Africa
China Overseas Security Group (中国海外保安集团)
Unknown
Wang Guobao (长王国保)
2015
Argentina, Djibouti, Ethiopia, Iraq, Jordan, Sri Lanka, Laos, Indonesia,

Pakistan, Turkey, Malaysia, Cambodia, Mozambique, South Africa and Thailand

HuaXin ZhongAn (华信中安(北京)保安服务有限公司)
+15,000
Yin Weihong (殷卫宏)
2004
Focus on the BRI
Beijing DeWe Security Services Limited Company

(北京德威保安服务有限公司)

Unknown, +350 Based Abroad
Li Xiaopeng (李晓鹏
2011
Overseas Operations (up to 50 Countries)
Frontier Services Group

(先丰服务集团)

Unknown, 432 at Headquarters
Chang Zhenming (常振明)
2014
Focuses on East Africa, Middle East and North Africa; Has Headquarters in Hong Kong and Beijing and Offices in Shanghai, Dubai, Nairobi, Boten, Malta and Johannesburg
Shanghai Zhongchengwei Security Service Group
Unknown
Unknown
2009
Nationwide; Focuses on the BRI
Beijing Security Service General Company
77,000+
Zhang Tao (理张涛)
1986
Focused on Chinese Market (33 Branches, a Security Training School and 12 Security Training Branches)
Shanghai Security Service Corporation (上海市保安服务(集团)
Reportedly, 700 Total Employees
Unknown
1985
China, France, Japan, Italy, Canada, South Africa, Thailand, Switzerland, Spain, Greece, Columbia and Indonesia
The Zhongbao Huaan Group
Unknown
Unknown
2010
Sihanoukville Special Economic Zone (the Cambodian coast)
VSS Security Group
Unknown
Unknown
2010
China, Iraq, Afghanistan Africa and South America
Huaxin Zhongan
15,000+
Unknown
2016
21 Countries in Total, Including Hong Kong, Malta, Sri Lanka and Malaysia
China Cityguard Security Service (集团主营安全相关服务)
Unknown
Yang Yong
2005

China, Dubai, Mexico City, Sao Paulo, Bogota, Pretoria, Cape Town, Lahore and Milan
Source: Author.
The second operational domain is controlled by maritime operators. For most of its military history, China has remained a continental power, which was primarily related to the lack of threats and challenges emanating from the sea. From an economic point of view, the maritime domain was never considered to be the main source of economic livelihood. The situation started to change with the launch of market reforms in the early 1980s, when China's dependency on maritime trade increased dramatically.[48] This realm's importance was highlighted in 2010, when the Chinese authorities started referring to the maritime domain as "blue national soil" (蓝色国土).[49]
Chinese leader Xi Jinping also highlighted the strategic importance of the maritime domain for Beijing. In July 2013, he stated that China would "never abandon its legitimate maritime rights and interests."[50] That same year, a white paper was published that pointed to a potential role for the PLAN in protecting the BRI.[51] Additionally, at a legislative level, this new reality was emphasized in the 2015 National Security Law (Article 17), which claimed that Beijing will increase "the construction of border defense, coastal defense and air defense, taking all necessary defense and control measures to defend the security of continental territory, internal waterbodies, territorial waters and airspace and to maintain national territorial sovereignty and maritime rights and interests."[52] In many ways, the changing position of the Chinese authorities should be attributed to an integral part of China`s BRI: the 21st Century Maritime Silk Road (MSR) (21世纪海上丝绸之路), which envisions reliance on sea lanes across the Mediterranean, the Pacific and Indian Ocean.[53] Even though Chinese official legislation on the maritime domain is less developed than the land-based part of the BRI,[54] the logic of international trade—up to 90 percent of the world's trade depends on maritime transport—requires the Chinese side to ensure physical security when operating along the MSR.[55] Due to some of the previously discussed challenges associated with the potential deployment of the regular armed forces, increasing exploitation of sea lanes could require the use of non-state actors and a reliance on "security for hire." As one study argued, "If the protection of the MSR projects and trade falls to private maritime security companies, this helps the government avoid conflating its Belt and Road Initiative … with strategic military interests. It also helps free up navy resources."[56]
That said, however, achieving a qualitatively new level of professionalism in the realm of maritime private security would not seem like a realistic option for the Chinese side, at least over the next several years. In addition to the already-indicated general factors (shared by the entire Chinese PSC industry), development of the maritime side of the "security for hire" industry could be hindered by the low level of professionalism of operators that comprise the industry as well as excessively strong control from above. Specifically, this was visible during the standoff between a Vietnamese fisheries inspection vessel and Chinese state-owned commercial vessels in 2014, when the role of the China Coast Guard (中国人民武装警察部队海警总队) fell under direct military command of the Central Military Commission.[57] The table here compiles some of the best-known Chinese PSC maritime operators.[58]
Table 2. Selected Chinese PSCs (maritime operators).
| | | | | |
| --- | --- | --- | --- | --- |
| Company Name | Number of Employees | Top Leadership | Date Established | Areas of Operation |
| Hua Xin Security Services | Unreported | Unreported | Unreported | Unreported |
| Zhongjun Junhong Security Group "Sea Guards" (海卫队) | +6,000 | Unreported | Unreported | Armed Escorts in the Indian Ocean and Along Africa's West Coast; Unarmed Escorts in the South China Sea and the Malacca Strait; Overall, 16 Subsidiaries, 59 Branch Companies, 33 Professional Teams, 20 Operating Joint Ventures and 20 Labor Delivery Training Bases |
| Hanwei International Security Services | Unreported | Unreported | 2014 | Laos, Sri Lanka, Pakistan, Iraq, Nigeria, South Africa and Papua New Guinea; Specializing in Oil Drilling Platform Guard Services |
| China Security Technology Group | Unreported; Has a History of Employing Foreign Personnel | Tan Feng (谭锋)[59] | 2016 | Localized Branches or Subsidiaries in Pakistan, Sri Lanka, Kampuchea, Kenya, Algeria, Iraq and Angola[60] |
| Hua Xin Zhong An[61] | Unreported[62] | Unreported | Unreported | Sri Lanka, Djibouti, Egypt and Somalia[63] |
Source: Author.
The third area of operational consideration includes the cyber, digital and space domains. For now, these have limited direct applicability to the PSC industry; yet, as mentioned by Peter Singer and Douglas Brooks in an interview, these are domains where PSCs have the potential to play a more notable role in the scope of the BRI.[64] The strategic importance of these dimensions was underscored in the "Digital Silk Road China" white paper published in 2015, which argued that "outer space has become a commanding height in international strategic competition" and China will "deal with security threats and challenges in that domain and secure its space assets to serve its national economic and social development and maintain outer space security." The paper went on to argue that "cyberspace has become a new pillar of economic and social development, and a new domain of national security," arguing that China must respond by enhancing its cyber capabilities to "stem major cyber crises, ensure national network and information security, and maintain national security and social stability." [65] The publication also proclaimed that "space and digital connectivity" are among the top agenda items in China`s development priorities.[66]
Reflecting on the strategic importance of the cyber, digital and space domains as key pillars of the BRI, experts divide these into two macro segments.[67] The first is "China's Belt and Road Space Information Corridor," which aims to "build China into a space power in all respects," which will lead to "strong and sustained economic and social development [and] effectively and reliably guarantee national security."[68] Another white paper titled "China's Beidou Navigation Satellite System," published in 2016, drew a clear parallel between China's ability to develop its own navigation satellite system and strategic military national security interests and its ability to pursue uninterrupted economic growth.[69] In truth, the Beidou system's strategic importance goes well beyond its operational tasks per se, since the Chinese side views it as an indispensable element for securing "the needs of the country's national security and economic and social development."[70]
The second macro segment is "China's Digital Silk Road" (DSR),[71] which was also announced in 2015 and is intended to "build the brand image of Chinese companies, thereby 'winning people's hearts.' When they become market leaders, these companies will be (market) standard setters—benefiting also from the accompanying monopoly and customer lock-in advantage, similar to how European and American companies have profited for many decades already. Also, these companies—assisted by the Chinese government—will be well-positioned to push for the adoption of their technical standards in standard-setting bodies."[72] Importantly, speaking at the National Cybersecurity and Informatization Work Conference in April 2018, Xi Jinping paid special attention to the opening "historical opportunities of informational development" and to increasing China's activities in cyberspace,[73] which is, according to the PRC, using rhetoric similar to the Russian political leadership[74]—heavily dominated by the US.[75] Thus, based on the discourse of Chinese political leaders, one of Beijing's key goals is to become a full-fledged cyber power.[76]
While the possibility of admitting PSCs into the digital domain is a distant prospect, some of China's partners have already done so by introducing quasi-state and non-state actors into the area. For instance, following the outbreak of the Ukrainian conflict in 2014, Russia has been actively experimenting with granting more tasks and responsibilities for quasi-PM/SCs in the realms of information and cyber security.[77]
Chinese PSC Industry: A SWOT Analysis
Strengths
Given the fact that the key end-users of services rendered by Chinese PSCs will be domestic SOEs, the main relative competitive advantages of PSCs can be grouped into three main areas: language and culture, affordability and relations with the government.
First, in terms of linguistic, cultural and mentality-related specificities, Chinese PSCs that are expected to work mainly with Chinese clients have an undisputed advantage over any foreign security provider due to, among other factors, their better understanding of the needs and wants of their customers, as well as an in-depth knowledge and understanding of the Chinese corporate world.
Second is the affordability of Chinese PSCs, with advantageous pricing policies making the cost of services considerably lower than Western rates. Some studies have argued that the majority of Chinese businesses are simply unable to afford paying for services provided by Western PM/SCs. One article from 2012 claimed that "in terms of pricing, Chinese sources say the cost per man for a private security guard from China ranges from 3,000–6,000 RMB per month ($476–$952). A 12-man Chinese security detachment costs from $190–$381 per day … much more affordable than the rates that many Western providers would likely charge. Chinese firms would probably retain their cost advantage even if demand for experienced ex-tactical operators in China rises and wages increase."[78]
Third, relationships with the state could allow Chinese security contractors—if the Chinese political leadership deems it necessary—to use the large military and security-related resources wielded by Beijing. Conditional on the will of the government (as was discussed, Beijing has taken an extremely cautious approach toward PSCs), Chinese PSCs could depart from their somewhat inconsistent staffing policies and increase the intake of representatives of elite special forces veterans coming from, among other units, formations similar to the Snow Leopard Commando Unit (雪豹突击队). As was noted by Robert Spalding, if the Chinese authorities want more professional soldiers, including veterans of special military formations, to join PSCs, this will not be a problem, since the will of the CCP is the key element that truly matters. Moreover, if willing, the state could divert more resources to the training of Chinese PSCs as well as the elimination of legal and administrative barriers hindering the development of the Chinese PSC industry.
In 2016, following violence in South Sudan the previous summer, President Xi Jinping advocated for "improved safety risk evaluation, monitoring and pre-warning and the handling of emergencies" for companies in dangerous territories and called for measures to support investment in unstable countries.[79] According to Helena Legarda, in terms of ownership structure, Chinese PSCs—based on current legislation framework as well as employees of these entities, many of whom come from the armed forces or military police—are, in one way or another, controlled by or linked to the Chinese state. This, however, may be a mixed blessing from their point of view. As noted by Legarda, there is certain reluctance from the Chinese authorities to allow PSCs to expand their overseas operations, since their activities and any potential incidents could taint China's international image. Another reason is Xi`s concerns over alternative centers of power that could develop if PSCs continue to grow.
Opportunities
Given growing destabilization in resource-rich, but unstable countries—many of which constitute part of the sphere of China's strategic geo-economic interests within the scope of the BRI—one of the opportunities Beijing could use to increase the use of its PSCs is within the scope of UN missions.[80] As some experts have argued, the potential engagement of Chinese security providers in UN missions allows Beijing to build an image of a "responsible great power."[81] In fact, Spalding noted that one of the big trends in the development of Chinese PSCs is a potential tie-in with Chinese forces operating under the umbrella of UN-mandated missions. As it was rightfully stated in one paper, participation in UN peacekeeping initiatives (for instance, in Africa, where the largest part of all UN-mandated missions are conducted and an area strategically vital for Chinese economic and business initiatives)[82] provides the Chinese with the unique opportunity to acquire regional intelligence; interact with other militaries, international organizations and non-governmental organizations; as well as hone its practices and procedures.[83] As a RAND Corporation study in 2018 argued, peacekeeping "can help ensure the internal security necessary for China to conduct economic activity in a country."[84]
The second major opportunity is related to China`s growing competence and expertise in the realms of artificial intelligence (AI) and surveillance, where, in addition to Chinese corporations directly involved in these industries, PSCs (deployed in a country to protect corporate property) and similar entities could also be used. As noted by Alessandro Arduino, in the future, Chinese PSCs could expand their share of consultancy and services provided in such areas as drones (primarily, platform maintenance, training and consulting) as well as cybersecurity, where China is transforming into one of the world`s leading actors.
Weaknesses
Both individual Chinese operators and the PSC industry in general share a number of weaknesses and limitations.
First, one fundamental problem inherent to the Chinese PSC industry is the government's monopoly on firearms (党指挥枪), which drastically reduces the level of professionalism and spectrum of tasks and services that Chinese PSCs could render.
The second main limitation involves legislative challenges and loopholes in the realm of foreign operations. It is frequently pointed out that the Chinese legal framework on PSCs primarily covers only operations and activities on Chinese soil. At the same time, China`s nonparticipation (at a governmental level) in the International Code of Conduct for Private Security Providers (ICoCA, 2013)—which includes 100 PM/SC members as well as seven governments (Australia, Canada, Norway, Sweden, Switzerland, the UK and the US)—also puts a hindrance on Chinese PSCs in expanding their operations abroad. While it was reported in 2017 that the China Security Association (中国保安协会)[85]—consisting of 18 local security associations—was evaluating Chinese PSCs to prepare a "whitelist" of firms deemed suitable for overseas work; however, no further developments have taken place since.[86] A visible gap in international participation creates a large gap in terms of overseas business experience, which curtails the ability of Chinese PSCs to operate effectively abroad. Namely, lacking foreign experience—in terms of lack of knowledge about local social-cultural, political and regulatory/legal environments—bereave Chinese PSCs from being able to arrange proper information and intelligence collection, establish proper (and locally fit) supply-chain management practices and develop a network of ties with local forces.
A third area of weakness is in the level of professionalism and an unbalanced approach to training and developing (narrow) professional skills. As stated, China's staffing approach in the realm of PSCs is in many ways amateur. However, a practice of using army veterans—currently numbering more than 57 million[87]—via enlisting them in PSCs' rank-and-file is hardly a long-term sustainable solution. The key element missing is not the number of personnel but their quality and ability to meet standards of the contemporary PM/SC industry. As noted by Chinese experts, while PAP/PLA veterans are proficient in using firearms, they "struggle to write even a simple security report,"[88] meaning that the level of literacy and training is extremely low. As rightfully argued by Arduino, to succeed "along BRI routes, China does not need more guards but efficient and flexible security managers. … The attitude of blind obedience exhibited by many former PLA soldiers, who are now employed by Chinese PSCs, is more a hindrance than an asset." This means that to match norms, standards and requirements of the contemporary PSC industry, Chinese operators must restructure their entire command-and-control (C2) architecture. But the ability to do so is serious in question given Chinese norms and culture.
Another key aspect is related to a strategic gap in training and (re)education of personnel in line with tasks and responsibilities performed by contemporary PSCs. While more than 300 Western universities provide undergraduate and postgraduate degree programs in security, including from military academies,[89] in China, only the People's Public Security University of China, China University of Political Science and Law and the International Security Defense College are offering courses looking into the current domestic policies governing private security.[90]
The fourth weak point for Chinese PSCs is intensifying competition. As argued by some Chinese experts, "Many security companies, both Chinese and foreign alike, attempt to out-price one another, thereby making business difficult for those that could otherwise provide better services if the clients would be willing to spend more."[91] While competition is good in the West, it is unclear how this would work in China, where everything is regulated by the state. Arduino has noted that Chinese SOEs—despite their public image of infinite financial resources—frequently tend to cut corners and spend less money on security, frequently choosing economic affordability of services over quality. In many ways, this hinders the development and professionalism of Chinese PSCs and security providers.
Threats
Perhaps the most vivid threat that comes with the use of Chinese PSCs overseas is related to the worsening of Beijing's image as primarily an economic player—an image that the CCP is promoting through the BRI—as well as the rising specter of Sinophobia. As noted, one of China`s main concerns related to the use of PSCs overseas is bond to the fear of publicity (akin to several incidents that have involved US PM/SCs), which could have a further negative impact on China's image. At the same time, speaking about plausible deniability—arguably one of the central elements standing behind the whole logic of using PM/SCs by the state and state-related bodies—in the Chinese case, this is unlikely to work. Rightly or wrongly, it is common knowledge that, in China, no major decisions are taken without approval from above, thus, PSCs will be viewed as an extension of the Chinese state (or the PLA)—not "private" entities operating at their behest.
Another threat—which, in another light, could be an opportunity in terms of optimizing the number of operators working in the Chinese PSCs industry—identified by Arduino is based on growing technological capabilities (AI and surveillance systems) that make the current massive size of the industry superfluous.
Conclusion
While Chinese PSCs are unlikely to attain the same level of professionalism and (international) recognition as their foreign (mainly Western) counterparts, a growing number of Chinese SOEs will be commissioning their services if China is to continue expanding operations along the BRI. That said, however, for the time being, the question of using PSCs by the Chinese side overseas will not be apparent mainly due to a range of news regarding the criminal activities of Russian quasi-PMCs in sub-Saharan Africa, G5 Sahel and Ukraine (following Russia's unprovoked war of aggression). Yet, it does not seem probable that China will completely abandon the idea of using PSCs, since investments abroad will still be associated with security risks that must be mitigated.
Thus, in order to increase the level of competitiveness, experts argue that, in the next several years, Chinese PSCs will need to carry out reforms in (at least) the following four areas.[92]
First, corporate culture and organizational behavior need to be modified—with "private" elements being strengthened—to ensure that Chinese PSCs can acquire greater flexibility and adaptability to the international operational environment. Specifically, in addition to budget and planning, Chinese PSCs (aspiring to higher levels) should "discard the unrealistic illusion that the government will always be there to come to the rescue." As noted, however, the feasibility of such a transformation (at least in the short- to mid-term) does not seem realistic.
Second, existing loopholes and legal challenges could be addressed through more Chinese PSCs joining ICoCA—for now only HXZA (as a certified member) and Hanwei International Security Services (as a certified member) have joined[93]—whereby complying with international norms of standardization could lead to the acquisition of skills and expertise similar to those wielded by Western PM/SCs.
Third, "the Chinese PSCs themselves" need to make serious qualitative progress in areas including corporate structure; recruitment of executives and staff; training; use of technology and strategic developments with well-defined goals in terms of time; types of services; and geographical reach. Spalding believes that, over time, the level of professionalism (as well as equipment and training) of Chinese PSCs will likely grow.
Fourth, more political will is needed among the Chinese political leadership to transform PSCs into more professional entities. Yet, as noted by Legarda, it seems quite unlikely that, in the next several years, Chinese PSCs will transition to PM/SCs or be able to dramatically increase the level of their professionalism, which primarily stems from the stubborn mentality and thinking of Beijing.
Thus, it would be fair to argue that, until large portions of these (and earlier mentioned) reforms have been implemented, Chinese PSCs will preserve their current shape and main limitations.
Notes
[1]Robert Spalding, Stealth War: How China Took Over While American Elite Slept (Portfolio: London, 2019).
[2]Robert Spalding, phone interview, June 11, 2022.
[3]Helena Legarda, personal interview, June 21, 2022.
[4] Helena Legarda and Meia Nouwens, Guardians of the Belt and Road, The Mercator Institute for China Studies (MERICS), August 16, 2018.
[5]Alessandro Arduino, personal interview, June 19, 2022.
[6]Chen Baoliang, "The Origin and Booming of the Escort Agencies in Ancient China," Journal of Southwest University 5, no. 1 (2014).
[7]Zhu Lu, "A Bridge Too Far: China's Overseas Security and Private Military and Security Companies," China: An International Journal 18, no. 3 (August 2020).
[8]Gu Jijian, "Transition of Armed Escort and Occupational Revolution: An Explanation of New Institutional Economics," Journal of Yunnan University of Finance and Economics (2009).
[9]Bert Hofman, "Reflections on Forty Years of China's Reforms," The World Bank, February 1, 2018, https://blogs.worldbank.org/eastasiapacific/reflections-on-forty-years-of-china-reforms.
[10]CCTV.com, "History" (历史沿革), August 7, 2003, http://www.cctv.com/life/20030807/100997.shtml.
[11]Lena Y. Zhong and Peter N. Grabosky, "The Pluralization of Policing and the Rise of Private Policing in China," Crime, Law and Social Change 5, no. 1 (2009).
[12]Susan Trevaskes, "The Private/Public Security Nexus in China," Social Justice 34, no. 1 (2007).
[13]Paul Nash, "China's 'Going Out' Strategy," Diplomatic Courier, May 12, 2012, https://www.diplomaticourier.com/posts/china-s-going-out-strategy; and Yushan Li, "China's Go Out Policy: A Review on China's Promotion Policy for Outward Foreign Direct Investment From a Historical Perspective" (working paper, Centre for Economic and Regional Studies HAS Institute of World Economics, September 2018).
[14]People's Daily Online, "UN report: China Becoming Major Investor Abroad," January 7, 2004, http://en.people.cn/200401/07/eng20040107_132003.shtml.
[15]Andrew Erickson and Gabe Collins, "Enter China's Security Firms," The Diplomat, February 21, 2012, https://thediplomat.com/2012/02/enter-chinas-security-firms/.
[16]BBC News, "Pakistan Attack: Gunmen Storm Five-Star Hotel in Balochistan," May 12, 2019, https://www.bbc.com/news/world-asia-48238759.
[17]Lu, "A Bridge Too Far."
[18]"Regulation on the Administration of Security and Guarding Services," Order No. 564 of the State Council, 2009, http://www.lawinfochina.com/display.aspx?lib=law&id=7779.
[19]The Charhar Institute, "Private Security Company: Supply-side Reform of China Overseas Security," October 12, 2017.
[20]Adnan Aamir, "The Balochistan Insurgency and the Threat to Chinese Interests in Pakistan," China Brief 19, no. 4, February 15, 2019, https://jamestown.org/program/the-balochistan-insurgency-and-the-threat-to-chinese-interests-in-pakistan/; and Syed Fazl-e-Haider, "China's Deepening Diplomatic and Economic Engagement in Afghanistan," China Brief 20, no. 6, April 1, 2020, https://jamestown.org/program/chinas-deepening-diplomatic-and-economic-engagement-in-afghanistan/.
[21]Andrea Ghiselli, "Market Opportunities and Political Responsibilities: The Difficult Development of Chinese Private Security Companies Abroad," Armed Forces & Society 46, no. 1 (2020).
[22]For more information, see UNCTAD, "World Investment Report 2017"; and UNCTAD, "World Investment Report 2020."
[23]Alessandro Arduino and Xue Gong, "Introduction," in Securing the Belt and Road Initiative Risk Assessment, Private Security and Special Insurances Along the New Wave of Chinese Outbound Investments (Palgrave Macmillan: Singapore, 2018).
[24]Sebastian Booth and Cindy J. Smith, "The Uneven Regulation of Private Security in ASEAN Member States," in Securing the Belt and Road Initiative Risk Assessment, Private Security and Special Insurances Along the New Wave of Chinese Outbound Investments (Palgrave Macmillan: Singapore, 2018).
[25]Zack Cooper and Andrew Shearer, "Thinking Clearly About China's Layered Indo-Pacific Strategy," Bulletin of the Atomic Scientists 73, no. 5 (2017).
[26]Wang Duanyong and Zhao Pei, "Security Risks Facing Chinese Actors in Sub-Saharan Africa: The Case of the Democratic Republic of Congo," in China and Africa: Building Peace and Security Cooperation on the Continent, ed. Chris Alden, Abiodun Alao, Abiodun, Zhang Chun, and Laura Barber (Palgrave Macmillan: Singapore, 2018), 260.
[27]Alessandro Arduino, "China's Belt and Road Initiative Security Needs: The Evolution of Chinese Private Security Companies," RSIS Working Paper, August 29, 2017.
[28]Martin Purbrick, "Organized Crime on the Belt and Road," China Brief 22, no. 6 (March 25, 2022), https://jamestown.org/program/organized-crime-on-the-belt-and-road/.
[29]Xinhua, "China Launches Crackdown on Cyber Algorithms Abuse, Fraud, Violence," August 10, 2022, http://www.xinhuanet.com/english/2021-05/08/c_139932686.htm.
[30]Chinese Ministry of Public Security, "President Xi Jinping: Step up Crackdown on Telecom, Online Fraud," April 10, 2021, https://www.mps.gov.cn/n2255079/n6865805/n7355748/n8012154/c7835930/content.html.
[31]For more information, see Sergey Sukhankin, "Tracking the Digital Component of the BRI in Central Asia, Part One: Exporting 'Safe Cities' to Uzbekistan," China Brief 21, no. 3,  February 11, 2021, https://jamestown.org/program/tracking-the-digital-component-of-the-bri-in-central-asia-part-one-exporting-safe-cities-to-uzbekistan/; Sergey Sukhankin, "Tracking the Digital Component of the BRI in Central Asia, Part Two: Developments in Kazakhstan," China Brief 21, no. 9, May 7, 2021, https://jamestown.org/program/tracking-the-digital-component-of-the-bri-in-central-asia-part-two-developments-in-kazakhstan/.
[32]Ying Yu Lin, "The Implications of China's Military Reforms," The Diplomat, March 7, 2016, https://thediplomat.com/2016/03/the-implications-of-chinas-military-reforms/.
[33]Asim Kashgarian, "Analysts: Beijing Behind Rise of Chinese Private Security Companies Worldwide," Voice of America, November 17, 2021, https://www.voanews.com/a/analysts-beijing-behind-rise-of-chinese-private-security-companies-worldwide-/6317444.html.
[34]Zhong Nan, "Overseas Security to Get Upgrade," China Daily, April 22, 2016,
https://www.chinadailyasia.com/nation/2016-04/22/content_15420820.html.
[35]Alessandro Arduino, China's Private Army: Protecting the New Silk Road (Palgrave Pivot: Singapore, 2018).
[36]Sina, "Chinese Bodyguards Rush Out of Libya: The Action Is Accurate to the Second" (中国保镖冲出利比亚:行动精确到秒), May 29, 2014, http://history.sina.com.cn/bk/sjs/2014-05-29/134492070.shtml.
[37]BBC News, "The Rise of China's Plutocrats Has Spawned a New Profession: Female Bodyguards" (中国富豪崛起催生新兴职业:女性保镖), May 19, 2016,  https://www.bbc.com/zhongwen/simp/china/2016/05/160519_china_female_bodyguards.
[38]Zi Yang, "China's Private Security Companies: Domestic and International Roles," China Brief 16, no. 15 (October 4, 2016), https://jamestown.org/program/chinas-private-security-companies-domestic-international-roles/
[39]Ghiselli, "Market Opportunities and Political Responsibilities."
[40]Qiu Yongzheng, "Demystifying China's Security Team in Iraq: Most of Them Are Retired Special Forces" (揭秘中国在伊拉克安保团队 多为退役王牌特种兵), Global Times, June 23, 2014, http://mil.huanqiu.com/china/2014-06/5030373.html.
[41]Dennis Blasko. "Chinese Special Operations Forces: Not Like 'Back at Bragg,'" War on the Rocks, January 1, 2015.
[42]Alessandro Arduino, "China's Private Army: Protecting the New Silk Road," The Diplomat, March 20, 2018, https://thediplomat.com/2018/03/chinas-private-army-protecting-the-new-silk-road/.
[43]Alessandro Arduino, "Security Privatisation With Chinese Characteristics," Policy Report, 2015.
[44]China Daily, "China to Pour Trillions Into Belt and Road Projects," July 14, 2017, http://www.chinadaily.com.cn/business/2017-07/14/content_30114139.htm.
[45]While this definition appeared back in 1979, its relevance has not disappeared. For more information, see George Lenczowski, "The Arc of Crisis: Its Central Sector," Foreign Affairs, 1979, https://www.foreignaffairs.com/articles/russian-federation/1979-03-01/arc-crisis-its-central-sector#:~:text=The%20%22arc%20of%20crisis%22%20has%20been%20defined%20as,west.%20The%20Middle%20East%20constitutes%20its%20central%20core.
[46]Brenda Goh, Michael Martina, and Christian Shepherd, "Analysis: Local, Global Security Firms in Race Along China's 'Silk Road,'" Reuters, April 23, 2017, https://www.reuters.com/article/china-silkroad-security-idINKBN17Q06R.
[47]The table was originally created in: Sergey Sukhankin, "Chinese Private Security Contractors: New Trends and Future Prospects," China Brief 20, no. 9 (May 15, 2020), https://jamestown.org/program/chinese-private-security-contractors-new-trends-and-future-prospects/.
[48]Dean Cheng, "China and Asian Maritime Security," (congressional testimony, US House of Representatives, Subcommittee on Asia and the Pacific Committee on Foreign Affairs, September 22, 2016), https://www.heritage.org/testimony/china-and-asian-maritime-security.
[49]James R. Holmes, "The Commons: Beijing's 'Blue National Soil,'" The Diplomat, January 3, 2013, https://thediplomat.com/2013/01/a-threat-to-the-commons-blue-national-soil/#:~:text=Beijing%20defines%20offshore%20waters%20as%20%E2%80%9C%20blue%20national,the%20right%20to%20infringe%20on%20freedom%20of%20navigation.
[50]"Xi Jinping at 8th CCP Politburo Study Session Emphasizes Attention to Maritime Affairs, Advancing Maritime Knowledge, Economic and Strategic Importance of the Maritime Domain, and Constantly Pushing Construction of a Strong Maritime Nation," People's Daily, August 1, 2013, http://paper.people.com.cn/rmrb/html/2013-08/01/nw.D110000renmrb_20130801_2-01.htm
[51]People's Daily, "The Diversified Employment of China's Armed Forces," April 16, 2013, http://en.people.cn/90786/8209362.html.
[52]"National Security Law of the People's Republic of China," July 1, 2015, http://chinalawtranslate.com/2015nsl/?lang=en.
[53]Liu Cigui, "Reflections on Maritime Partnership: Building the 21st Century Maritime Silk Road," September 15, 2014, https://web.archive.org/web/20150403001146/http://www.ciis.org.cn/english/2014-09/15/content_7231376.htm
[54] http://www.gov.cn/xinwen/2019-05/03/content_5388377.htm
[55]Li Weihai, "A Security Model and Legal Guarantee for Chinese Maritime Shipping: As Exemplified in the Response to Piracy Along the 21st Century Maritime Silk Road," Social Sciences in China 38, no. 1 (January 19, 2017), https://www.tandfonline.com/doi/abs/10.1080/02529203.2017.1268364?journalCode=rssc20#:~:text=The%20employment%20of%20armed%20guards%20from%20professional%20security,thus%20strategically%20significant%20for%20overall%20Chinese%20maritime%20security.
[56]Veerle Nouwens, "Who Guards the 'Maritime Silk Road?,'" War on the Rocks, June 24, 2020, https://warontherocks.com/2020/06/who-guards-the-maritime-silk-road/.
[57]Devin Thorne and Ben Spevack, "The Chinese Merchant Marine Supports Beijing's Security Interests", July 17, 2019, https://maritime-executive.com/editorials/china-s-merchant-marine-supports-beijing-s-security-interests#:~:text=On%20a%20late%20June%20morning%20in%202014%2C%20Vietnamese,operating%20within%20Vietnam%E2%80%99s%20claimed%20exclusive%20economic%20zone%20%28EEZ%29.
[58]Table composed by the author with information drawn from various sources.
[59]For more information see: http://www.cstghk.com/en/administer.html
[60]Uzbekistan is also mentioned on the Chinese-language version of the website (Point 5): http://www.cstghk.com/Insurance.html.
[61]This was the first Chinese maritime security company approved by Beijing to operate overseas.
[62]It has been argued that 80 percent of security personnel are members of the CCP. For more information, see Baidu, "Civilian Maritime Armed Escort" (民间海上武装护航), accessed on August 1, 2022, https://baike.baidu.com/item/%E6%B0%91%E9%97%B4%E6%B5%B7%E4%B8%8A%E6%AD%A6%E8%A3%85%E6%8A%A4%E8%88%AA.
[63]In these countries, the company has (reportedly) secured the right to conduct armed escort missions. For more information, see: http://www.bjbaw.cn/.
[64]Peter Singer, personal interview, May 9, 2021.
[65]Chinese State Council Information Office, "China's Military Strategy," May 27, 2015, https://english.www.gov.cn/archive/white_paper/2015/05/27/content_281475115610833.htm.
[66]National Development and Reform Commission (NDRC), Ministry of Foreign Affairs, and Ministry of Commerce (PRC), "Vision and Actions on Jointly Building Silk Road Economic Belt and 21st-Century Maritime Silk Road," March 28, 2015.
[67]Michael S. Chase, "The Space and Cyberspace Components of the Belt and Road Initiative," in Securing the Belt
and Road Initiative China's Evolving Military Engagement Along the Silk Roads (National Bureau of Asian Research: Washington, DC, September 2019).
[68]Chinese State Council Information Office, "China's Space Activities," December 2016, http://english.scio.gov.cn/whitepapers/2017-01/10/content_40535777.htm.
[69]Chinese State Council Information Office, "China's Beidou Navigation Satellite System", June 2016,  https://english.www.gov.cn/archive/white_paper/2016/06/17/content_281475373666770.htm
[70]Chinese State Council Information Office, "China's Beidou Navigation Satellite System."
[71]Richard Ghiasy and Rajeshwari Krishnamurthy, "China's Digital Silk Road and the Global Digital Order," The Diplomat, April 13, 2021, https://thediplomat.com/2021/04/chinas-digital-silk-road-and-the-global-digital-order/#:~:text=China%E2%80%99s%20Digital%20Silk%20Road%20%28DSR%29%20was%20launched%20in,levels%20across%20the%20Chinese%20public%20and%20private%20sectors.
[72]Brigitte Dekker, Maaike Okano-Heijmans, and Eric Siyi Zhang, "Unpacking China's Digital Silk Road," Clingendael Report, July 2020, https://www.clingendael.org/sites/default/files/2020-07/Report_Digital_Silk_Road_July_2020.pdf.
[73]Rogier Creemers, "Xi Jinping's Speech at the National Cybersecurity and Informatization Work Conference," Digichina, Stanford University, April 22, 2018, https://digichina.stanford.edu/work/xi-jinpings-speech-at-the-national-cybersecurity-and-informatization-work-conference/.
[74]Rosbalt, "Putin poruchil 'presekat' teh, komu platiat 'iz-za bugra," February 24, 2021, https://www.rosbalt.ru/russia/2021/02/24/1889088.html.
[75]Joe McReynolds, "China's Evolving Perspectives on Network Warfare: Lessons from the Science of Military Strategy," China Brief 15, no. 8 (April 16, 2015), https://jamestown.org/program/chinas-evolving-perspectives-on-network-warfare-lessons-from-the-science-of-military-strategy/.
[76]Josh Rudolph, "Xi Jinping Vows to Turn China Into a 'Cyberpower,'" China Digital Times, February 27, 2014, https://chinadigitaltimes.net/2014/02/xi-jinping-vows-turn-china-cyberpower/.
[77]Sergey Sukhankin, "The Western Alliance in the Face of the Russian (Dis)information Machine: Where Does Canada Stand?," School of Public Policy, University of Calgary (Canada), September 2019, https://d3n8a8pro7vhmx.cloudfront.net/cdfai/pages/4258/attachments/original/1567979739/The_Western_Alliance_in_the_Face_of_the_Russian_%28Dis%29information_Machine_Where_Does_Canada_Stand.pdf?1567979739.
[78]Andrew Erickson and Gabe Collins, "Enter China's Security Firms," The Diplomat, February 21, 2012, https://thediplomat.com/2012/02/enter-chinas-security-firms/.
[79]Charles Clover, "Chinese Private Security Companies Go Global," Financial Times, February 26, 2017, https://www.ft.com/content/2a1ce1c8-fa7c-11e6-9516-2d969e0d3b65.
[80]In effect, the UN did rely on services prided by PM/SCs. For more information, see Sergey Sukhankin, "The Contemporary Global 'Security for Hire' Industry: An Overview," The Jamestown Foundation, October 14, 2022, https://jamestown.org/program/the-contemporary-global-security-for-hire-industry-an-overview/.
[81]Niall Duggan, "China's New Intervention Policy: China's Peacekeeping Mission to Mali," in China and Africa: Building Peace and Security Cooperation on the Continent, ed. Chris Alden, Abiodun Alao, Chun Zhang, and Laura Barber (Palgrave Macmillan: Singapore, 2018.
[82]Christoph Zürcher, "30 Years of Chinese Peacekeeping," CIPS Report, January 2019, 6, https://www.cips-cepi.ca/wp-content/uploads/2019/01/30YearsofChinesePeacekeeping-FINAL-Jan23-1.pdf.
[83]Dennis J. Blasko, "China's Contribution to Peacekeeping Operations: Understanding the Numbers," China Brief 16, no. 18 (2016).
[84]Timothy R. Heath, "China's Pursuit of Overseas Security," RAND Corporation, 2018, https://www.rand.org/content/dam/rand/pubs/research_reports/RR2200/RR2271/RAND_RR2271.pdf.
[85]Chinese Security Association, accessed August 3, 2022, http://www.zgba.org/zgbaxh.
[86]Legarda and Nouwens, Guardians of the Belt and Road.
[87]Zhao Lei, "Veterans Affairs Ministry Planned," China Daily, March 14, 2018, http://www.chinadaily.com.cn/a/201803/14/WS5aa85c42a3106e7dcc1416df.html.
[88]Nadège Rolland, "Securing the Belt and Road Initiative. China's Evolving Military Engagement Along the Silk Roads," National Bureau of Asian Research, September 2019.
[89]Sun and Wu, "Belt and Road: Security and Risk Mitigation."
[90]Minnie Chan, "Why a Private US Military Firm Is of Value to China's Belt and Road Mission," South China Morning Post, July 15, 2018, https://www.scmp.com/news/china/diplomacy-defence/article/2155353/danger-zone-why-private-us-military-firm-value-chinas.
[91]Ghiselli, "Market Opportunities and Political Responsibilities."
[92]Jingdong Yuan, "China's Private Security Companies and the Protection of Chinese Economic Interests Abroad," Small Wars & Insurgencies 33, no. 1 (2022).
[93]International Code of Conduct Association, "Private Security Companies," accessed August 11, 2022, https://icoca.ch/private-security-companies/.