Organized Crime on the Belt and Road
Publication: China Brief Volume: 22 Issue: 6
By: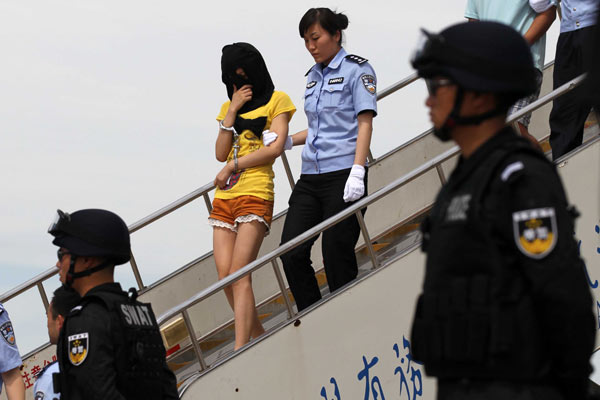 Introduction
The continued rapid economic growth of the People's Republic of China (PRC) in the past decade has brought greater commerce and investment to Asia through the Belt and Road Initiative (BRI). However, as China's overseas economic footprint has grown, Chinese organized crime groups have also expanded their activities to become a regional problem. President Xi Jinping first introduced the BRI in 2013 when he proposed to Asian leaders jointly building the Silk Road Economic Belt and the 21st-Century Maritime Silk Road, both of which PRC officials later commonly came to call the BRI. The expansion of Chinese organized crime across Asia encompasses multiple areas of activity: online fraud (including pyramid schemes), online gambling, human trafficking (for slavery and prostitution), animal or animal parts trafficking (for use in traditional Chinese medicine), and money laundering (of the proceeds of crime from the PRC).
Online fraud has been a particular concern for Beijing due to its massive scale. In May 2021, Chinese state media published announcements from the senior state leadership highlighting concerns over the extent of online fraud, much of which is conducted by Chinese criminals operating outside the country (Xinhua, May 8, 2021). Xi reportedly called for further efforts to prevent telecommunications and online fraud at the source, mobilize efforts from all relevant departments and the public, and fully implement all prevention and crackdown measures. Premier Li Keqiang reportedly instructed that efforts should be continued to consolidate the country's achievements in cracking down on telecom and online fraud in order to better safeguard the safety of people's property and their legitimate interests. This was in response to data from the Ministry of Public Security showing that in 2020, authorities took action on 322,000 cases related to telecom and online fraud, arresting 361,000 suspects and saving the public approximately 187 billion yuan ($28.53 billion) in economic losses (Ministry of Public Security, April 10, 2021).
Illegal online gambling has grown to extraordinary levels across Asia, fueled by a huge market in the PRC. The Asian Racing Federation (ARF) has identified a "New Golden Triangle" of illegal betting (on sports) and gambling (games of chance) established first in the Philippine and then moving to Cambodia with illicit operations now shifted to Myanmar (Asian Racing Federation, May 2021). The ARF Council noted that the People's Bank of China estimated that as much as CNY 1 trillion (a staggering $150 billion) in illicit proceeds flows out of China annually due to illegal betting. As China Brief previously chronicled, the Ministry of Public Security announced in January 2021 that over 600 suspects involved in illegal online gambling were repatriated by Chinese police in collaboration with counterparts in countries including the Philippines, Malaysia, Myanmar, and Vietnam over the course of 2020 (China Brief, February 25; State Council, January 6, 2021). Per the Ministry of Public Security, Chinese police investigated 17,000 cross-border gambling and related cases, arrested 110,000 suspects, and took action against 3,400 online gambling platforms and over 2,800 illegal payment platforms and underground banks (State Council, April 8, 2021). Clearly the scale of the criminal problem was also an economic problem, especially since gambling is often used to circumvent China's strict controls on capital outflows.
Although the operation of Chinese organized crime groups has spread across Asia, the vast majority of victims and targets of their criminal activities are invariably within the borders of the PRC, which has become a significant problem for authorities. Substantial levels of organized crime activity are present in multiple countries across Asia where growing Chinese expatriate communities are present due to the PRC's economic expansion across the region. The most notable locations are Cambodia, Malaysia, Myanmar, and the Philippines.
Cambodia
In Cambodia, recent evidence indicates that Chinese organized crime groups engaged in online fraud, internet gambling, human trafficking, and money laundering, all of which are standard areas of business for criminal groups. Sihanoukville has experienced fast economic growth largely because of its position as the only deep-water port in Cambodia, which is of strategic importance to the BRI, but amidst this rapid development, large numbers of Chinese criminals have gravitated to the city operating casinos, online gambling, and online fraud.
The most shocking recent case, which was publicized in the PRC news media, concerns a Chinese man who responded to a job advertisement on recruitment platform 58.com to work as a security guard in Guanxi Zhuang autonomous region. He was kidnapped, taken to Cambodia, and sold to a gang that was operating online fraudulent gambling targeting Chinese nationals (Caixin, February 21). Once in Cambodia, the victim was allegedly detained and used as a "blood slave" (PRC Embassy in Cambodia, February 16).
The large number of casinos that appeared in Sihanoukville appear to have been a major part of development of the criminal hub in the city. A 16-year-old girl, also from Guanxi, recounted how she was recruited while gaming online and asked to take a job further south in China, but was taken via Vietnam to Sihanoukville where she was imprisoned in a casino and forced to conduct online fraud that targeted other Chinese nationals. The fraud involved using Douyin, the Chinese version of TikTok, to convince internet users that they would be paid for liking content on the social networking platform after paying an advance fee (South China Morning Post, January 30).
The boom in Chinese organized crime in Cambodia since 2016 has spurred authorities in both countries to undertake joint law enforcement action. As of August 2019, almost one thousand Chinese nationals had been arrested, including 115 suspected of telecom fraud and 335 suspected of illegal online gambling operations. In January 2020, the Cambodian government banned all online gambling (Caixin, March 4).
Malaysia
Malaysia has been a hub for Chinese organized crime outfits engaged in online fraud and phone scams. In November 2019, the Malaysian Immigration Department arrested 680 suspected Chinese nationals in a raid on a facility in Cyberjaya town, Selangor state. The location was the call center run by a criminal group that had been operating for six months targeting victims in the PRC with advance fee frauds that use Chinese banks and WeChat mobile payments for their transactions (China Daily, November 23, 2019).
Chinese organized crime activity in Malaysia includes criminals from the Republic of China (Taiwan), which has produced a remarkable number of fraudsters in the past several decades. Geopolitical relations are intertwined with law enforcement as the Malaysian authorities have in the past extradited ROC (Taiwanese) nationals to the PRC. In November 2016, the Mainland Affairs Council of the ROC protested against the extradition of 21 Taiwanese nationals from Malaysia to the PRC after they were sought in connection with telecommunications fraud and money laundering (Mainland Affairs Council, November 2016).
Online fraud gangs are not the only organized crime activity in Malaysia; more organized criminal groups belonging to triad societies—secret societies originating in Southeast China that function as transnational criminal organizations—are present as well. In November 2021, the Royal Malaysian Police arrested 68 people alleged to be members of a gang led by Nicky Liow, a wanted fugitive, for suspected money laundering and other offences (Royal Malaysian Police, March 30, 2021). Liow is also wanted for bribing officers of the Malaysian Anti-Corruption Commission, and reported to be vice-chairman of the "World Hongmen History and Culture Association" (世界洪门历史文 化协会, Shijie hangmen lishi wenhua xiehui) (South China Morning Post, October 5, 2021).
Wan Kuok Kui, a convicted leader of the Macau faction of the 14K triad, founded the "World Hongmen History and Culture Association" in March 2013. The Association has the defined purpose "To love the nation, organize cultural exchange activities in various places, and pass on the history and culture of the Revolution of 1911," and membership is for "Anyone who loves to study the history of the Revolution of 1911 and can actively participate in the event and is willing to abide by the chapter and be approved by the board of directors" (Macau SAR Government, April 3, 2013).
In February 2018, Wan said he planned to establish a "Hongmen Security Company" for Chinese merchants on the "One Belt One Road" initiative and that the motto of the Association is "loving and supporting the country, Macau, and Hong Kong" (Macau Business, February 23, 2018). Wan said in his speech, leaked in a video clip, that "I will do my utmost to promote the national policy and assist in whatever way for peaceful and united cross-straits relations." Later in 2018, Wan announced that the headquarters of the Association were located in Cambodia, that it would issue "Hongmen cryptocurrency" as part of its e-commerce business, and establish schools for ethnic Chinese living in other countries to learn Chinese culture.
Wan's malign influence has recently attracted international attention. In 2020, the U.S. Department of Treasury added his name to the list of "Specially Designated Nationals" who are subject to "Magnitsky sanctions" (U.S. Department of Treasury, December 9, 2020). U.S. authorities stated that Wan "is a member of the Communist Party of China's (CCP) Chinese People's Political Consultative Conference, and is a leader of the 14K Triad, one of the largest Chinese organized criminal organizations in the world that engages in drug trafficking, illegal gambling, racketeering, human trafficking, and a range of other criminal activities. In addition to bribery, corruption, and graft, the 14K Triad has engaged in similar illicit activities in Palau" (U.S. Department of Treasury, December 9, 2020).
Myanmar
Following pressure from authorities, first in the Philippines and later in Cambodia, many organized crime groups that operate online gambling rings have migrated to Myanmar. The Saixigang Industrial Zone Project in Karen state involves Wan Kuok Kui heading the Dongmei Group Company, the key investor in the Saixigang Zone. Saixigang was reportedly established to accommodate Chinese businesses forced out of Cambodia by the crackdown in cooperation with the PRC authorities (United States Institute for Peace, April 20, 2020).
Yatai New City in Karen state is funded by Hong Kong registered company "Yatai International Holdings Group." The chairman of the company is Mr. She Kailun, reportedly a fugitive in China who is wanted on illegal gambling related charges (Caixin, October 26, 2020). Yatai City is promoted as an industrial and entertainment complex that will accommodate services including tourism, commerce, logistics, finance, and technology development that is part of China's wider BRI. In reality, Yatai City hosts online gambling facilities that are invariably intended for the PRC gambling market.
The Huanya International City Project, which is located in Karen National Union (KNU) controlled territory in the city of Myawaddy, involves KNU officials partnering with Chinese investors from the Huanya Company. The project includes construction of a large casino, which has already started, and is almost certainly targeted at customers from the PRC (United States Institute for Peace, April 20, 2020). These projects publicly claim to be operating as part of the BRI, although in reality this is likely to an attempt at boosting their legitimacy and would not carry any weight with PRC law enforcement agencies.
The Philippines
The Philippines was the main hub for online illegal betting operators in Asia from the mid-2000s, but a report in 2020 highlighted the financial crime risks associated with this business, stating that more than a quarter of the approximately $1 billion in annual online gambling operator-related transactions were linked to suspicious criminal activity (Philippines Anti-Money Laundering Council, March 2020). The report also flagged substantial criminal risks, including 63 gambling-related kidnapping cases from 2017 to 2019, which involved Chinese businessmen engaged in online gambling.
The PRC has acted against Chinese criminals active in the Philippines. The PRC Embassy in Manila announced in February 2020 that the Ministry of Public Security had obtained a list of Chinese nationals suspected of committing telecommunication fraud abroad whose passports were cancelled so that they could no longer leave the PRC (Embassy of the PRC in the Philippines, February 24, 2020). The problem of Chinese criminality in the Philippines has also been driven greater law enforcement cooperation between both sides.
In September 2021, the PRC Embassy in the Philippines announced it would work with local authorities to jointly crack down on cross-border gambling, telecom and internet fraud, kidnapping, robbery, homicide, and other criminal activities through conducting regular meetings and further enhancing technical cooperation in drug control, counter-terrorism, and law enforcement capacity building (Embassy of the PRC in the Philippines, September, 27 2021).
Conclusion
Cambodia, Malaysia, Myanmar, and the Philippines are only four countries out of the over 130 nations that are involved in the BRI. Nevertheless, the scale of Chinese organized crime activities in these four countries raises the critical question on the impact on the other countries in the BRI. According to the PRC State Council, the BRI aims to "promote the economic prosperity of the countries along the Belt and Road and regional economic cooperation, strengthen exchanges and mutual learning between different civilizations, and promote world peace and development" (Belt and Road Forum, April 10, 2017). The BRI also may be a highway for Chinese organized crime to spread and have a global impact.
Martin Purbrick is a writer, analyst, and consultant. He spent over 32 years in Asia working in the Royal Hong Kong Police serving in Special Branch and the Criminal Intelligence Bureau, followed by senior leadership roles managing financial crime risk with several major companies.