Xi Jinping Ponders Aid to Russia even as Beijing Reaffirms its Quasi-Alliance with Moscow
Publication: China Brief Volume: 22 Issue: 6
By: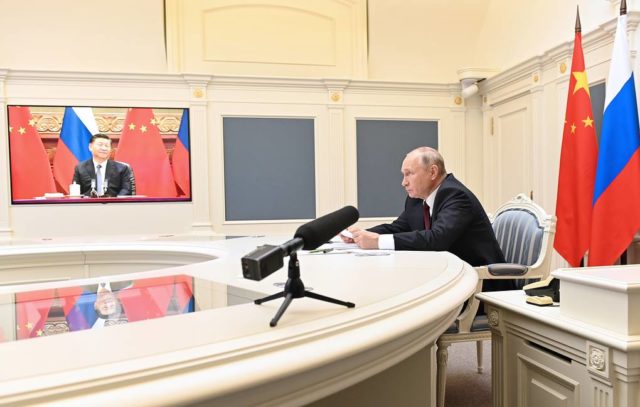 Introduction
The Chinese Communist Party (CCP) leadership has subtly changed the tone of its characterization of the Russian war against Ukraine. It is highly doubtful, however, that supreme leader President Xi Jinping will alter the substance of his basic Russian policy, which is to build a Sino-Russian axis against the eastward expansion of the U.S.-led Western coalition in both Europe and the Indo-Pacific theaters. Yet the kind and degree of the People's Republic of China's (PRC) economic and other types of assistance to Russia will not be finalized pending President Vladimir Putin's maneuvers as he seeks to overcome the failure of Russian forces to vanquish Ukrainian resistance one month into the war. The Xi leadership's wait and see approach to the conflict might change if a desperate Putin were to use chemical or biological weapons in Russia's "special military operations" against Ukraine. Chinese reactions will also be influenced by the outcomes of U.S. President Joe Biden's meetings with leaders of NATO, the EU, and the Group of Seven nations in Europe this week.
After the summit with Biden, NATO issued a statement calling on China "to uphold the international order including the principles of sovereignty and territorial integrity… to abstain from supporting Russia's war effort in any way, and to refrain from any action that helps Russia circumvent sanctions" (NATO, March 24). NATO members also discussed possible sanctions against China if it provides military support to the Kremlin. At the press conference after his meeting with NATO leaders, Biden doubled down on the fact that China would face severe repercussions if it were to help Russia. Biden said he had made sure Xi "understood the consequences of him helping Russia." Referring to the number of Western corporations that had pulled out of Russia due to its "barbarous behavior," Biden added that Xi would be "putting himself in significant jeopardy" and that China's economic relations with the U.S. and Europe would be endangered if it were caught supporting the Russian war effort. Additional measures against Russia announced on March 24 included sanctions on more than 400 Duma members, oligarchs, and Russian defense companies. NATO and EU leaders also considered kicking Russia out of the G20 group (Global Net, March 25; United Daily News, March 25; The White House, March 24). A statement from G7 leaders meeting on the same day made no direct reference to China, but said: "We urge all countries not to give military or other assistance to Russia to help continue its aggression in Ukraine. We will be vigilant regarding any such assistance." The EU leadership is also expected to issue a severe warning to China against bailing out Putin at an EU-China virtual summit on April 1 (HK01.com, March 24; Politico.eu, March 24; VOA Chinese, March 12). Should the U.S. and its allies decide to deploy even more crippling sanctions against Russia, Xi might also reconsider scaling up China's assistance to Moscow due to the heightened risk of secondary sanctions (Ming Pao, March 24; Cn.NYTimes, March 21; HK01.com, March 21).
Beijing's Balancing Act
While adamantly refusing to label Moscow's military actions in Ukraine as an "invasion," Chinese cadres have focused their talking points on the PRC's potential contribution to Russian-Ukraine peace talks as well as its role in providing the war-ravaged nation with humanitarian relief. In his interview with the American TV network CBS on March 20, Chinese Ambassador to the U.S. Qin Gang said: "we are against wars and we will do everything to de-escalate the crisis." Qin also disclosed that in his conversation with Putin one day after the start of the military conflict, Xi urged the Russian side to begin peace talks with Ukraine. The ambassador repeated Beijing's stance that "the national sovereignty and territorial integrity of all countries, including Ukraine, should be respected and protected;" (Chinadiplomacy.org, March 21; Radio Free Asia, March 21) Chinese Ambassador to Ukraine Fan Xianrong even went so far as to say that he "respects the path chosen by Ukrainians" and that he was impressed with "the unity of Ukrainians" (Global Times, March 17). The Ukrainian media also quoted Fan's remarks that "China will forever be a good force for Ukraine, both economically and politically." The Chinese Foreign Ministry confirmed Fan's "pro-Ukraine" statements (Sohu.com, March 17; Zaobao.com, March 17).
Even before the Biden-Xi video conference on March 19, Beijing had signaled that it would not provide economic or military aid to Russia. For example, the PRC has refused to limit the devaluation of the ruble in trading with the renminbi. The CCP leadership has also balked at converting some $90 billion worth of Russian central reserves that are held in renminbi into U.S. dollars. Moreover, Beijing has apparently desisted from selling fighter jet components and other hardware to the Russian military (Business-standard.com, March 23; China Times, March 18; BBC Chinese, March 15). At the same time, the People's Bank of China and other Chinese financial institutions reportedly may have helped Moscow stash dollar-denominated securities and other reserve assets in off-shore tax havens (Foreign Affairs, March 21). The Xi leadership is still weighing the extent to which it will boost China's purchase of oil and gas as well as other commodities such as coal and wheat from its quasi-ally.
That adoption by Beijing of a more flexible policy toward Russia is evidenced by shifting narratives concerning the Ukraine war in state media and elite policy circles. Although official media has maintained a solidly pro-Russian editorial line, one branch of Beijing's CCTV reported on March 16 that the Ukrainian military had destroyed 1,700 Russian tanks and armored personnel carriers (CCTV.com, March 16). Moreover, the government-controlled social media has allowed a number of key opinion leaders to post pro-Ukraine messages, if only for two to three hours. Influential personalities who have expressed opposition to the Russian invasion include third-generation princelings Ke Lan and Yi Qiwei; advisor to the State Council Hu Wei (South China Morning Post, March 14; 163.com, March 1); actresses Jiang Xin and Yuan Li (qq.com, March 25); and a dozen-odd academics such as Tsinghua University professor Sun Liping (China Digital Times, March 2; VOA Chinese, March 1). Sun wrote in a post on his Weibo account that "Russia has already dropped out of the center of the world" and that "China must avoid being trapped" in its dealings with the Putin regime. Sun also warned that Beijing must beware of the fact that the world's supply chains have changed and that Russia and its supporters would be penalized (Sunliping Weibo, March 18). While no longer available online, these messages have been widely re-circulated in China's social media.
Due to Xi's personal closeness with Putin—and the fact that Beijing still considers Moscow a key partner with which to counter alleged efforts by the U.S. to build an "Asian NATO"—the Chinese leadership is unlikely to abandon the quasi-alliance with Russia. President Xi, who is the ultimate arbiter of foreign policy, has long been known as a hawkish figure who wants China to re-assume its status as the Middle Kingdom. Xi sees in Putin's Russia a natural ally to counter first the Trump, and now the Biden Administration's efforts to forestall China's transformation into a superpower by the mid-to-late 2030s (Radio French International, February 8; Reuters, February 4). In his video conference with Biden on March 18, Xi imputed that the war in Ukraine stemmed from valid Russian concerns about the aggressive behavior of the U.S. and NATO. The Chinese media quoted Xi as telling Biden that "the U.S. and NATO should have a dialogue with Russia" so as to "ease the security concerns of both Russia and Ukraine." As the Western alliance has been the biggest supporter of Ukraine, there can be no mistaking Xi's basic attitude that NATO bears primary responsibility for the crisis. Xi also added that "it takes two hands to clap," thus showing his disagreement with the view that Russia was solely to blame for its Ukraine misadventure (CGTN.com, March 18).
Reasons for Caution
The determination by Beijing over the degree of economic and even military assistance it will extend to Moscow depends partially on its risk perception of "secondary sanctions." The U.S. and its allies may opt to take such measures against the PRC if its assistance to Russia significantly diminishes the impact of international sanctions on the Putin regime. Despite Foreign Minister Wang Yi's claim that Beijing's policies toward Russia and Ukraine show that "China is on the right side of history," he indicated on March 11 that "China is not a party to the crisis, still less [does it] want to be affected by the sanctions" imposed on Russia (China Daily, March 20; Xinhua, March 15). However, Biden's crucial European trip underscores the possibility that China might incur secondary sanctions for its ties to Russia. It is understood that Biden's discussions with U.S. allies will include possible joint measures to punish China should it come to Russia's rescue—or persevere with aggressive tactics in Indo-Pacific flashpoints such as Taiwan and the South China Sea. The White House is also working on a bipartisan "innovation" bill (also known as the "semiconductor bill"), which would provide tens of billions of dollars to help American firms attain goals including outcompeting their Chinese rivals in the high-tech sector, most of which have close connections with the People's Liberation Army (SCMP, March 22; BBC Chinese, February 9).
Beijing may also adopt a cautious attitude toward aid to Russia so as to gauge the kind of action the Western Alliance may take against the PRC in the event it deploys military means to absorb Taiwan. The linkage between Ukraine and Taiwan—and other Indo-Pacific flashpoints—was made clear when Biden sent a delegation of retired senior military and national security officers to visit Taiwan on March 1. During her talks with the delegation, which was led by retired Chairman of the Joint Chiefs of Staff Mike Mullen, Taiwan president Tsai Ing-wen expressed confidence in the "rock solid" ties between Taipei and Washington (VOA Chinese, March 2; Taiwannews.com, March 2). On March 20, Indo-Pacific commander Admiral John C. Aquilino expressed grave concerns about China's "full militarization" of three South China Sea islands. More sightings of U.S. naval vessels in the Taiwan Strait and South China Sea have been reported of late (SCMP March 21; Radio Free Asia, March 21). The navies of the U.S. and Philippines will also conduct one of their largest war games ever on March 28. Close to 9,000 personnel from both sides are due for two weeks of joint training in areas including maritime security, amphibious operations, and mock live-fire battles (PNA.gov.ph, March 22). The Philippines is a major ASEAN country that has territorial disputes with the PRC.
Competing Priorities
While stopping short of immediately providing massive economic and other kinds of aid to Russia, Beijing could also work on widening the split between the Western Alliance, and non-Western countries that have refused to condemn the invasion, on the other. India, Brazil, and South Africa, which are members of the BRICS bloc (Brazil, Russia, India, China, and South Africa) have desisted from either condemning Moscow or supporting anti-Russian sanctions. In Asia, Vietnam, which, like India, depends on Russian arms imports, has also failed to join the U.S. and NATO's punitive actions against Moscow. A number of countries in Africa and the Middle East, particularly those which have benefited from either Chinese economic aid or Russian military hardware, have adopted Beijing's ambiguous stance on the Ukraine conflict (Wall Street Journal, March 21; Radio French International, March 5). The Chinese government has also tried to undermine international solidarity in condemning Russia, for example by lobbying Indonesian authorities to exclude Ukraine from discussion at the G20 meeting to be held in Bali later this year (Chinanews.com, March 15; Singtao Daily, March 15).
One overriding reason for why Xi may adopt a cautious attitude toward helping his old friend Putin is the former's eagerness to preserve economic stability in the run-up to the pivotal 20th Party Congress scheduled for this autumn. An exacerbation of the sanctions already imposed by the U.S. on wide swathes of the Chinese economy—together with the possibility of a decoupling of supply chains between China and the Western alliance—could jeopardize Beijing's goal of reaching a 5.5 percent increase in GDP growth this year. Steady economic performance and an improvement in the urban unemployment rate would go a long way toward justifying Xi's ambition to be granted an unprecedented third (or even fourth) five-year term as the country's supreme leader. Apart from issues such as Russian reluctance to sell top-of-the-line military technology to China and Moscow's fear of Chinese colonization of the Russian Far East, there are areas where the core national interests of these two quasi-allies diverge. Despite Russia's geopolitical importance to China's efforts to fend off Washington's "encirclement" policy, Xi must assess an array of domestic and other foreign-policy concerns when deciding the extent to which Beijing links its fate to an erstwhile superpower whose weaknesses have been fully exposed by its dictatorial leader's atrocious miscalculations.
Dr. Willy Wo-Lap Lam is a Senior Fellow at The Jamestown Foundation and a regular contributor to China Brief. He is an Adjunct Professor in the History Department and Master's Program in Global Political Economy at the Chinese University of Hong Kong. He is the author of six books on China, including Chinese Politics in the Era of Xi Jinping (2015). His latest book, The Fight for China's Future, was released by Routledge Publishing in 2020.