China and the International Arms Trade
Publication: China Brief Volume: 22 Issue: 6
By: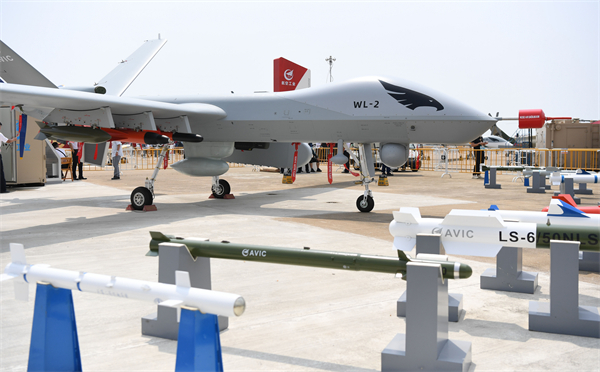 Introduction
As the Russian military struggles to make headway in its invasion of Ukraine, U.S. and European Union officials have cited intelligence reports that Moscow has solicited military assistance from Beijing (South China Morning Post, March 15). In addition to sorely needed supplies like ration packs, Russia requested weapon systems including surface to air missiles (SAMs), combat drones, and armored vehicles. People's Republic of China (PRC) Ministry of Foreign Affairs Spokesperson Zhao Lijiian vigorously denied reports that Moscow had asked Beijing for such assistance as "U.S. disinformation targeting China" (PRC Embassy in the US, March 14). Nevertheless, Russia has been interested in purchasing military technology in areas where China is a leader for some time including the Pterodactyl II (翼龙, yi long) combat drone, which is produced by the Aviation Industry Corporation of China (AVIC) (Alexander Gabuev Twitter, March 15). However, negotiations will take time and such a deal is unlikely to rapidly materialize. If Russia does end up acquiring weapons from China it will be a major role reversal of the traditional pattern in the Sino-Russian arms trade. China has of course long been a major buyer of Russian armaments, and increased its purchases when Moscow lifted its moratorium on sales of advanced weaponry following its military intervention in Ukraine in 2014; such curbs had previously been in place to forestall reverse engineering by China. In light of this major possible pendulum swing, what then is the state of China's arms export industry?
According to new data from the Stockholm International Peace Research Institute (SIPRI), China's arms exports from 2017 to 2021 registered a substantial decline of 31 percent on the previous five-year period with the PRC accounting for 4.6 percent of global arms sales after the U.S. (39 percent), Russia (19 percent), and France (11 percent) (SIPRI, March). Until relatively recently, China had a reputation as a supplier of affordable and workable (but not state-of-the art) weapon systems including armored vehicles, small vessels, artillery, warplanes, and short-range missiles, many of which are based entirely or partially on reverse-engineered Russian or Soviet designs (Nikkei Asian Review, December 20, 2019). However, in recent years, China has begun to export indigenously developed technologies such as the J10-C fighter jet to Pakistan and the aforementioned Pterodactyl II drones to several countries, starting with the United Arab Emirates (UAE) in 2017 (Global Times, February 20). As sources in the Chinese defense community have noted, the UAE's use of the Pterodactyl II to conduct strikes in the Libyan Civil War highlighted its combat effectiveness (Sina, October 13, 2020). Although China has had some success in moving up the value chain in the global arms industry, its exports still generally lag those of top-line competitors from the U.S. and Europe, and as result require greater after-sales service support than weapon systems from other suppliers (VOA, October 21, 2021).
This piece surveys the Chinese defense industry's armaments exports to two of its major international customers: Pakistan and Algeria. From 2017 to 2021, Pakistan increased its longtime stake as the large buyer of Chinese arms accounting for nearly half of all purchases. However, Algeria, which  has historically been a major importer, registered declining purchases over the same period, but there are signs that sales may rebound.
Pakistan
Pakistan, which is among the PRC's closest strategic partners, accounted for 47 percent of China's total arms exports over the past half-decade. The PRC has increasingly supplied high-end military equipment to Pakistan, including JF-17 fighter jets, LY-80 SAMs and accompanying systems, A-100 multiple rocket launchers (MRLs), and both armed and unarmed drones. In terms of joint production, the two countries make anti-tank missiles, portable SAMs, missile boats, and tanks, among other weapons (SCMP, July 4, 2021). Pakistan has also purchased eight type-041 submarines from China, which are the PRC's first air-independent propulsion submarines and considered among quietest diesel-electric submarines in service (SIPRI Trade Register).The acquisition of these eight new attack submarines, which are expected to be delivered from 2023-2028, will significantly increase the Pakistani Navy's ability versus the much larger Indian navy.
In February, images showing Chinese J-10C fighter jets with Pakistani air force markings circulated online (Global Times, February 20). The People's Liberation Army (PLA) confirmed the reports, claiming the China-built J-10C fighter jets, "will give a significant boost to the Pakistan Air Force's combat compatibility and diversify its operational portfolio" (China Military, March 14). Thus far, Pakistan has reportedly deployed six of the 25 J-10C fighter jets purchased from the PRC, as part of a $1.4 billion deal (SIPRI Trade Register). Notably, the jet appears to be equipped with China's domestically produced WS-10B Taihang turbofan engines, making it the first Chinese export to use these engines- an alternative to the Russian AL-31F engine used in the J-10A and J-10B versions (The Drive, February 15). Chinese military analysts described the J-10C fighter jets as more powerful than the JF-17, which was developed jointly between China and Pakistan, and is currently in service with the Pakistan Air Force.
The newly-inducted fighter jets participated in the annual military parade to celebrate Pakistan Day, held in Islamabad on March 23 (Daily Pakistan, March 23). Attendees of the parade included not only Pakistani officials, but also members of the Organization of Islamic Cooperation (OIC), who are in Islamabad for the 48th Council of Foreign Ministers (Dawn, March 23). As a special guest representative in the OIC, Chinese Foreign Minister Wang Yi also attended the event, as part of his regional tour, and met with Pakistani Prime Minister Imran Khan the day prior. At the meeting, Wang claimed Beijing "stands ready to provide assistance within its capacity for Pakistan to overcome difficulties and recover its economy and push for more results in bilateral practical cooperation in all fields" (PRC Embassy to the US, March 23). Beijing clearly seeks to increase defense cooperation with Pakistan, particularly as U.S.-Pakistan and China-India relations have worsened in recent years.
Algeria
In comparison to the steady increase in sales to Pakistan, Chinese arms exports to Algeria have recently declined, accompanying an overall drop in Africa's imports of Chinese arms. According to SIPRI data, Algeria—one of the top arms importers in Africa—accounted for 44 percent of Africa's arms imports and 2.6 percent of the global amount in 2017-2021. This is a steep 37 percent decrease from its arms import levels in 2012-2016 (SIPRI, March).
Over the past decade, Algeria has sought military equipment from Beijing to improve its position vis-a-vis its rival and North African neighbor Morocco, with whom it is engaged in a proxy conflict in Western Sahara and which is also a major importer of Chinese weaponry (MEI, November 10, 2021). In recent years, Algeria has imported frigates, anti-ship, anti-tank, and surface-to-air missiles (SIPRI Trade Register). Algeria has also bought CH-4A UAVs, which are similar to the American Predator 2, and in January 2022, purchased six of the new CH-5 UAVs, which are China's largest strike-capable drone reportedly able to counter the American MQ-9 Reaper UAV. Both types of drones are produced by the China Aerospace Science and Technology Cooperation (CASC) and illustrate China's success exporting drones both to Algeria and Africa, which are "cheap and well designed to meet the demands of their potential clients" (SCMP, January 29). Considered the PRC's strongest partner in North Africa, Algeria has bolstered its relationship with China in order to increase defense and security cooperation amidst intensifying tensions with Morocco. In July 2021, the two agreed to deepen cooperation under the Belt and Road (BRI) Framework and began construction of Algeria's El Hamdania Central Port, which will be the country's largest, and Africa's second, deep-water port (Xinhua, July 19, 2021).
Despite this decline in arms sales to Algeria, SIPRI cites several pending deliveries of major arms, such as corvettes, that could see China return to its strong position. Furthermore, in 2017-2021, Russia supplied 81 percent of Algeria's arms imports, providing an opportunity for China to fill the gap created by the Russia-Ukraine conflict (SIPRI, March). Given Wang Yi's recent visit with Algerian Minister of Foreign Affairs Ramtane Lamamra, in which they confirmed "mutual support to issues inherent to their fundamental interests and concerns" (Sahara Press Service, March 20), this decline is likely temporary.
Conclusion
Sweeping international sanctions and export bans are likely to cut into Russia's $13 billion share of the international arms trade, which was about 19 percent of the global export market over the past half-decade (SIPRI, March). Given Russia's clientele of authoritarian or hybrid regimes in Asia, the Middle East, Africa, and Latin America, China would seem a logical candidate to fill in the gap. Upon closer examination, however, many of the major buyers of Russian arms appear unlikely to replace these purchases in favor of Chinese imports. Particularly since major Western arms exporters such as the U.S. and France have shown little compunction about exporting advanced military technology to authoritarian regimes in the Middle East and Africa, and are likely to capture much of any market share lost by Russia. Notably, Algeria is the only country that both China and Russia share as a major arms export destination (see the below chart).
China Top Arms Export Destinations

 (2017-2021): 4.6% of Total Global Sales

Russia Top Arms Export Destinations

(2017-2021): 19% of Total Global Sales

Country
Percent Total
Country
Percent Total
Pakistan
46.7%
India
27.9%
Bangladesh
15.6%
China
21.1%
Thailand
4.9%
Egypt
12.6%
Myanmar
4.9%
Algeria
11.2%
Morocco
3.1%
Vietnam
4.0%
Saudi Arabia
3.1%
Kazakhstan
4.0%
Nigeria
2.2%
Iraq
2.9%
Qatar
1.9%
Belarus
2.8%
Uzbekistan
1.7%
Angola
1.5%
UAE
1.7%
Turkey
1.4%
Algeria
1.7%
Syria
1.2%
Other
12.6%
Other
9.5%
Source: SIPRI Arms Transfers Database, 2017-2021
Almost half of all Chinese arms exports are destined for Pakistan, but its archrival India accounts for over a quarter of Russian arms exports. Vietnam is also a major customer of Russian armaments, but does not purchase Chinese arms due to Sino-Vietnamese strategic competition over rival claims in the South China Sea. Consequently, neither India nor Vietnam will be able or willing to replace their Russian imports with Chinese alternatives and as a result will likely increase exports from European suppliers, or even the U.S. This process is already partially underway, especially with India, which from 2017 to 2021, cut imports of Russian arms by 47 percent and increased imports from France tenfold (SIPRI, March). Furthermore, continued concerns over the performance of Chinese-made weapon systems may put a damper on sales. As a result, Chinese arms manufacturers may be able to capture some of the anticipated falloff in Russian exports to countries where China has already exported large amounts of arms such as Algeria and Myanmar, but will not necessarily capture new markets due to Russia's struggles.
John S. Van Oudenaren is Editor-in-Chief of China Brief. For any comments, queries, or submissions, please reach out to him at: cbeditor@jamestown.org.
Yani Najarian is an MA Candidate in Asian Studies at the George Washington University's Elliott School of International Affairs and China Brief intern at The Jamestown Foundation. Her research interests include Chinese domestic and foreign policy, U.S.-China relations, and international relations of Asia.