The Beijing Olympics in Retrospect: An Anti-Human Rights Politics Machine
Publication: China Brief Volume: 22 Issue: 6
By: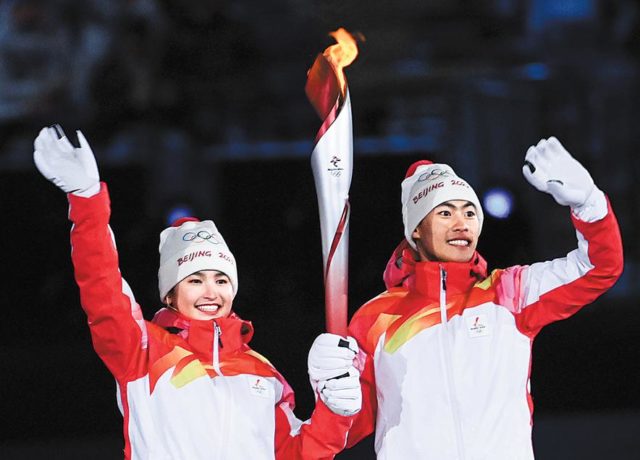 Introduction 
As the U.S. and other Western nations announced diplomatic boycotts of the 2022 Beijing Winter Olympics, the People's Republic of China (PRC) frequently exhorted the international community to keep politics out of the games (People's Daily, December 8, 2021). Spokespersons of the Beijing Organizing Committee also objected to the "politicization" of the Olympic Games, and claimed that the closed loop Olympic bubble was solely a COVID-19 containment measure necessitated by growing concerns over the spread of the Omicron variant in China (Global Times, January 5). Although, the creation of a closed loop bubble was ostensibly undertaken for epidemic prevention purposes, it also had the impact of isolating athletes and journalists, and forestalling unwanted international focus on poor human rights conditions in China.
The PRC was not alone in promoting an apolitical Olympics. The President of the International Olympic Committee (IOC) Thomas Bach has repeatedly insisted that sports are not about politics. Indeed, Rule 50 of the Olympic Charter bans any form of political protest, stating, "no kind of demonstration or political, religious or racial propaganda is permitted in any Olympic sites, venues or other areas" (IOC, November 2021). While the rule is controversial and has been the subject of numerous debates, the IOC reiterated its relevance in the context of the 2022 Beijing Winter Olympics. Furthermore, as strongly underscored by Chinese state media, other countries joined China and the IOC's calls to keep sports and politics separate. Russian President Vladimir Putin, Czech President Milos Zeman, the Cambodian government, and the national Olympic Committees of Cyprus and Montenegro have all described politics as staining the purity of sport and impeding its broader unifying purpose (Global Times, January 16; Xinhua, January 21, 26, and 30; China Daily, January 27). Even French President Emmanuel Macron suggested that politics ought to be separated from sport, when he announced that France would not participate in the diplomatic boycott of the Beijing games (LeMonde, December 9, 2021). The United Nations Secretary General also stated that the Olympic message of unity and peace is more relevant than political circumstances in the host nation (IOC, February 5).
Of course, in the context of the Beijing Olympics, politicization meant raising human rights issues, such as the plight of Uyghurs in Xinjiang, which some countries including the U.S. cited as their reason for not sending official delegations to the opening ceremony (The White House, December 6, 2021). Chinese authorities warned that athletes whose words and actions contravene domestic laws may be punished, prompting fears of repercussions for speaking out on sensitive issues (South China Morning Post, January 19). In addition, all participants in the Olympics were required to use MY2022, an app that includes features for users to report "politically sensitive" content and imposes a censorship keyword list containing a variety of political topics including issues such as Xinjiang and Tibet (The Citizen Lab, January 18). In this context, athletes overwhelmingly stayed quiet during the games, with only a few raising concerns over human rights on their return back home (China Digital Times, February 23; Straits Times, February 9).
The CCP's Human Rights Narrative and the Utopia of an Apolitical Games
Although it has pressured others not to "politicize" the Olympics, Beijing has hardly abstained from using the Games to send political messages on human rights. For example, a Uyghur skier was chosen to light the cauldron at the Olympics opening ceremony (China Daily, February 7). This episode illustrates the Chinese Communist Party's (CCP) tendency to use human rights to enhance its legitimacy. For instance, the CCP's White Paper on "human rights protection," which was published on its centenary, claims that "for a hundred years, the CCP has always put people first, applying the principle of universality of human rights in the context of the national conditions," twisting facts not only pertaining to its historical record, but also on the very concept of human rights set forth by former Chairman Mao Zedong (State Council, June 24, 2021).
In fact, since the international backlash following the 1989 Tiananmen Square massacre, the CCP has spared no effort to present its narrative to the world through its White Papers on human rights. [1] A common feature of these White Papers is to focus on economic development as the best way to promote human rights. For example, in touting Beijing as the first city to successfully host both the Summer and Winter Olympics, Chinese state media adopts a triumphalist tone calling the "Beijing Winter Games a victory for humanity" (China.org, February 4).
Recently, Beijing has been very active in the U.N. Human Rights Council seeking to advance the concept of "human rights with Chinese characteristics," which some Western countries oppose on the grounds that the PRC erodes such rights by denying universalism, privileging the State over the individual, and enforcing a restrictive vision of development. [2] The Olympics provided the Chinese government with the opportunity to further contextualize human rights within broader ideological frameworks such as the CCP's vision of building a "shared future for mankind." [3] For example, state-run media made repeated claims such as "the Winter Olympics has highlighted the common values of peace, development, fairness, justice, democracy and freedom, which are essential to build a community with a shared future for mankind" (China Daily, February 19).
China's alternative conception of human rights challenges the liberal principles that have prevailed since 1945. Importantly, debate over human rights is occurring amidst the broader transformation of the world order, wherein China is asserting an increased role commensurate with its economic and demographic weight. In this vein, following the announcement of the U.S. diplomatic boycott, the pro-Beijing China Society for Human Rights Studies published a report that not only criticizes the politicization of human rights, but more broadly aims to legitimize its understanding of appropriate human rights governance. "Measures taken purposely to politicize human rights issues could prove fatal to global human rights governance. This has become a fundamental consensus reached by the international community on human rights," it claimed (China Society for Human Rights Studies, December 27, 2021). Consequently, not speaking about human rights during the Olympics and allowing China to conduct the games on its own terms are the very political choices that enhance Beijing's capacity to promote its vision of human rights.
Rights Become Political When They Are Denied
Academics working on the politics of human rights highlight how the effective and meaningful defense of these rights is inseparable from daring political stances. In contrast to the common idea that human rights are mainly moral and legal instruments, these researchers underline that human rights are political claims from the moment that they are denied, and this denial is contested. [4] For Balibar, human rights are political because they always suppose that an existing social order is questioned. [5] In this sense, political approaches are essential to put human rights into practice. [6] To ensure implementation, it is necessary to think beyond the impasse of contemporary "anti-politics." [7] As a result, the idea that remaining silent on human rights avoids politicization of the Olympics not only constitutes an essential part of the maintenance of the current status quo of ongoing human rights violations, but is also the very political stance that allows China to maintain its legitimacy as a powerful stakeholder on the international scene.
From a genuine implementation perspective, the real issue with human rights criticisms is not that they risk politicizing the games—the Olympics have always been very political throughout history. Rather, such criticisms underscore the downsides of partial, risk-averse, and incoherent human rights advocacy. [8] In light of official positions taken by Olympic stakeholders, all parties have shirked responsibility for Beijing's ability to host the games absent any significant improvement in China's human rights record. For example, the IOC President has equivocated, claiming that "Neither awarding the Games, nor participating, are a political judgment regarding the host country," while simultaneously maintaining that "at all times, the IOC recognizes and upholds human rights" (IOC; The Guardian, October 24, 2020). When asked to divest from the Beijing Olympics, sponsors such as Airbnb and the watchmaker OMEGA have argued that their agreements are long-term deals with the IOC that extend beyond single games (Airbnb; OMEGA). Those governments conducting diplomatic boycotts of the games have also explained that full boycotts would hurt athletes for naught, with some commentators citing the unsuccessful 1980 Moscow Olympics boycott as a cautionary example. Governments who opted out of mounting any kind of boycott against Beijing claimed they did so because the diplomatic impact of such moves would be limited. Around 2,700 athletes accepted censorship restrictions in order to participate in the games, and some have spoken their minds on the very uncomfortable situation that the IOC has put them in. However, in the end, fulfilling their Olympic dream supersedes promoting human rights. And no clear sign of disapproval came from the audience who vibrated with the magic of sport. [9] Yet, as no individual bears responsibility, everyone is partially complicit.
Conclusion
No solid ground exists to believe that not raising human rights would allow the Olympics to remain apolitical. In addition, there is a paradox in paying lip service to human rights while calling for apolitical games, because genuine implementation of human rights demands political involvement. Similarly to Ferguson's observation—that depoliticizing development and poverty strengthens state power—the Olympics are a telling example of how trying to depoliticize sports and human rights has only reinforced the power of the CCP, both in China and abroad. [10]
Christelle Genoud is Research Associate at King's College London, where she works on the project Academic freedom, globalised scholarship and the rise of authoritarian China. Previously, she served as Human Security Advisor at the Embassy of Switzerland in Beijing, where she was in charge of the human rights portfolio. She has worked on human rights for the United Nations, NGOs, and academia, at headquarters and in the field in Colombia, Palestine, and Honduras. She holds a PhD on finance and human rights from the University of Lausanne and a Master in Asian Studies from the Graduate Institute of International and Development Studies in Geneva.
Notes
[1] Since 1991, following the increasing international criticism of China's human rights record and cumulating with the crackdown of peaceful protest on Tiananmen square, the State Council Information Office of the People's Republic of China has issued White Papers explaining its vision of various human rights issues. As these White Paper target the foreign audience, they are accessible in English: https://english.www.gov.cn/archive/whitepaper.
[2] See Rana Siu Inboden, China and the International Human Rights Regime: 1982-2017 (Cambridge, UK: Cambridge University Press, 2021); Rosemary Foot, China, the UN, and Human Protection: Beliefs, Power, Image (Oxford, UK: Oxford Scholarship Online, 2020); Sophie Richardson, "China's Influence on the Global Human Rights System: Assessing China's Growing Role in the World," Brookings Institution, September 2020, https://www.brookings.edu/wp-content/uploads/2020/09/FP_20200914_china_human_rights_richardson.pdf.
[3] For an example of how the Chinese government uses the concept, see the White Paper "China: Democracy that Works" available at: https://english.www.gov.cn/archive/whitepaper/202112/04/content_WS61aae34fc6d0df57f98e6098.html. For further explanation of the Chinese language on human rights, see https://rwi.lu.se/wp-content/uploads/2021/03/Decoding-China-Publication_FINAL.pdf.
[4] Jacques Rancière, Disgreement: Politics and Philosophy (Minneapolis, Minnesota: University of Minnesota Press, 1999).
[5] Etienne Balibar, "On the Politics of Human Rights," Constellations: An International Journal of Critical and Democratic Theory 20, no. 1 (March 2013), https://doi.org/10.1111/cons.12018.
[6] James D. Ingram, "What is a 'Right to have Rights'? Three Images of the Politics of Human Rights," American Political Science Review 102, no 4 (November 2008): 401-416, https://doi.org/10.1017/S0003055408080386.
[7] Samuel Moyn, The Last Utopia: Human Rights in History (Cambridge, MA: Belknap Press, 2012).
[8] Stephen Hopgood, The Endtimes of Human Rights (Ithaca, NY: Cornell University Press, 2015).
[9] These lackluster reactions contrast the current sanctions imposed by numerous sport organizations against Russia following its invasion of Ukraine. It is worth noting that the anti-war speech of the Paralympic Committee President Andrew Parsons during the Paralympic opening ceremony was censored by CCTV.
[10] James Ferguson, The Anti-Politics Machine: Development, Depoliticization, and Bureaucratic Power in Lesotho (Minneapolis, Minnesota: University of Minnesota Press, 1994).