Ankara Debates Rasmussen's Candidacy for NATO Secretary-General
Publication: Eurasia Daily Monitor Volume: 6 Issue: 58
By: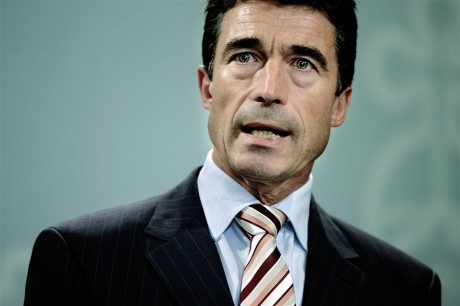 Discussions over the replacement of the current NATO secretary general Jaap de Hoop Scheffer, scheduled to step down on July 31, has intensified, ahead of the Alliance's April 3-4 Summit. Danish Prime Minister Anders Fogh Rasmussen, supported by key European allies, has emerged as the main contender for the post. After Washington decided to support Rasmussen, it was reported that Turkey might block Rasmussen's bid, by using its veto power in NATO (Reuters, March 22). These discussions illustrate Turkey's delicate position within NATO, and how the troubled course of Turkey's European integration affects its position within the transatlantic alliance (EDM, February 9).
During Vice President Joe Biden's visit to NATO headquarters on March 10, speculation mounted concerning the post. Traditionally, the post of secretary-general has been held by a European, whereas the Alliance's top military officer has been an American. In addition to Rasmussen, other possible candidates for the post are the Polish Foreign Minister Radoslaw Sikorski, Norway's Foreign Minister Jonas Gahr Stoere, and former British Defense Secretary Des Browne. However, Bulgaria's Foreign Minister Soloman Passy is currently the only official candidate.
Western media sources presented an unclear view of the possible position of European NATO members on their preferred candidate for the post, which was also reflected within Turkey. An absence of any European consensus might influence Washington to switch its support to Canadian Defense Minister Peter MacKay. Germany, Britain and France, reportedly agreed privately to back Rasmussen who had been tipped as an ideal candidate, not least considering his commitment to Afghanistan and Iraq. In response, Biden left Washington's options open, saying that the U.S. would continue to deliberate on possible candidates. International observers claimed that based on Turkey's objections to Rasmussen, Washington might explore other alternatives (Washington Post, March 8; Der Spiegel, New York Times, March 10).
The Turkish media interpreted these developments as implying that the U.S. had to distance itself from Rasmussen in response to Turkish opposition (Milliyet, March 11). Nonetheless, Washington apparently continued its dialogue with its European allies, and changed its position on Rasmussen. On March 21, NATO diplomats and a U.S. source confirmed Washington's backing for Rasmussen, but these sources added that securing Turkey's support would become the focal point in securing a consensus (Reuters, March 21). The next day, citing an anonymous Turkish official, Reuters claimed that Turkey could in fact veto the appointment of Rasmussen, suggesting he was "tainted" from Turkey's perspective, though its position was not fixed, the official said "it may come to the veto… We will have to see" (Reuters, March 22).
Misgivings in Ankara over Rasmussen's candidacy include his opposition to the country's future membership in the EU, Denmark's alleged support for the activities of pro-PKK, in particular the militant Roj TV during his administration, and his government's handling of "the cartoon crisis." Speculation that such concerns might trigger Turkey's objection to Rasmussen has long been known. Foreign Minister Ali Babacan recently defined Turkey's ideal candidate for the post: "a person who understands and embraces the vision, common values and ideals of the organization well, who will be able to maintain [the Alliance's] relations with all countries in good terms, and whom all member states could trust," though he did not specify Ankara's preferred candidate (Anadolu Ajansi, March 5).
Against this background, Turkey's media coverage of the controversy has contained a degree of exaggeration (Hurriyet, Sabah, Radikal, March 23). Vatan claimed that Washington's statements indicate an 'undeclared crisis' between Turkey and the U.S. However, it was noted that U.S. backing for Rasmussen was announced only through an unidentified diplomatic source, and it was claimed that Ankara reciprocated by voicing its opinion in a similar manner (Vatan, March 23).
It is unclear whether Ankara can veto Rasmussen. Many diplomatic observers believe that although Turkey would not be pleased to see him securing this post, it will ultimately accept the transatlantic consensus. Although at face value Turkey's arguments appear motivated by only narrow concerns, its objections are in fact more principled and take account of NATO's wider interests (Hurriyet Daily News, March 6). Regarding Turkey's claim that the Danish government failed to act decisively over the PKK issue, there are also broader implications for the Alliance. Denmark's attitude towards the activities of Roj TV in propagating the views of the PKK, recognized as a terrorist organization by NATO members, seems to contradict the Alliance's counter-terrorist agenda. This, at the very least, reflects internal differences of opinion over a common definition of terrorism, which makes more difficult the presentation of a united stance on countering the threat.
Additionally, Turkey's assertion that the Danish government failed to act in a responsible manner to alleviate the worldwide concerns of Muslims after the publication of the cartoons of the Prophet Mohammad within the Danish media, equally has broader significance. Given that NATO treats Afghanistan as a crucial mission, and maintains close relations with other Muslim nations, a candidate with a controversial reputation might face problems in developing ties within the wider Islamic world. From Turkey's perspective, with its image as a bridge between the Islamic and western worlds, airing the concerns of Muslims is an important part of Ankara's new foreign policy.
Considering these reasons, although Turkey might refrain from ultimately using its veto, it would not easily make concessions in response to European pressures to appoint Rasmussen. Since there is no need to name the next NATO Secretary-General at the April Summit, Turkey might force the Alliance to continue their deliberations on possible alternatives. In this case, the burden of forming a "winning coalition" around an alternative name would be placed on Turkey. This presents a real test for Turkish diplomacy: whether Ankara can switch from non-cooperative strategies in the form of threatening to use its veto, to instead achieve its objectives through more constructive diplomacy.