Bakiyev Seeks Snap Re-election
Publication: Eurasia Daily Monitor Volume: 6 Issue: 58
By: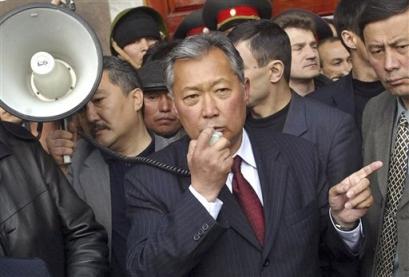 Four years after first seizing power, Kyrgyz President Kurmanbek Bakiyev is seeking a snap re-election. Bakiyev was able to receive rapid support from parliament and the Constitutional Court in scheduling elections for July 23, instead of waiting until the constitutionally defined election date in October 2010.
During his reign, Bakiyev has changed the constitution, carried out early parliamentary elections, and increased his control over the security structures. Shortly before announcing the date of the presidential elections, the parliament composed mostly of his pro-regime bloc Ak Zhol, altered legislation to allow defense forces to intervene in internal affairs, and increased governmental control over the mass media and NGOs. The parliament is currently discussing a bill limiting local NGOs' rights to intervene in political affairs. Should the bill be passed into law, NGOs will not be allowed to monitor future elections.
Bakiyev's desire for re-election as early as this year is explained by his wish to secure the continuity of his regime amidst deteriorating economic conditions and the continuous energy shortages. Last winter, Bakiyev was able to alleviate the energy crisis by rationing electricity production and also thanks to warmer temperatures. Next winter, electricity will continue to be scarce, while labor migrants' remittances that comprise almost one third of the national GDP will shrink significantly during 2009.
Significantly, Bakiyev has scheduled elections shortly before the official August 18 deadline for the closure of the U.S. military base in Bishkek. This indicates Bakiyev's wish to postpone any final decision on Manas until after his re-election. Evicting the base before the elections would earn greater support from Russia, but also risks attracting stronger international attention and criticism. In the meantime, despite Moscow's pressure to expel the U.S. base, in an interview with the BBC (March 4) Bakiyev said that he is anticipating further negotiations with the United States.
The Bakiyev government's control over security structures compels the opposition forces to review their tactics in coping with the regime. According to Edil Baisalov, Kyrgyz political leader in exile, Bakiyev's opposition today is more concerned with persuading political elites in Bishkek to take their side rather than gathering crowds to protest against the regime (www.ferghana.ru, March 24).
Following the death of Bakiyev's ex-aide, Medet Sadyrkulov, in a suspicious accident two weeks ago, political elites supporting the regime are becoming more nervous about their own safety. Sadyrkulov's case has shown that no-one is immune to political persecution and the regime will fight fiercely for its preservation. Fear and panic of becoming the next victim of the regime's oppression is now spreading among political activists as well as the general public. Bakiyev is loathed by many in the government and society. The coming five months, therefore, will test the opposition forces' ability to persuade more political elites to join them. According to Baisalov, Bakiyev's government is similar to the former regime led by Askar Akayev, and also prone to sudden destabilization.
Meanwhile, the opposition bloc United National Movement (UNM) is planning to stage national anti-governmental demonstrations on March 27. The movement has also announced that it will nominate its own candidate for the presidential elections. Although UNM includes several members with presidential ambitions, Omurbek Tekebayev, its leader, is the most likely candidate to be nominated for the July elections. As a leader from southern Kyrgyzstan, Tekebayev will become the most serious challenger to Bakiyev. According to Ata Meken, in Tekebayev's party, the leader enjoys stronger support than Bakiyev among voters in the south, while he is also on good terms with the northern political elites.
In his public address on March 24, Bakiyev promised that "whoever is elected will inherit a politically stable country." Bakiyev gave further assurances that as president and as a citizen he is willing to abide by constitutional law and accept the Constitutional Court's decision to stage early elections (www.akiress.kg, March 19, 24). He failed to mention however, that the constitution has been rewritten by his regime in 2007 and endorsed in a rigged referendum.
The Central Election Commission's (CEC) open backing for Bakiyev inevitably will affect the outcome of the election. In the recent parliamentary and local government elections, CEC played a key role in securing victory of Ak Zhol. Opposition political parties believe that Ak Zhol was defeated by Ata Meken, but CEC manipulated the results. As Temir Sariyev, member of UNM, argues, the key goal for the opposition is to prevent the falsification of election results. Yet, few Kyrgyz experts doubt that CEC will be impartial towards the opponents of the regime.