Anti-Kremlin Russian Volunteers Launch Border Incursion Into Russia's Belgorod Region
Publication: Eurasia Daily Monitor Volume: 20 Issue: 87
By: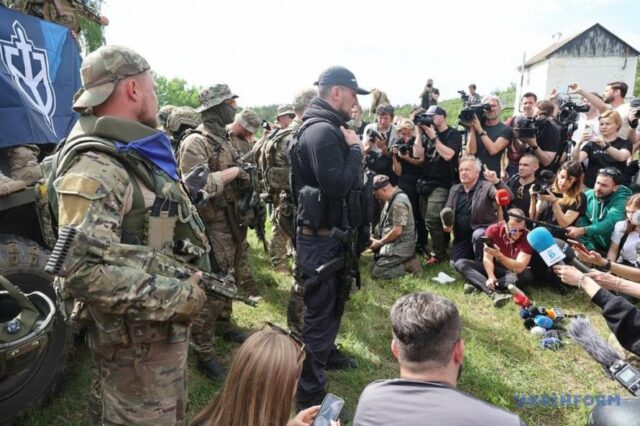 On May 22, two anti-Kremlin militias—the Freedom of Russia Legion (RDK) and Russian Volunteer Corps (RVC)—crossed over the Russian border from Ukraine into the Belgorod region, overrunning the village of Kozinka and sending units into the town of Grayvoron. While fighting Russian border guards and local law enforcement, members of the RDK recorded a video message calling on all Russians to fight for a country free from Vladimir Putin (5.ua, May 22). Shortly after, the fighters posted another video allegedly displaying a destroyed Russian border checkpoint; enemy casualties; captured weapons and munitions, including a modern BTR-82A armored personnel carrier; and other military trophies (RBK, May 22).
In the meantime, Vyacheslav Gladkov, governor of Belgorod region, called for the evacuation of local residents. Gladkov acknowledged that Russian forces had lost control of some areas, announcing that the "counterterrorist operation" was still underway and warning residents that "it is not worth returning home … yet" (New Voice of Ukraine, May 23). In fighting back against the anti-Putin militias, Moscow sent Spetsnaz special forces and units of the regular army to the region. The operation to repel the attack was reportedly led by Colonel-General Aleksandr Lapin who was allegedly shown in a video during the fighting, though some believe the video may have been "staged" (Apostrophe.ua, May 23).
According to the Russian Defense Ministry, over 70 Ukrainian "terrorists," four armored combat vehicles and five pick-up trucks were destroyed during the "counterterrorist operation" (T.me/mod_russia, May 23). However, due to several apparent inconsistencies, some experts question the authenticity of the Defense Ministry's video allegedly displaying the destroyed military vehicles, including American-made Humvees (Meduza, May 23). For example, some Humvees seem to be positioned in unnatural ways, as if they had not been hit by live fire but rather brought in and "placed" artificially. Based on the pattern of soil displacement around the Humvees, some analysts argue that the vehicles were loaded onto a flatbed truck and then lowered into place with a crane, thus displaying them in a more dramatic manner (Facebook.com/OlegMarkovuch, May 24).
On May 24, members of the RDK and RVC organized a press conference in the northern Ukrainian region of Sumy claiming that they had "successfully accomplished all tasks." RDK Commander Denis "White Rex" (also known as Denis Nikitin) declared, "When we cross the border of the Russian Federation, we see that the military-political leadership is not ready for such a thing. They talked a lot about strengthening the line, spending billions on dragon's teeth, posts, some kind of super surveillance. When it comes down to it … the more forcefully we go in, the more time they need to make decisions." In the meantime, he also added that, despite the Kremlin's claims, they had only lost two combatants with ten wounded (Lenta.ua, May 24).
According to an RDK spokesperson with the call sign "Caesar," his unit will continue to raid the Russian border until their forces are large enough to attack Moscow. He asserted that the RVC's main goals are "to protect Ukraine, liberate its territories and overthrow the Putin regime." At the moment, the RVC has anywhere from 500 to 1,000 fighters and continues to recruit more volunteers to its ranks (Unian, May 31).
Although Kyiv has officially distanced itself from the raid in the Belgorod region, the spokesman for the Main Directorate of Intelligence of the Ukrainian Ministry of Defense, Andriy Yusov, claimed both the RDK and RVC are legal military formations in Ukraine, though they operate autonomously in the Russian Federation.
Furthermore, Yusov confirmed that the actions taking place in the Belgorod region and other Russian border areas are a direct consequence of Russia's full-scale invasion of Ukraine. He asserted, "Citizens of the Russian Federation, namely the Russian Volunteer Corps and the Legion 'Freedom of Russia' are taking responsibility for these events. These are the citizens of the Russian Federation who are waging an armed struggle against the Putin regime, including against his war with Ukraine." Given that Russia has recently stepped up its shelling of Ukraine's border regions, "these measures are aimed at creating a certain security zone and pushing Russian terrorist groups away from the Ukrainian border," concluded Yusov (Liga.net, May 22).
Considering that such military raids on Russian territory will seemingly continue moving forward, some officials have speculated about their necessity and efficiency. According to United States National Security Council spokesman John Kirby, Washington does not support the use of US-made equipment during attacks on Russian soil: "We have again made it very clear to the Ukrainians what our expectations are about attacking Russia. … And we have gotten assurances from the Ukrainians that they will respect those wishes. … We have been very clear that we want Ukraine to be able to defend its own soil, its own territory" (Kyiv Independent, May 26). Earlier, Department of Defense Press Secretary Brigadier General Pat Ryder confirmed that the US government had not approved any third-party transfers of equipment to paramilitary organizations outside the Ukrainian Armed Forces, nor had the Ukrainian government requested any such transfers (Defense.gov, May 23).
Thus, although the recent raid showed Moscow's vulnerability in defending its borders, as volunteers penetrated some 40 kilometers into Russian territory in a matter of hours, Ukrainian support for similar moves in the future may bring into question further military assistance from the West—particularly the recently promised F-16 fighter jets (Slovoidilo.ua, May 24). In this regard, Kyiv may provide additional guarantees to Washington that it will not use Western weapons on Russian territory, nor will they be transferred to any third-party or paramilitary organizations.
Furthermore, Kyiv needs to provide further clarification on the precise military and political goals for such operations. As Ilya Ponomarev, a political representative of the RDK, claimed, the goal of the Belgorod operation was to "create a piece of free Russia and keep it as long as possible" (Glavred.info, May 22). Yet, it remains unclear how such a goal could be achieved in the current environment, given that the Kremlin's propaganda actively uses the "invasion" narrative to mobilize the Russian population against the "external threat." According to official Russian sources, due to the success of this information campaign, seven Russian territorial defense battalions and 3.000 troops have now been trained and fully equipped in the Belgorod region (Focus.ua, May 24).
Kyiv and its Western partners are also cautious of Moscow's nuclear provocations, as on the day of the raid, the nuclear storage facility Belgorod-22 and the surrounding area near Grayvoron were evacuated (Ukrainska Pravda, May 22).
Ultimately, it appears that Ukraine is hoping to combine these border raids with the ongoing shelling of Russia's neighboring regions while simultaneously seeking to mobilize the local Russian population against Putin (RBK, May 31). And this approach may prove effective, especially if Kyiv sends clear messages to those Russians who disagree with Moscow's actions regarding the support and benefits they will enjoy when Putin's regime collapses.