The Nuclear Sequence of the Belgorod Raid
Publication: Eurasia Daily Monitor Volume: 20 Issue: 87
By: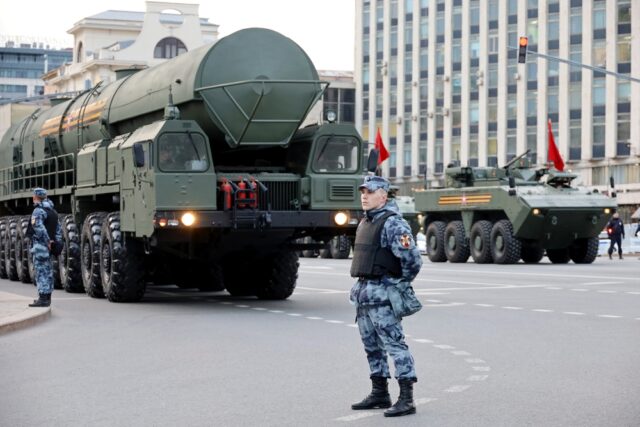 The hit-and-run raid by anti-Putin Russian operatives—Kyiv officially claims that the raid was conducted by combatant units made up of Russian citizens, while Moscow claims it was the work of Ukrainian-supported "terrorists"—in the Belgorod region took place only several kilometers away from one of 12 Russian central storage facilities for nuclear weapons—military unit No. 25624, also known as Belgorod-22 (RBK, May 22; Kommersant, May 23; RBC, May 23). Despite the fact that the raid did not pose a direct threat to the storage facility itself, it does raise the question of how the international community will deal with Russia's nuclear arsenal in the case of further military aggression in the coming years or violent domestic turbulence within the Russian Federation itself.
It is evident that the occupation of Russia after being defeated in Ukraine or at least the evacuation (extraction) of its nuclear weapon will be technically impossible. And this impossibility has even become part of the Kremlin's strategic thinking, as the Russian authorities blackmail North Atlantic Treaty Organization members with nuclear threats on an almost weekly basis, fully aware that the Alliance is not seriously considering the option of "boots on the ground" and will never attack Russia first (RBC, February 8, 2022; TASS, April 14). Nevertheless, Moscow's eschewing of international laws and rules, its political unpredictability and the declining capacity and morality of the Russian ruling class all make it necessary to "imagine the unimaginable" and to discuss possible worst-case scenarios.
Overall, there are 12 central storage facilities for Russian nuclear weapons subordinated to the 12th Chief Directorate of the Ministry of Defense. Most of these sites are named for the cities near where they are located: Belgorod-22, Bryansk-18, Irkutsk-45, Khabarovsk-47, Komsomolsk-na-Amure-31, Lesnoy (formerly Sverdlovsk-45 in Yekaterinburg region), Mozhaisk-10, Olenegorsk-2 (in Murmansk region), Saratov-63, Trekhgorny (in Chelyabinsk region), Vologda-20 and Voronezh-45 (Russianforces.org, August 24, 2017). These bases are spread across Russia with seven of them located in the European part of Russia, two in the Urals, one in Siberia and two in the Far East. Moreover, a sprawling network of special logistics and security units, as well as smaller facilities for the temporary storage and delivery of nuclear weapons connect the central storage facilities to various nuclear-capable carriers. The nuclear manufacturing facilities, central storage bases, as well as logistic and security units are connected through the Russian railway network. Each storage facility is usually guarded by a security battalion consisting of three or four companies, and each logistic and security unit is guarded by one security company. Consequently, there are virtually no technical possibilities to place this infrastructure under external control as geography is the main constraint: the central storage bases are spread across millions of square kilometers with thousands of kilometers between each one. In the worst-case scenario, one of the few ways to manage this situation would be to continue relying on the responsibility and professional competences of the Russian commanders and officers who work with these nuclear facilities on a daily basis.
However, the Russian nuclear system has a bottleneck: the manufacturing facilities, or the nuclear weapons industrial base of Rosatom that employs about 90,000 personnel (Report.rosatom.ru, accessed May 30). Today, five key cities make up Rosatom's nuclear weapons complex: Ozersk (population of about 89,000); Snezhinsk (about 52,000) and Trekhgorny (about 33,000) in Chelyabinsk region; Lesnoy (50,000) in Yekaterinburg region; and Sarov (96,000) in Nizhny Novgorod region (Zato.tv, May 25). Thus, four manufacturing facilities and two of the central storage facilities are located across the eastern part of the Ural Mountains. Moreover, every Russian nuclear warhead needs to be delivered to a manufacturing facility at least every 12 to 15 years for maintenance. This means that the nuclear industrial base is the key for regular maintenance of the Russian nuclear arsenal—and without this system, the nuclear warheads would cease to be operable.
The geographic considerations here are a bit more favorable: a 300-kilometer roadway runs from Troitsk (Chelyabinsk region) on the border with Kazakhstan to Trekhgorny in the northwest, and a 600-kilometer roadway to the north runs through Chelyabinsk, Ozersk, Snezhinsk, Yekaterinburg and Nizhny Tagil (near the location of the 42th Guards Missile Division) connecting to Lesnoy. Another 150-kilometer road from Lesnoy to the north connects to Kytlym (about 1,400 people), the back-up command point of the Russian Strategic Missile Forces (Elibrary.ru, accessed May 30).
Overall, this means that the two sparsely populated regions of the Urals, 3.4 million people in Chelyabinsk region and 4.2 million in Yekaterinburg region (Sverdlovsk oblast), connected to Kazakhstan by roadways and even rail may hypothetically become a solution for managing the Russian nuclear issue in the future if events begin to unfold according to the worst-case scenario. Of course, at the moment, such a scenario looks hardly possible; however, it is better to consider contingences for all possibilities for the war in Ukraine rather than being unprepared for unexpected outcomes.