Armed Formations in the Secessionist 'Luhansk Republic' (Part Three)
Publication: Eurasia Daily Monitor Volume: 12 Issue: 10
By: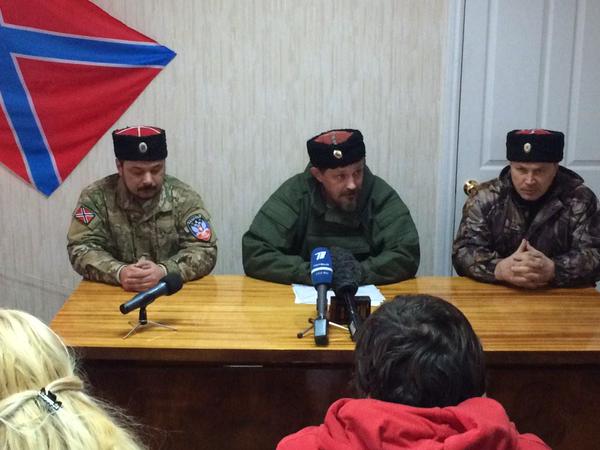 Outside Luhansk City and its environs, the "Luhansk People's Republic's" (LPR) territory is splintered into de facto fiefdoms and portions of no man's land. Each fiefdom has its own ataman (leader) and armed formation claiming Cossack status (see Parts One and Two in EDM, January 9, 15, 2015). They are headquartered in medium-sized towns (average population size 100,000) that serve as district-level administrative centers. These towns are home to massive but ailing metallurgical and chemical plants and coal mines.
Pavel Dryomov (Dremov) in Stakhanove:
This traditional coalmining town with the surrounding district is ruled by Pavel Dryomov (Dremov), whose 1,300-strong, heavily armed force has demonstrated its capacity to disrupt the armistice. According to Ukrainian Security Service (SBU) telephone intercepts, Dryomov reports directly to the command of the operational group of Russian forces stationed in the "LPR" (Kyiv Post, January 6, 2015).
Dryomov purports to be an ataman and a major-general, and calls his force the First Cossack Regiment of a purported 31st District (Okrug) of Russia's Don Cossack Host. All these claims to rank and status are more than dubious. Dryomov sounds equally colorful when recounting his own biography as a former bricklayer, factory worker, volunteer against Moldova in Transnistria, "and I was even a gangster" in Russia, before going to war against Ukraine in April 2014 (Novosti DNR, December 31, 2014). Dryomov's unit split off last September from Nikolai Kozitsyn's Cossack National Guard (see below).
A flamboyant populist orator, Dryomov denounces "LPR's" leadership as corrupt and pro-"oligarchic." Flanked by a full retinue, Dryomov has videotaped an appeal to Russian President Vladimir Putin to remove "LPR's president" Igor Plotnitsky from that post. Dryomov proposes replacing Plotnitsky with a collegial leadership composed of the main leaders of military formations. He vows that his Cossacks would protect industrial enterprises from being robbed under the guise of being privatized by LPR authorities. Dryomov and his men insist on continuing the war to seize the remainder of the Luhansk and Donetsk provinces from Ukraine and onward for Novorossiya (Luhansk Information Center, December 24, 2014; Novosti Novorossii, December 29, 2014; January 2, 2015; Lenta.ru, December 31, 2014; Informator.lg.ua, January 2, 4, 2015; see EDM, January 15, 2015).
Nikolai Kozitsyn in Antratsyt:
From May through November 2014, the purported General Nikolai Kozitsyn was the most senior Russian Cossack ataman fighting against Ukraine. His 4,000-strong force, equipped with armor and artillery, operated as a Cossack National Guard, ostensibly an offshoot from Russia's Don Cossack Host, but in fact a proxy for Russia's armed forces. The Cossack National Guard enrolled nonregistered Cossacks, a dubious status that often accommodates pseudo-Cossacks (see EDM, January 15, 2015). Kozitsyn's units controlled long sections of what is legally the Ukrainian side of the Russia-Ukraine border and the access routes into "LPR's" interior.
The ataman established his headquarters in the town of Antratsyt, later expanding his de facto rule to Krasnyi Luch (major coal-mining towns and administrative centers of the eponymous districts), insubordinate to "LPR's" authorities. Kozitsyn, however, could hardly be taken seriously as an individual. Despite his purported general's rank, he had no military record other than a stint as a volunteer in Transnistria against Moldova. Trained as a corrections officer, Kozitsyn had worked in the Soviet penitentiary system, but was dismissed and embarked on the career of a folkloric Cossack. Perhaps he was fronting for some other Russian authority from his base in Antratsyt.
During his de facto rule there, Kozitsyn bragged of Russian military personnel in his units, and of his own connections with the Kremlin. Yet he disavowed the Minsk armistice agreements. He deprecated the "LPR" as a "fiction," merely a land of Don Cossacks and a part of the Russian Empire, Vladimir Putin being "our Tsar" presently. A rival group of Russian nationalists published documents showing Kozitsyn's involvement in sales of coal to Ukrainian enterprises (Ukraina.ru, November 26, 2014). In late November, another Cossack unit (believed to be undercover Spetsnaz) raided Kozitsyn's headquarters, killed his two closest aides and other retainers in a shootout, and removed the ataman forcibly to Russia (Lugansk Information Center, November 29, 2014).
Kozitsyn's troops, meanwhile, remain in control of Antratsyt. The new commander of the Cossack National Guard in town has been identified as Rashid Shakirzanov (ethnicity not stated). He is also quoted as rejecting "LPR's" legitimacy and claiming parts of Ukraine's southeast for Russian Cossacks, implicitly for Russia (Informator.lg.ua, January 4, 5, 2015; OstroV, January 8, 2015).