Armenia Chooses Russia and Eurasia over the European Union
Publication: Eurasia Daily Monitor Volume: 10 Issue: 156
By: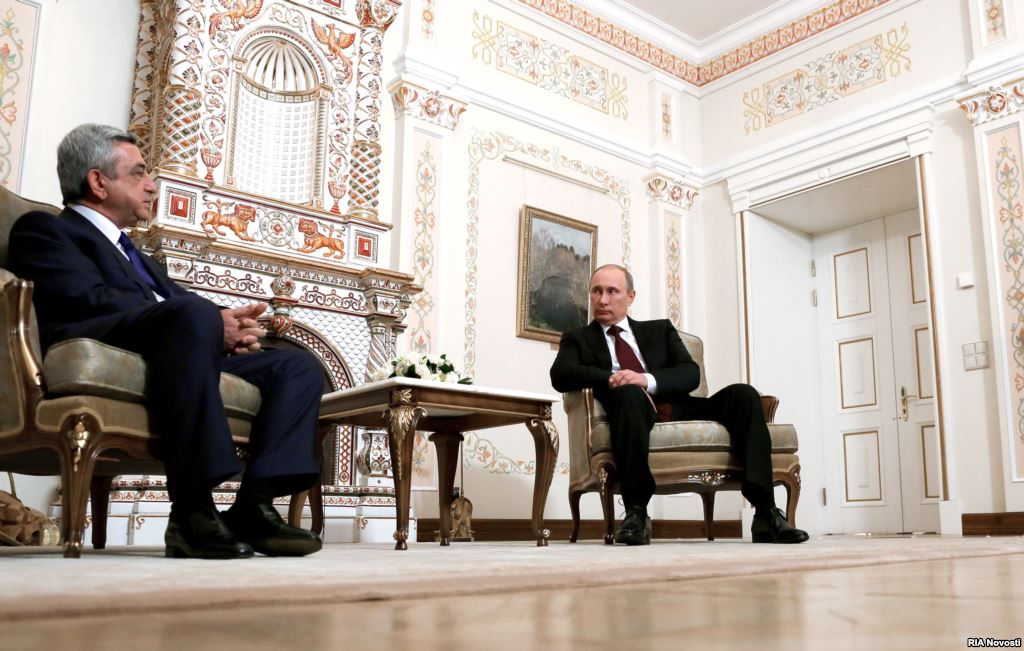 On September 3, in Moscow, Presidents Vladimir Putin of Russia and Serzh Sargsyan of Armenia jointly sank Armenia's association, trade and visa liberalization agreements with the European Union, which were due to be concluded at the Vilnius summit in November. Instead, Sargsyan announced his decision to join the Russia-led Customs Union now, and the even more ambitious Eurasian Union under Russian leadership by 2015.
Sargsyan took this step in full knowledge that joining the Russia-led Customs Union rules out association with the European Union. Both Moscow and Brussels regard these two options as mutually exclusive: Moscow mainly for political and geopolitical reasons, Brussels mainly from technical considerations as the two tariff systems are incompatible with one another. Armenia had to choose, and Sargsyan announced the choice.
The EU-Armenia association and free-trade agreements had taken three years to negotiate, were practically complete by July 2013, and were scheduled to be initialed in Vilnius in November, along with a first-phase visa liberalization document. Ukraine, Moldova and Georgia are scheduled to conclude similar agreements with the European Union in November at the Vilnius summit. Armenia is out, its entrenched economic and military reliance on Russia simply outweighing the European option. Yerevan has itself built that heavy reliance assiduously since 1998 under two consecutive two-term presidencies, including that of Sargsyan who was last re-elected in February 2013.
Sargsyan announced his decision in a joint briefing with Putin to the media and separately through a Putin-Sargsyan joint communiqué. In the briefing, Sargsyan argued that joining the Russia-led integration structures was fully in line with Armenia's interests. Moreover, he contended ("as I have stated on many occasions," he pointed out) that Armenia's membership in the Russia-led Collective Security Treaty Organization (CSTO) necessitates joining the economic structure that covers the same geographic space, under Russian leadership. Sargsyan portrayed these twin choices as rational and natural for Armenia in his briefing. The joint communiqué enumerates Russia's flagship economic projects in Armenia and announces the bombshell decision toward the end of the document.
Putin was the first to announce Sargsyan's decision at the joint briefing, before Sargsyan had spoken. Whether this humiliation was deliberate or inadvertent on Putin's part, the Armenian president took it without murmur.
Sargsyan spoke in his own name as president, without invoking any Armenian institutional authority, not even referencing Armenian ratification procedures. He implicitly took the full responsibility onto himself. Russia's Foreign Affairs Minister Sergei Lavrov explained that Yerevan's next step would be to request the Customs Union's founding countries (Russia, Belarus, Kazakhstan) as well as the Eurasian Economic Commission (Russian-led, supranational executive body) to admit Armenia as a member country. But, he clarified, "the political decision has already been made in Armenia and in Russia."
Some Yerevan commentators initially clung to one sentence in which Sargsyan said that Armenia "desires" to join the Russia-led Customs Union and subsequently the Eurasian Union. Desire would have fallen short of commitment and could imply playing for time. However, the word "decision" is used everywhere else in the Russian- and English-language version of the briefing transcript, joint communiqué, and related statements in Moscow and press releases from Sargsyan's office in Yerevan (Armenpress, Interfax, www.kremlin.ru, September 3, 4).
Putin and Sargsyan both used the Moscow meeting to highlight Russia's massive economic presence in Armenia, including: Gazprom as majority owner of Armenia's pipeline system and the sole gas supplier; Russia's Inter-RAO Unified Electricity System owning almost in full Armenia's hydro- and thermal power generating capacities; Rosatom working to prolong the service life of Armenia's Medzamor nuclear power plant by a further 10 years, through 2026; Russian Railways operating Armenia's railway system and allegedly envisaging $450 million worth of new investment there; Russian cumulative investment in Armenia currently exceeding $3 billion, or approximately one half of total foreign investment in this country whose total annual total GDP was reported at $9.8 billion in 2012 (Interfax, Armenpress, September 3, 4).
None of that has lifted Armenia from its deep poverty, but it does buy Russian political influence directly and political leverage in the background. Armenian mass labor migration to Russia provides a further source of leverage. It was not mentioned publicly by Putin and Sargsyan in Moscow, but it could become a compelling factor if Yerevan changes its mind. In that case, Russia could threaten to impose restrictions on visas and work permits unless Armenia joins the Customs Union.
In previous years, Yerevan used to draw a clear distinction between a military alliance with Russia/CSTO (deemed necessary by Armenia) and economic integration in Russian-led multilateral structures (long deemed disadvantageous by Yerevan's influential oligarchs). That distinction has more recently been vanishing and Sargsyan seems to have officially erased it. By his own statements, he now seems to regard economic integration under Russian leadership as a corollary to Armenia's military reliance on Russia (see above). References to the CSTO, however, serve primarily a ritualistic function. The bilateral alliance with Russia alone matters.
Armenia's association and free-trade agreements with the European Union would have in no way or measure undermined Russia's overwhelming economic and military presence in the country. It would have provided some export diversification opportunities to Europe, modest at first, and with potential to grow over time. More importantly it would have enabled Armenia to gradually assimilate the EU's legal, regulatory, and product quality–standard acquis. These opportunities seem lost now.
Elements in the Armenian government, including Prime Minister Tigran Sargsyan (no relation to Serzh Sargsyan) were clearly unenthusiastic all along about the Russia-led Customs Union. In 2012, Putin and the Armenian president began discussions about Armenia's accession to the Customs Union, whereupon Tigran Sargsyan signed a memorandum of understanding on this with the Eurasian Economic Commission's chief, Russian official Viktor Khristenko, in April 2013 (RFE/RL, August 6).
Armenia, however, is not contiguous to the Customs Union's territory. This "little local difficulty" has no known solution thus far. It might motivate Russia to seek a solution by pressuring or luring the current Georgian government. Prime Minister Bidzina Ivanishvili stated on September 4 (undoubtedly under the impression of Sargsyan's Moscow visit) that the Russia-led Customs Union might perhaps be an "interesting" option for Georgia (EU Observer, September 4).