Armenia and India Build Strategic Relationship
Publication: Eurasia Daily Monitor Volume: 14 Issue: 70
By: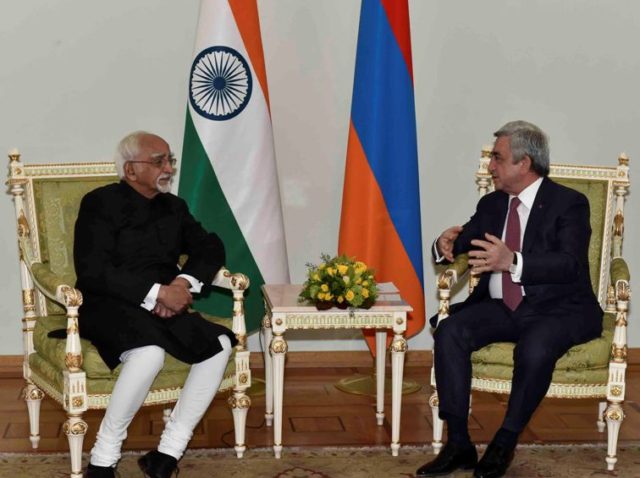 With Azerbaijan and Pakistan currently pursuing a strategic partnership (see EDM, September 28, 2016; December 15, 2016), Armenia and India have decided to step up their cooperation across several dimensions. Indeed, the past six months were marked by a visible reinvigoration of Armenian-Indian bilateral ties, which culminated with a visit to Yerevan, on April 24, of a high-level Indian delegation led by Vice President M. Hamid Ansari (Gov.am, April 24). The Indian vice president held meetings with Armenia's Foreign Minister Eduard Nalbandyan, Prime Minister Karen Karapetyan and President Serzh Sargsyan. The meetings resulted in the signing of three important agreements.
Notably, the two sides agreed to a cultural exchange program for 2017–2020 as well as collaboration in youth affairs. Moreover, they acknowledged their close partnership in the information technology (IT) sector, exemplified by the operation of the Armenian-Indian Excellence Center in Information and Communication Technologies, founded in 2010 (Parliament.am, January 12, 2010). However, the most interesting agreement is related to India's intention to build an Earth observation satellite (EOS) for Armenia. Under this deal, New Delhi also agreed to train Armenian scientists in the use of the system and handling and interpreting its data. Reportedly, the satellite will be operated by a joint Armenian-Indian group of specialists, serving the needs of both countries (Gov.am, Business Standard, April 25; Spacewatchme.com, April 28).
Armenia has sought its own observation satellite since 2011, and has approached both Western countries and Russia as potential partners for cooperation. Then, in 2016, Yerevan procured the Iskander-E short-range, land-mobile ballistic missile system from Moscow (see EDM, October 5, 2016), which added further motivation for Armenia to gain access to its own Earth observation satellite. Even though EOSs are predominantly devoted to peaceful purposes, such satellites could likely also be used to provide guidance, navigation and control services for various military operations. From this perspective, the cooperation with India on a shared EOS becomes particularly important against the background of Armenia's mounting standoff with Azerbaijan. The escalatory military rhetoric, progressively amplified by officials in Yerevan and Baku, has pushed Armenia to openly declare it could use its Iskander-E system for "active" (in other words, pre-emptive) defense measures (President.am, March 25). This boosts India's importance for Armenia, as their partnership on satellite data collection and analysis can help make the latter country less dependent on Russia—Armenia's critical security ally that plays an ambivalent if not fomenting role in the Karabakh dispute.
Also during his April 2017 visit, Indian Vice President Ansari touched upon further steps needed to deepen political dialogue and economic ties with Armenia. He emphasized ramping up contacts between the two countries' businessmen as well as intensifying bilateral collaboration in the spheres of high technologies, education, culture, agriculture and health (Aravot, April 25).
According to reports, both parties seek to foster mutually beneficial comprehensive strategic cooperation (Asbarez, April 25). The solid groundwork for such an intensive alignment was allegedly laid out as early as 2011, when two large Armenian delegations, led by Foreign Minister Eduard Nalbandian and subsequently by then–National Security Council Secretary Artur Bagdasaryan, visited New Delhi. Since then, India has repeatedly stressed its interest in investing in Armenia's military industry complex and establishing a joint arms production consortium (Panorama, April 3, 2011).
Aside from Ansari's formal working meetings with Armenian officials last month, the Indian side made a particularly notable gesture. The Indian delegation paid a visit to the Armenian Genocide museum-memorial, just days ahead of Turkish President Recep Tayyip Erdoğan's trip to India, scheduled for April 30. Ansari paid homage to the dead there (Times of India, April 27). But although India has clearly been taking certain steps toward officially recognizing the early 20th century Armenian massacres in Turkey as a "genocide," it is careful to maintain its positive high-level relations with Ankara intact.
For years, Azerbaijan and Pakistan have been coordinating their positions within various international organizations in order to speak with one voice regarding the disputes in Karabakh as well as in Jumma and Kashmir (see EDM, December 15, 2016). In turn, Armenia and India also increasingly demonstrate reciprocal solidarity when it comes to discussions of these unresolved disputes in international platforms. As a case in point, India (along with Armenia, the United States, Russia and four other countries) firmly opposed the United Nations General Assembly's Resolution 62/243, adopted in March 14, 2008 (Un.org, March 14, 2008). According to Yerevan, the draft resolution ostensibly expressed a one-sided, anti-Armenian interpretation of the ongoing developments in the breakaway region of Karabakh. Furthermore, Armenian and Indian officials repeatedly underscore the importance of coordinating a common stance on the international stage over both the Karabakh and Kashmir conflicts (Hetq, November 12, 2010).
Looking ahead, Yerevan and New Delhi are preparing to sign a "strategic" accord focused on partnership in defense and security. The pending document will cover mutual support and military cooperation. The agreement is supposed to be forged later this year, during Armenian President Serzh Sargsyan's visit to India (Mediamax, April 25).