Armenia Trades European Union Association for Russian Protection
Publication: Eurasia Daily Monitor Volume: 10 Issue: 160
By: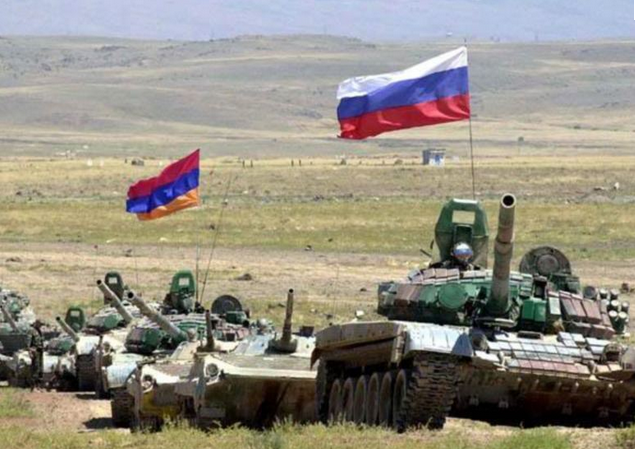 On September 3, Presidents Vladimir Putin and Serzh Sargsyan (speaking in that order from Putin's Novo-Ogaryovo residence) announced their decision that Armenia would join the Russia-led blocs—the Customs Union and the Eurasian Economic Union. This decision at one stroke nullifies the Armenia–European Union Association and Trade Agreements, which were ready to be initialed at the EU's Eastern Partnership summit in November 2013, signed in 2014, and enter into force already in 2014 prior to their ratification (see EDM, September 5, 6).
Russia is applying economic and political pressures on Ukraine, Moldova and Georgia to derail their association and trade agreements with the European Union. In Armenia's case, however, the Kremlin can additionally threaten to reconsider its support for Armenia's occupation of Azerbaijani territories. This has become a specific Armenian vulnerability vis-à-vis Russia. Given Azerbaijan's growing strength and region-wide importance, Yerevan becomes increasingly dependent on Russian protection and apprehensive that Moscow might reconsider its options. Whether Putin has hinted at this possibility to Sargsyan is not known but is a matter of speculation among Yerevan observers. It may also be a self-generated fear compounding the effects of any Russian hints. Putin's August 13 visit to Baku (see EDM, August 14–16) intensified such apprehensions in Armenia.
It is widely accepted among Yerevan observers that Sargsyan's decision to join Russia's economic bloc reflects overriding considerations of Armenia's national security. Euphemistically, this denotes Russian support for Armenia's retention of occupied territories inside Azerbaijan, pending a political settlement of that conflict. A related, widely held view holds that Armenia is trading sovereignty to Russia via the Customs Union, in return for security. Some top analysts even allude to trading economic benefits in return for security benefits. In this view, Armenia can accept some economic losses by renouncing the agreements with the EU; but losses in terms of security would be irretrievable if Armenia remains outside the Customs Union (Arminfo, Panorama.am, September 4).

Sargsyan has yet to address his country or the parliament and explain the September 3 deal with Putin. On September 5, the Armenian president briefed his own National Security Council and at least parts of the government about the tradeoff in Moscow. According to NSC Secretary Artur Baghdasarian, "The most important [consideration] is Russia's role in Armenia's national security. Russia has assumed great responsibility for that" (Tert.am, September 6).

In this sense, Yerevan's decision cannot be described as Russian "blackmail." It looks like Yerevan's considered, if reluctant, choice. It seems to reflect the government's order of priorities at this time.

The NSC and the Ministry of Foreign Affairs claim that, once Armenia enters the Customs Union, no customs border would be inserted between Armenia and Karabakh. Instead, the terms offered to Armenia within the Customs Union would be extended to Karabakh, ensuring a single economic space of Armenia and Karabakh in the future. According to Deputy Minister of Foreign Affairs Shavarsh Kocharian, the Association Agreement negotiated with the EU had stipulated a border between Armenia and Karabakh, but the Customs Union with Russia would not do this (News.am, Arka, September 6, 7). In that case, however, Moscow and Yerevan would openly be violating Azerbaijan's territorial integrity and changing its borders. Such a scenario seems far-fetched, more likely a selling point for Armenian public opinion.

Armenia is not contiguous to Russia or to any other territory of the evolving Customs Union. The exclave situation poses serious practical difficulties to integrating Armenia within this Union.

Armenian officials imply that they consider linking up with the Customs Union's Russian territory via Georgia. Following the Putin-Sargsyan agreement, Armenia's NSC's chief, Baghdasarian (see above), claimed that the Georgian government had all but agreed to re-open the railroad that connects Russia with Armenia. The Georgian government responded by indicating that the matter might be negotiable with Russia. That railroad has been closed for the last 20 years and necessitates full reconstruction in Russian-occupied Abkhazia (Civil Georgia, Arminfo, September 6, 7).

An overland transit rote one operates already, albeit with a small capacity, by highway (formerly the "Georgian Military Road"). Bus transit routes do not overcome the problem of the lack of contiguity between Russia and Armenia, as long as Georgia remains outside the Customs Union. Prime Minister Bidzina Ivanishvili has said, then retracted, that Georgia is prepared to re-open the railroad connection. More to the point, he has said several times that Georgia could consider the possibility of joining the Customs Union itself (without prejudice to the Georgia-EU Association Agreement, in Ivanishvili's mistaken view). Ivanishvili repeated this in the wake of the Putin-Sargsyan meeting in Moscow (Civil Georgia, September 4, 5).

Short of that hypothetical scenario, Georgia and Armenia have a bilateral agreement on free trade. Should Armenia join the Customs Union as intended, Georgia may have to re-negotiate that agreement with the Customs Union's Russian-led authorities, instead of bilaterally with Armenia.