Russia's Customs Union Project Finds Acceptance in Armenia
Publication: Eurasia Daily Monitor Volume: 10 Issue: 160
By: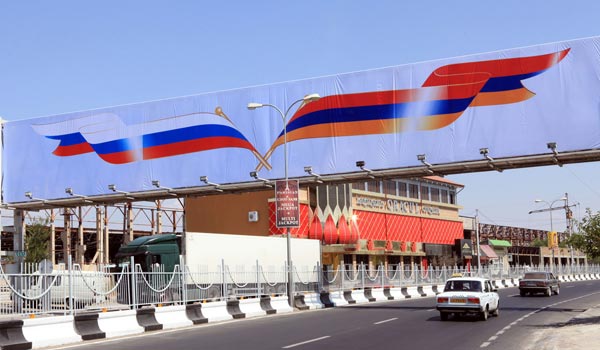 Armenia's move into Russia's economic bloc, coupled with its military reliance on Russia, will conclusively reduce Armenia to the status of Russia's satellite. Armenia's snub to the European Union is comparable with the 1947 rejection of the Marshall Plan by the Moscow-dominated governments in Central and Eastern Europe. The similarities are manyfold. The Marshall Plan would not have jeopardized Russia's military and political preeminence over those countries (just as the EU association and trade agreements would not have challenged Russia's preeminence in Armenia). However, the Marshall Plan would have connected Central-Eastern Europe economically with the West to advance the region's recovery and prosperity. Instead, Moscow decided to integrate those countries into its own economic bloc, completing the process of their satellization, guaranteed by military control.

Armenia has now reached a similar juncture. But the two situations differ in one significant respect: The nations of Central and Eastern Europe had to be coerced into Moscow's orbit in 1947. Today, however, Armenia's political and business classes and its public opinion seem, for the most part, to be going along with the country's inclusion into Russia's sphere of influence.
The factors that condition such acceptance include: Russian economic incentives, existing and promised, that make sense in Armenia's dire economic situation, and seem more understandable and tangible than the EU's long-term reform programs; Armenian commercial oligarchs' vested interests in special relations with Russia; traditional Armenian popular Russophilia, irrational fears of Turkey, and the perceived necessity of Russian military protection of Armenia and Karabakh.

According to the Sociometer Center's Director Aharon Adibekian, opinion surveys show that a majority of Armenia's citizens would vote in favor of accession to the Russia-led Customs Union in a referendum. Russia's popularity ratings oscillate between 40 percent and 55 percent in the polls, with the European Union a distant second, and the United States further behind (ArmeniaNow, September 5).
Armenia's political parties seem broadly supportive of joining Russia's economic bloc as a corollary to the military alliance. The governing Republican Party's executive council has unanimously approved President Serzh Sargsyan's joint decision with Vladimir Putin to bring Armenia into the Customs and Eurasian unions. The Republicans declared that this move fully corresponds with Armenia's national interests. The largest non-governmental party, Prosperous Armenia, nominally in the opposition, is led by Russia-friendly oligarchs and is expected to support accession to the economic bloc (Arminfo, Tert.am, September 5, 6).

The Armenian National Congress, staunchly oppositionist, is reserving judgment on the economic merits of this deal. It merely attacks Sargsyan's secretive decision-making procedure. The party leader, former President (1991–98) Levon Ter-Petrosian, declared that Sargsyan should have used the EU's offer as a bargaining tool vis-à-vis Moscow and obtain better terms for ultimately joining the Customs Union. The historic opposition party, hardline nationalist Armenian Revolutionary Federation–Dashnaktsutiun, became the first party to endorse the Sargsyan-Putin decision, arguing that it cements Armenia's military alliance with Russia (see EDM, September 5). The small oppositionist Heritage Party (led by Rafi Hovhanisian, surprise runner-up to Sargsyan in the February 2013 presidential election) is the only parliamentary party to reject the Customs Union deal at this time. This party, however, risks marginalization through its rhetoric: it does not recognize Sargsyan as president, and it blames Russia for having conceded "Western Armenia" and Nakhchivan to Turkey and Azerbaijan, respectively (Aysor, September 5; News.am, September 6, 7; RFE/RL, September 9).

No organized response has ensued from civil society thus far. Two spontaneous picketing actions outside the presidential office petered out on September 4–5. A small number of intellectuals from pro-Western non-governmental organizations (NGO) criticize the Putin-Sargsyan deal for turning down the EU's offer, derailing the hoped-for reforms, and mortgaging the country's future.

Armenia's pauper economy operates under Russian dominance in terms of ownership and investments (see EDM, September 5, 6). On top of its entrenched presence, Russia has upped the ante to outbid the EU in Yerevan. One day after Sargsyan's Moscow visit, the Russian government and Eurasian Development Bank in Moscow promised: investment funding for a north-south railway in Armenia, planned for completion by 2017 (apparently in line with Putin's $450 million pledge to Sargsyan for railway construction); a discount on the price of Russian gas, from $270 to $180 per one thousand cubic meters (rescinding a threat to increase the price if Georgia had signed the agreements with the EU); a price discount on Russian raw diamonds for Armenia's diamond-processing industry; and a further $100 million loan from the Eurasian Economic Community's anti-crisis fund (after an earlier $500 million loan).
At least 1.5 million Armenian citizens are officially registered as residing in Russia (the actual number is believed to exceed 2 million), and remittances from Russia are estimated at 85 percent of total annual remittances to Armenia. While the EU demands with some urgency the closure of Armenia's Medzamor Soviet-era nuclear power plant, without offering a replacement solution at this time, Russia proposes to modernize that nuclear plant or build a new one. Some of these promises may be questionable or deceptive, but they carry weight in Armenia and build Russian political influence there (RIA Novosti, September 4; ArmeniaNow, Arka, September 5).