Arms Sales to Pakistan Kindle Indian Wrath
Publication: Eurasia Daily Monitor Volume: 11 Issue: 120
By: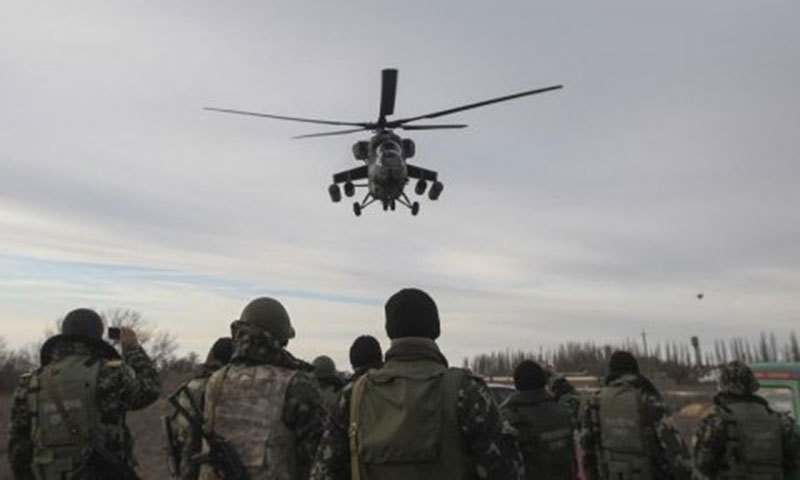 Russia's announcement, earlier this month, that it was negotiating the sale of helicopters to Pakistan (see EDM, June 24) may have backfired on Moscow, as it clearly underestimated the anger that this news has triggered in India and what it could portend for Russo-Indian relations. Whatever Moscow's motives for this sale, it is clear that it represents an opportunity for Russia to reverse its past policies and enhance its ties with Pakistan. Indeed, Foreign Minister Sergei Lavrov told Pakistan's National Security Advisor Sartaj Aziz that Russia is keen to expand the two countries' bilateral relationship (Xinhua, June 20). Pakistan also claims that it intends to use the Mi-35 helicopters it hopes to purchase from Russia to fight domestic drug traffickers rather than in a military standoff against India; but that pledge has not mollified New Delhi at all (RIA Novosti, June 18).
Russian arms seller Rostekhnologii pointed out that Russia had always sought to expand and diversify its customer list in South and Southeast Asia—and that includes Pakistan. Nevertheless, India has been quite vocal about its concerns (RIA Novosti, June 18). The Russian press reports that India told Russian officials they were furious with Moscow's effort to exploit the interregnum between Indian governments by announcing the Russo-Pakistani arms sales talks just as the new prime minister, Narendra Mori, was assuming office. Furthermore Indian officials dropped unofficial hints of an "us or them" choice to Russia and told Moscow that there is now, for the first time, a deficit of trust in Indo-Russian relations (RT, June 6).
Although Prime Minister Modi told Russian Deputy Prime Minister Dmitry Rogozin that Moscow is a reliable friend of New Delhi and a major partner in building Indian defense capabilities, the Indian press is awash with calls for reestablishing an indigenous and self-sufficient arms industry (Business Standard, June 26). Rogozin was in India earlier this month on a mission to discuss expanding bilateral trade and investment, which have seriously lagged behind Russian hopes (RT, June 21). But it is clear that this affair will not help overcome Indian anger. So while both states have earlier agreed to set up a joint study group to evaluate the feasibility of a bilateral free trade agreement (The Hindu Business Line, February 26), the Pakistan arms sales issue has overshadowed those talks.
And in the wake of major past failures—most notably Russia's repeated failures to deliver the Gorshkov aircraft carrier to the Indian Navy on time and on budget (see EDM, November 30, December 7, 2012)—it is understandable why New Delhi's anger about Russian arms sales to Pakistan has now combined with the previous frustrations over systemic Russian failures to deliver reliable weapons systems. Furthermore, there are other sources of Indian discontent pertaining to Russian arms sales to third countries—especially to China. In particular, Rosoboroneksport is currently in negotiations with China to sell it the Su-35, the most advanced export version of the Russian Su-27 fighter, and considerably more advanced than the Su-30MKIs that Russia has previously sold to India (The Hindu, March 8, 2013). While it is true that Russia and India are jointly developing a fifth generation fighter (the FGFA, a derivative of the Russian PAK FA T-50), the aircraft is still only in the prototype phase. In addition, Russia is selling Amur (Lada)-class attack submarines to China, which are a more technologically sophisticated and silent version of the Kilo-class submarines that the Indian Navy possesses. Finally, Russia also sells more advanced, high performance jet engines to China than it does to India (South China Morning Post, March 27, 2013)
Taken together, these advanced weapons sales to China, the announced military helicopter deal with Pakistan, combined with the evidence of Moscow's intent to upgrade its ties with Islamabad and enhance Pakistan's defense capabilities paint a worrying picture for New Delhi. And as India's anger at Russian policies in South and Southeast Asia grows, it raises the prospect of Russia not only losing a portion of the Indian defense market but also of India considering the idea of permanently turning away from Russia. Given the solidity of the Moscow and New Delhi's bilateral relationship for the last sixty years, the rising importance of India as an Asian balancer to China, and the uncertain future of Afghanistan, Russia cannot afford to risk losing its most reliable partner, if not ally, in Asia. Therefore, this is a relationship that bears careful watching for the foreseeable future, especially as Russia tries to negotiate its complicated position in between South Asia's two nuclear-armed rivals.