As Elections in South Ossetia Go Awry, Moscow's Credibility Is Undermined
Publication: Eurasia Daily Monitor Volume: 8 Issue: 223
By: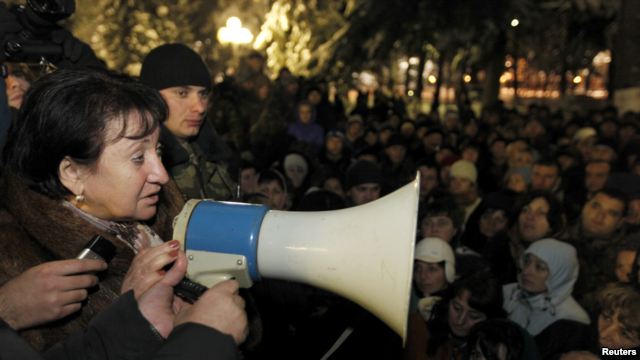 On November 27, at the second round of "presidential elections" in the Georgian breakaway territory of South Ossetia, the Kremlin candidate – minister for extreme situations, Anatoly Bibilov – suffered a crushing defeat to the opposition leader, Alla Jioeva. Bibilov scored 40 percent and Jioeva received over 56 percent of votes. On November 29, the supreme court of the republic that is believed to be under complete control of the government of president Eduard Kokoity hurriedly abolished the election results for alleged law violations on Jioeva's side (www.gazeta.ru, November 29). People took to the streets of the principal city of Tskhinvali and the power struggle between Kokoity and Jioeva ensued. The Kremlin candidate's flop in South Ossetia, the tiny and heavily Russia-dependent territory, surprised all Russian observers.
The embarrassment for Moscow is that Russian President Dmitri Medvedev paid a short, unexpected visit to Vladikavkaz, North Ossetia on November 21 and shook hands with Anatoly Bibilov in an apparent attempt to influence the results of the November 27 South Ossetian elections (www.kremlin.ru/news/13607). It did not seem to work, but now Moscow officials seem to stick to their dismissive attitude to Jioeva as a matter of principle, while people in South Ossetia increasingly disavow Eduard Kokoity's regime. At least two vice-speakers of the republican parliament have publicly called on Kokoity to step down from his position. His presidential term officially runs out on December 7 and his presidency becomes especially shaky from legal standpoint (https://www.regnum.ru/news/fd-abroad/yugoosset/1476818.html, December 7).
The situation is more complex than it may seem at first glance. Moscow signaled earlier in 2011 through the Russian media that it was not happy with Kokoity. Allegedly, the dislike for Kokoity was so big that Moscow did not allow him to have "a candidate of his own" in the presidential race. So the Kremlin candidate Bibilov may have faced some opposition from both, Jioeva and Kokoity's government. Moscow has to choose now between the two bad outcomes – a continuing presidency of Kokoity or an opposition candidate coming to power. For political reasons, Moscow is sticking with the government of Kokoity, because it does not want the South Ossetian case to influence the situation in the North Caucasus and Russia itself. "Unwarranted" change of government, especially yielding to people's pressure, is a nightmare for Moscow that it will try to avoid. However, Kokoity's positions are not easily defensible, and as an indication of that on December 7, he announced several top officials' resignations in an attempt to appease the protesters (https://south-osetia.kavkaz-uzel.ru/articles/197197/, December 7). Several people that supported the South Ossetian voters' choice were arrested in North Ossetia. One of them, Soslan Kokoev, threatened Moscow that if it did not stop propping up Kokoity, Ossetians would turn toward the West (https://rln.fm/2011/12/yuzhnaya-osetiya-nachinaet-smotret-v-storonu-zapada/, December 1).
Central authorities in Tbilisi do not recognize these elections, and neither do European institutions nor US officials. The elections were condemned once again before the second round by the inter-parliamentary organization of GUAM, which is made up of Georgia, Ukraine, Azerbaijan and Moldova (https://north-osetia.kavkaz-uzel.ru/articles/196529/). In practice, the vote in South Ossetia will be recognized only by Moscow and three exotic states that recognized the "independence" of South Ossetia under Russia's pressure.
Alla Jioeva, born in 1949, is a specialist in education. She progressed from a position of schoolteacher to the minister of education in South Ossetia. The current head of the government of South Ossetia, Eduard Kokoity has been trying to get rid of her for the past several years. Jioeva was convicted for "abuse of power" and sentenced to two years imprisonment and a fine (https://ria.ru/spravka/20111114/488366084.html). The candidate has been a citizen of the Russian Federation almost since the very moment of the dissolution of the USSR. In 2007, Jioeva received the Honored Teacher of Russia distinction in 2007 from the Russian government. Moreover, even in her early public statements, she never concealed her wish for South Ossetia to become united with North Ossetia in the Russian Federation (Alla Jioeva: "We will unite with our brothers in the north at some point!" – Information agency Res, November 8, 2006).
Candidate Alla Jioeva does not mention the republic's status much. Instead, she talks about the distribution of official positions and money that flow into the territory from the North. This would be sufficient to attract the majority of voters, if there were no heavy-handed pressure by the government of Eduard Kokoity. The current leader of South Ossetia displays features of a person who is trying to protect himself against possible negative consequences after stepping down (https://criminalnaya.ru/publ/113-1-0-1179).
The South Ossetian scramble for power is more about clan struggle, than policy differences between the candidates. The problem is that Eduard Kokoity's rule became a headache not only for the republic's residents, but even for its patron: Russia. Thus, the myth about a "local candidate" that allegedly opposes the pro-Moscow candidate is nothing more than a ploy to show off the elections of South Ossetia's head by Moscow are competitive. Both candidates pursue the policy of "voluntary" accession of South Ossetia into the Russian Federation. This is the principled difference of the recent elections in Abkhazia where there are some forces that oppose Abkhazia's accession into the Russian Federation and where national elites fiercely resist the idea of a mere merger of Abkhazia into Russia. No primary candidate in Abkhazia ventured to call for the republic's accession into Russia. Candidate Anatoly Bibilov in his program openly advocates unification with North Ossetia. Naturally, he is not the person who would propose North Ossetia's separation from the Russian Federation. Quite the contrary, he presumes unification of the two Ossetias inside the Russian Federation, which makes his candidacy so agreeable for Moscow (www.kavkaz-uzel.ru/articles/195274/).
The situation in the region had a tremendous impact on the demography. South Ossetia's population was 98,000 in 1989; by 2007, officials provided the number 88,000. According to the Russian center Demos that specializes in demographic issues, after the Russian intervention into this republic, its population lies somewhere between 32,000 (www.polit.ru/article/2009/09/22/demo/) to 72,000 according to official information (https://presidentrso.ru/republic/). Only 12,000 people voted for the two candidates in the runoff, out of 24,000 voters who turned out. 67 percent of the voters turned up for the ballot, so the total number of voters must be within 36,000. This attests to the total population of the republic within 50,000 or less, but certainly not the officially stated 72,000. Even 50,000 may be an overestimation, as additional voting support has been used for provided for a given candidate from outside of the republic.
Whether Moscow manages to impose ostensibly its candidate on South Ossetians or fails, its public standing in South Ossetia, North Ossetia and beyond is likely to suffer. Either Russia will be perceived as a weak partner or patently unjust.