Attempted Patriotic Boost in Russia Falls Flat
Publication: Eurasia Daily Monitor Volume: 7 Issue: 202
By: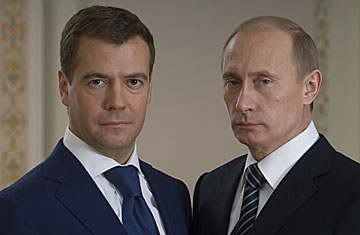 Last Sunday marked the 93rd anniversary of the Bolshevik revolution, which used to be the major official holiday in the Soviet Union and remains a date about which the Russians have mixed feelings, but only 9 percent see it as a catastrophe (www.levada.ru, November 2). The Communist Party held their traditional rallies, but they looked rather boring as the old-style party fails to connect with the discontent in the working classes caused by sharp social inequality and stagnant income (Nezavisimaya Gazeta, November 3). Not much more convincing were the official efforts to celebrate the Day of National Unity –a new holiday established five years ago as an attempt to transform old habits into a carefully orchestrated demonstration of loyalty to "Putin's course." Only some 14 percent of Russians celebrated this holiday, which is in fact hijacked by right-wing nationalists, who held a series of predictably ugly but not numerous marches (www.polit.ru, Ezhednevny Zhurnal, November 5).
President Dmitry Medvedev presided over the ceremony in the Kremlin and used this opportunity for boosting his "patriotic" credentials, which were slightly compromised by his agreement to attend the NATO summit in Lisbon. German Chancellor, Angela Merkel, and French President, Nicolas Sarkozy, convinced him to make this "goodwill gesture," and he had to confirm it by greeting last week the Alliance's Secretary-General, Anders Fogh Rasmussen (RIA Novosti, November 3; Rossiyskaya Gazeta, November 2). This Atlantic "reset" answers the thrust of Medvedev's "modernization" course, ambivalent as it is, towards closer ties with Russia's Western partners. Suspecting that such "Westernization" exposes him to attacks from the conservative camp, Medvedev tries to compensate with assertive steps, like the visit to the disputed island of Kunashir. The predictable and absolutely unnecessary diplomatic row with Japan could jeopardize Russia's tangible economic interests, but this appears to be a small price to pay for the photo-op next to a rusty tank (Kommersant, November 3; Ekho Moskvy, November 6).
Prime Minister, Vladimir Putin, plays a more subtle "patriotic" game, for instance visiting the village that was rebuilt after the August fires under his personal control, or supervising the special edition of Aleksandr Solzhenitsyn's "GULAG Archipelago" for school curricular (Rossiyskaya Gazeta, October 27). Nor is Putin that keen to condemn Stalin's crimes, but Solzhenitsyn's pronounced Russian nationalism provides a useful ideological platform on which a greedy bureaucrat might look like a respectable conservative (Vedomosti, November 3). This positioning is transparently clear for the insiders in the Russian political class, and the famous film-maker Nikita Mikhalkov –always attuned to signals from the top– published last week a manifesto of "enlightened conservatism" lashing out against innovations influenced by pro-Western liberalism (www.gazeta.ru, November 1). The passion of this anti-modernization appeal was perhaps slightly embarrassing for Putin, but his political agenda is very much about "taking Russia back" from those who try to reduce the privileges of state bureaucracy.
What overshadowed the half-hearted attempts to invent a holiday and revealed the vanity of petty political games was the sad news about Viktor Chernomyrdin, Yeltsin's loyal prime minister and Putin's envoy to Ukraine, who passed away last Wednesday. He was famous for his talent for political wit, such as: "We wanted to do better, and it has turned out as usual." The funeral was organized with all due official pomp; Putin and Medvedev stood together and said properly respectful words, as if illustrating the fact that it had indeed turned out as usual (www.grani.ru, November 3). Chernomyrdin, however, is remembered because he really wanted to do better. He was a statesman of high integrity and low pretence, and possessed solid common sense that guided him through the political turmoil of the 1990's. The thought that Russia would have been in safer hands and on a straighter track had Boris Yeltsin opted for the obvious successor overcoming jealous worries that Chernomyrdin was ready for the job, was on many minds (Vremya Novostei, November 3; Ekho Moskvy, November 5).
Many commentators also reflected on the Budennovsk hostage drama when Chernomyrdin took responsibility for negotiating with the terrorists and saved hundreds of lives (Moskovsky Komsomolets, www.gazeta.ru, November 3). Many tragedies happened in the 15 years of civil war that followed, but not once were the authorities prepared to put human lives above their ambitions. These days the North Caucasus is again engulfed by a wave of violent instability and terrorist attacks hit targets of choice every week despite the maximum intensity of counter-insurgency operations (Nezavisimaya Gazeta, November 3). Medvedev is trying to combine tough Putinesque rhetoric with a new development strategy centered on stimulating investment in the region. Medvedev's envoy, Aleksandr Khloponin, tries to open the local economies depressed by severe corruption for normal business, but he has no authority over Ramzan Kadyrov, who struggles to keep Chechnya under his despotic control, and has little leverage to mediate the violent clan struggle in Dagestan. His accusation that instability in the North Caucasus is fuelled by Western special services reveals his helplessness before the gathering storm (RIA Novosti, October 26).
Rebels keep the initiative in the region, and they know that the federal authorities would be propelled to action, and indeed over-reaction, only when Sochi or Moscow is hit, and consequently the terrorists are able to plan attacks on high-value targets at the moment of their choosing. This creates a high probability that the 2011-2012 election cycle may be heavily influenced by the threat of terrorism, unlike the previous election, when Putin was able to reformat the structure of leadership as he saw fit. It does not mean, however, that the patriotic mobilization of 1999-2000 could be reproduced because the futility of "forceful solutions" and the shameless exploitation of fears by the ruling regime for prolonging its own existence are too obvious (www.gazeta.ru, November 3).
Bitter words about the degeneration of stability into stagnation and over the hypocrisy of mainstream "patriotism" were heard by many Russians last week far louder than the official declarations of "national unity." Mikhail Khodorkovsky said that he was ashamed of his state in the final word of his grossly falsified trial (Novaya Gazeta, November 3). Khodorkovsky also spoke about his hope for Russia becoming a modern state with a strong civil society. This hope is shared by millions who remain silent in the noise of propaganda fanfare. Their choice will be made in the streets because ballot boxes cannot be trusted.