Australia Finds a Way to Raise Its Economic and Political Profile in Mongolia
Publication: Eurasia Daily Monitor Volume: 10 Issue: 14
By: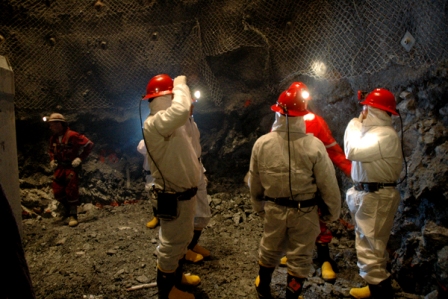 While Western financial blogs in 2012 decried the rise of Mongolian resource nationalism as well as continuing corruption in Mongolia's mining sector, Australia, cautiously yet successfully, has maneuvered through the same environment to significantly increase its investment and political footprint.
Mongolia's superhot mining boom cooled down last year—2011's record 17.3-percent growth slowed to 12.3 percent in 2012—because of decreasing exports to China and foreign investor concerns about restrictive tightening of its mining regulatory regime. Nevertheless, the Economist Intelligence Unit (January 4, 2013) predicted that the country's economy would grow in 2013 an enviable 18.1 percent. In the next five years, foreign investment in Mongolia's mineral sector is forecast to exceed $10 billion for a country that had a GDP in 2011 of $13.4 billion. Much of this growth is connected to Australia's mineral investments and savvy diversification of its trade relationship with Mongolia, despite facing serious hurdles in its relations with the landlocked Asian country during the past year. In addition to fending off renewed political attacks over the terms of Australia's largest mining investment at Oyu Tolgoi (OT), there was the very high profile detention of Australian lawyer Sarah Armstrong, counsel for Rio Tinto–controlled South Gobi Resources. Armstrong was held for several months for questioning about bribery and tax evasion (UB Post, Oct 26, 2012). Her Christmas Day release ended a dispute that clouded the entire bilateral relationship (Mongol Messenger, December 27, 2012).
Despite the establishment of diplomatic relations in 1972, both nations had only modest economic and political interest in the relationship, even though Australia has provided Mongolia with $81 million in development assistance since 1995. Mongolia's first president, Punsalmaagiin Ochirbat, visited Australia in 1997, yet Australia waited until 2007 to appoint an honorary consul for trade. Mongolia opened an embassy in Canberra in 2008, after Australia transferred the responsibility for Mongolia from its ambassador in Beijing to one residing in Seoul. On March 30, 2012, an Australian Consulate-General, managed by the Australian Trade Commission (Austrade), was opened in Ulaanbaatar. Bilateral trade between the countries only totaled $47.5 million in 2011–2012 (though still up from $32.9 million in 2010–2011). This is comprised mostly of Australian exports of engineering equipment, measuring instruments, oil additives, vehicle parts and other mining industry machinery. Mongolia's main exports to Australia are vegetables, telecommunications equipment and parts, as well as floor coverings (www.dfat.gov.au/geo/mongolia/mongolia_country_brief).
The impetus for Australia's new prominence inside Mongolia emanates from the Anglo-Australian giant Rio Tinto's step-by-step takeover in the past three years of the OT deposit, one of the world's largest copper and gold mines, from Canadian-owned Turquoise Hill (formerly Ivanhoe). Commercial production and export of ore concentrate to China finally will begin in the second half of this year. OT's underground copper mine is scheduled to be operational by 2016 and in full production in 2018, which then could supply about three percent of the world's output—all destined for the Chinese market. The significance of this one investment is seen in the fact that OT's managing company already has paid $803 million (1 trillion Mongolian tögrög) in taxes and fees to the government of Mongolia through August 2012 (oyutolgoi.mn), and OT at full production is predicted to increase Mongolia's GDP by 30–35 percent.
However, Australia's investment in Mongolia's mineral sector is much more than OT and Rio Tinto. There are over fifty Australian companies active in the country, including Leighton Holdings (contract mining for Khushuut and Ukhaa Khudag coal mines, road construction, and installation of Mongolia's first large-scale wind farm at Salkhit), McMahon Holdings (contract mining), legal firms (Minter Ellison, Allens), financial sector firms (Macquarie Bank, CPS Securities, Garrison Capital), and engineering firms (WorleyParsons, SMEC, Calibre Global). The Australian company Aspire Mining administers a $2.2 billion coal mine—Ovoot, estimated to hold the second largest coking coal reserves in Mongolia (english.news.mn, January 10)—and a 580-kilometer rail project in northern Mongolia. The face of new Australian ventures in the country, Aspire's investments may provide Mongolia with access to a Russian port and thus open Mongolian coal to a route and markets beyond China—which has been a primary goal of the government in Ulaanbaatar (https://www.dfat.gov.au/publications/asian-century/mongolia.html).
Australian Foreign Minister Bob Carr, on his October 2012 visit to Mongolia, noted that Mongolia's mining boom was primed by Chinese demand and Australian investment. In a radio interview, Carr stated that Australia was now the biggest mineral investor in Mongolia and rejected the notion that the Mongolian business climate was uncertain. He acknowledged that Rio Tinto was worried about the possibility the Mongolian government would seek to overturn the terms of the present OT agreement, but he emphasized that Australian companies were generally satisfied with the present regulatory environment. He singled out Leighton's very positive view of Mongolia's business climate, mine productivity, employee work ethic, and approach to occupational health and safety issues (Radio Australia interview, October 5, 2012).
Present forward momentum in economic ties can be traced back to Mongolian Prime Minister Sukhbaatar Batbold's February 2011 visit to Australia. At that time, memoranda of understanding (MOU) were signed on vocational education cooperation to build the capacity of Mongolia's mining workforce. The jointly signed MOUs also covered sharing wool and meat sector technologies; cooperation on enhancing transparency and public access to information; and collaboration in geology, water resources and agriculture. Today Australians are partnering with the World Bank and the United Nations Children's Fund (UNICEF) on Mongolian water projects in the Gobi Desert and the northwest. People-to-people contacts are vibrant, with about 700 Australians living in Mongolia, including volunteers such as Australian Youth Ambassadors for Development who work in public health, environmental engineering and business development projects. The government-sponsored Mongolia Australia Scholarship Program (MASP) has allowed about 240 Mongolians with families to study in Australia. This program, considered by the government to be the "mainstay of Australian bilateral aid to Mongolia" (www.dfat.gov.au/publications/asian-century/mongolia), is bolstered by some 400 private Mongolian students per year, one-fourth of whom are sponsored by the Oyu Tolgoi company (www.business-mongolia.com, December 17, 2012). As a result, an influential network has developed of Mongolian alumni of Australian universities, many of whom are parliamentarians and government officials.
Australia believes it can be a strong "third neighbor" to Mongolia because its companies are well placed to assist in the development of Mongolia's resources sector. Concurrently, this is a way for these companies to lessen the impact of Mongolian minerals replacing Australian ones in the Chinese market. Although the political controversies around revising Mongolia's foreign investment laws and reopening the OT agreement with Rio Tinto are serious concerns for Australia, the Australian Ministry of Foreign Affairs and Trade, out of belief that Australia can be Mongolia's model for managing its mining economy and mineral wealth, has made Mongolia a priority country under its Mining for Development initiative (www.dfat.gov.au/publications/asian-century/mongolia).