Davos Finds Few Reasons to Invest in Russia—or to Take Medvedev Seriously
Publication: Eurasia Daily Monitor Volume: 10 Issue: 15
By: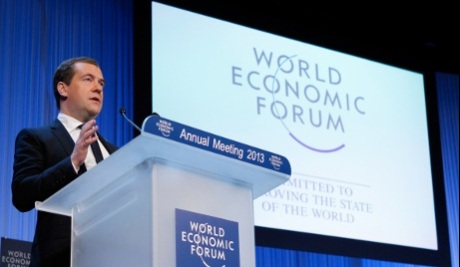 Discussions about Russia's future at the World Economic Forum (WEF) are traditionally prompted by the interests of potential investors rather than ambitions of its leaders. And this year, investor attention toward Russia was awakened by the demonstrated infirmity of its political order. President Vladimir Putin had opted not to travel to Davos. But Prime Minister Dmitry Medvedev was so eager to prove his relevance that several plane-loads of Russian bureaucrats, entrepreneurs and commentators were delivered to the Swiss Alps (Vedomosti, January 23). What made Medvedev's task of selling himself yet again as a champion of "modernization" tougher than ever was the theme of his session where he had to evaluate three scenarios, none of which envisaged steady growth driven by state-directed investment in "innovations" (Kommersant, January 24). The prime minister tried to find an easy way out by inventing his own scenario of a breakthrough in the high-tech sector and a blossoming of Russia's agricultural business, but he was so pedestrian in his fantasies that more than a few from the audience escaped for refreshments (RBC Daily, January 24).
A major part of Medvedev's problem is that the official plans for 2013 and beyond, which he was obliged to defend, depart further and further from reality as economic growth slackens and Russia's "locomotive" industries decelerate to stagnation (Nezavisimaya Gazeta, January 25). Many in his government are ready to acknowledge the need to correct the target figures and even to advance the stalled reforms—first of all by privatizing state corporations, but also reducing "red tape" that ties up all spheres of economic activity. Putin also feels that his instructions on ensuring steady growth are not coming true, but he is less and less inclined to listen to liberal economists and turns to traditionalists who advocate all-penetrating state control while praising his "manual management" (Gazeta.ru, January 23). These "anti-capitalist" prescriptions fit better with the ambition to revive Russia's defense-industrial complex by executing a colossal rearmament program, which Putin has made the central enterprise of his third presidential term.
This priority inevitably clashes with the interests of energy business stake-holders, who are increasingly irritated with the demands to boost their contribution to financing the wasteful defense programs. Putin used to hold their preferences close to heart, but now he is disappointed in Gazprom's poor performance in the crucial European market and anxious about using the petro-profits for rescuing his presidency. The bosses of oil and gas companies are reluctantly aware of the shifts in the energy market that were examined in depth in one of the Davos scenarios envisaging the shrinking of revenues inflow, and seek to maximize their cash stocks and asset holdings before the profit margins disappear. This divergence of overly far-fetched goals makes Russia more vulnerable to the volatility of the energy markets than simple price oscillation would suggest. Moreover, it justifies George Soros' dry verdict on Russia's "sinking economy," which is being "taken in the wrong direction by Putin" (Forbes.ru, January 25).
One particular goal of coming to Davos in great numbers was to demonstrate the "unshakeable" unity of Putin's elites, so Medvedev spoke on the same panel with former Finance Minister Alexei Kudrin, whom he angrily dismissed from the government in September 2011, and Arkady Dvorkovich, who presently leads the liberals in the government—and they debated with German Gref, who performed Dvorkovich's role in the early 2000s. This open-mindedness, however, remains a barely observed pretense; the majority of business elite see dysfunctional institutions, including Medvedev's government, as the main source of Russia's economic problems and can vouch that the country's 139th place (out of 177) in the 2013 Index of Economic Freedom is well deserved (Gazeta.ru, January 10). Putin, meanwhile, increasingly perceives liberal opinions as treacherous sabotage and is busy building a loyal and aggressive conservative majority (Novaya Gazeta, January 26). Medvedev has to adjust to this political mobilization and tried to prove his conservative credentials by making deliberately blunt remarks about the late Sergei Magnitsky, whom he described as a corporate lawyer for hire and not a "truth-seeker," which was hardly encouraging for hesitant investors (Ezhednevny Zhurnal, January 25).
Most of the retinue that accompanied Medvedev to Davos would rather refrain from subscribing to such tactless statements and aspires to be seen by the global business elite as responsible and reliable counter-parts. They are increasingly uncomfortable with the blatantly anti-Western rhetoric, while Putin finds it useful to make it even harsher. Notably, the president demands revisions in Russia's draft foreign policy concept, which was compiled mostly from his electoral speeches and articles, but presently appears not sufficiently tough (Gazeta.ru, January 24). Seeking to find the right degree of toughness, the newly-appointed Chief of the General Staff, Colonel-General Valery Gerasimov, asserted last week that the risk of large-scale war was not neglected and the Russian armed forces were ready for it (RIA Novosti, January 26). Putin's courtier-oligarchs and lieutenant-financiers understand the benefits of assuming a tough stance. But they are wary of over-playing this "patriotic" game and have figured out that the Davos crowd is unwilling to spend even a nickel on a business opportunity connected with rebuilding Russia's notorious war machine—no matter what sort of entertainment is presented at the hastily-decorated "Russia House" at Davos.
In times of nerve-wracking global financial insecurity, cosmopolitan investors are willing to jump on any promise of stability, however austere, but Putin has lost credibility in the role of provider and defender of stability in Russia. Whereas Medvedev's poor performance at Davos does not help make the "Who if not me?" proposition any more convincing. In fact, the least negative scenario presented at the WEF panel described fledgling and highly diverse development dynamics in the Russian regions, in which the federal center interfered as little as possible—so a new "firm hand" in Moscow would arguably be entirely unhelpful. The driver of such a hard-earned revival could only be the Russian urban middle class, but it cannot expect much help from the introverted West in changing the attitude of the pro-paternalistic majority of the country's "have-nots." Nevertheless, this change is coming very fast despite Putin's desperate efforts at exploiting residual trust in a free lunch–serving state. And while only a small minority is currently angry enough to rise against Putinism, the majority is increasingly ready to shrug it off.