Austrian OMV Helped Russian Surgut Launch Takeover Attempt Against Hungarian MOL
Publication: Eurasia Daily Monitor Volume: 8 Issue: 12
By: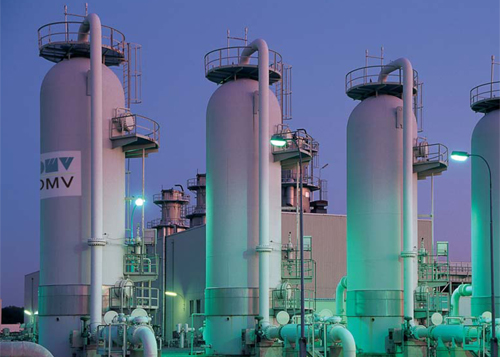 Two parallel court proceedings in Vienna have confirmed that Austrian OMV and Russian Surgut Neftegaz had coordinated their hostile takeover attempts against Hungarian MOL. The Austrian and the Russian company were targeting MOL's oil-refining business, which is recognized as the most efficient in Central Europe. The US investment bank J.P. Morgan helped broker the Surgut-OMV deal, enabling Surgut to pursue its own hostile attempts against MOL to this day, after OMV had desisted.
The Vienna proceedings are ongoing before a criminal court and an administrative court, with OMV's CEO, Wolfgang Ruttenstorfer, at the center of both cases. Both stem from OMV's 2009 sale of its 21 percent stake in MOL to Surgut. In the criminal case, the Vienna Prosecutor's Office has charged Ruttenstorfer with insider trading, based on the conclusion of the Austrian Financial Markets Supervisory Agency's (FMA) 2010 investigation. In the administrative court, Ruttenstorfer is charged with misleading investors by withholding information about the imminent OMV-Surgut deal.
According to Austrian and international media reports, court testimonies from three OMV board members have confirmed the earlier circumstantial evidence about OMV-Surgut collusion against MOL, and provided additional information in this regard. The investigation and the court testimonies have pieced together a detailed chronology of the affair (Dow Jones Newswires, January 12; Der Standard, January 13; MTI, January 14).
OMV had long been interested in the Slovnaft refinery in Bratislava, owned by MOL (following a privatization tender which OMV had lost). The Austrian company considered a two-stage deal, whereby OMV would sell its 21 percent MOL stake to Surgut, with an option for OMV to buy back Slovnaft later from Surgut's hands.
On March 14, 2009, Ruttenstorfer met with Surgut executives and a J.P. Morgan executive in Vienna. They broached a possible sale of OMV's 21 percent stake in MOL (by far the single largest stake in the Hungarian company) to Surgut.
On March 16, OMV top management started drafting the terms of a deal with the Russian company. On March 18, nevertheless, Ruttenstorfer granted an interview to Profil, an influential Vienna weekly, firmly ruling out a sale of OMV's MOL shares during 2009 at least.
On March 22, the J.P. Morgan executive notified OMV that Surgut wishes to complete the sale-and-purchase of the MOL stake quickly.
On March 23, Ruttenstorfer's denial of intent to sell was published in Profil. On that same day, Ruttenstorfer purchased 620,000 Euros (almost $ 900,000) worth of OMV shares (duly notified, and as part of the company's executive compensation program).
On March 26, Ruttenstorfer flew to Moscow for negotiations with Surgut. That meeting seemed to have ended without an immediate result.
On March 29, however, a late-night meeting also in Moscow clinched the outcome. On March 30, OMV and Surgut stunned the markets (and shocked Hungary) with the announcement that the MOL stake had changed hands for $1.9 billion (1.4 billion Euros), contrary to OMV's many previous denials of any such intent in Hungary. Moreover, Surgut paid to OMV almost double the value held by those same shares on the stock exchange on the eve of the announcement.
Surgut ruled out the option for OMV to buy back Slovnaft from the Russian company. Apparently, Surgut coveted MOL's highly efficient oil-refining business undivided. This probably explains Surgut's extraordinary overpayment to OMV for those shares.
The market reacted by lifting OMV's share price, thus boosting the value of shares that Ruttenstorfer had acquired a few days earlier. This provided a basis for the FMA financial regulator agency's investigation and the prosecutor's case in court. If found guilty, the OMV CEO faces possible fines, not imprisonment. Ruttenstorfer's mandate as company chief is due to expire in 2011 in any case, while both Ruttenstorfer and the OMV board have denied any wrongdoing in this connection (EDM, November 19, 2010).
However minor, the personal episode helped expose far larger issues of energy policy, strategic business, and public interest behind this case, affecting several Central European countries within the European Union.
OMV instantly approved the deal as a straight business matter, apparently without regard to the multiple adverse ramifications: for fellow-EU member Hungary, energy supply security in Central Europe, and the integrity of the legal and regulatory environment in EU territory. J.P. Morgan mediated the deal also without apparent regard to such considerations. The proposed OMV-Surgut buy-back option (a swap deal) would have resulted in a breakup of MOL between Surgut and OMV. The 21 percent stake, currently in Surgut's hands after its deal with OMV, enables the Kremlin-connected Surgut to exert pressure on MOL and Hungary.
While the OMV-Surgut collusion may not in itself have broken existing laws, it demonstrates the hostile nature of the takeover attempt, as well as OMV's apparent readiness to become a stalking horse for Surgut in Hungary. Both OMV and Surgut had all along denied any hostile intentions regarding MOL; but the testimonies in the Vienna court cases show the opposite.
Russian energy companies have acquired major oil-industry assets in EU countries during the financial crisis (Germany and the Netherlands), and are considering more (Poland and Lithuania). Hungary is defending itself successfully thus far. Surgut and the Russian government are asking the European Commission to intercede for legalizing Surgut's stake in MOL. The EU needs to take a stand against such predatory takeovers in EU territory.