Autocephaly of Ukrainian Orthodox Church Spotlights Belarus's Growing Geopolitical Importance
Publication: Eurasia Daily Monitor Volume: 15 Issue: 151
By: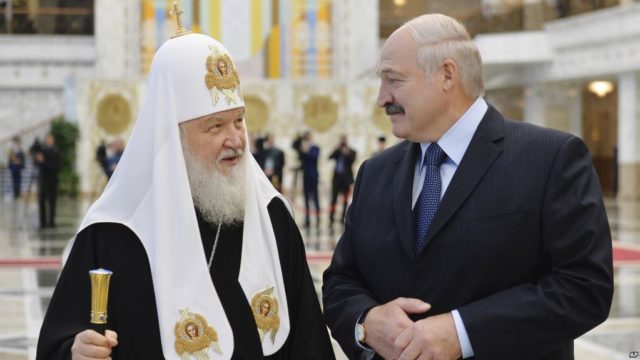 Belarusian-Russian relations were marked by two major events in recent weeks: the October 12 bilateral summit in the Belarusian city of Mogilev (see EDM, October 16) as well as the October 15 meeting of the Holy Synod of the Russian Orthodox Church (ROC), which was held in Minsk for the first time in history. At its meeting in the Belarusian capital, the ROC leadership decided to "break the Eucharistic communion" with the Istanbul-based Ecumenical Patriarchate of Constantinople because the head of that worldwide Orthodox community decided to grant Ukrainian clerics independence ("autocephaly") from Moscow (see EDM, October 16). On the same day, Belarusian President Alyaksandr Lukashenka met with the members of the ROC Holy Synod (President.gov, October 15).
Although not directly related, the latest Belarusian-Russian summit and the issue of Orthodox disunion together ended up spotlighting the further growth of Belarus's geopolitical significance. The crisis and war in Ukraine had started that trend as early as 2014, leading to the promotion of Minsk as a venue for truce talks. At that time, Belarus's significance rose in Russia's eyes because, despite all the differences between it and Ukraine, their similarities were equally apparent: for one thing, both Belarus and Ukraine can assert their separate identity only by pursuing some level of detachment from Russia (Globalaffairs.ru, June 15, 2018). And today, Belarus's significance, as far as Moscow is concerned, has grown even more because, in principle, the Belarusian Orthodox Church could seek to claim independence, too—with the Ukrainian Orthodox Church serving as a clear precedent.
For the time being, a claim for the Belarusian Church's separation from the Moscow Patriarchate is probably far-fetched. First, there does not appear to be any significant grassroots preference for that kind of development in Belarus. And second, the leading Orthodox clerics in Belarus, including Metropolitan Paul, the Patriarchal Exarch of All Belarus, are all ethnic Russians.
Nevertheless, the reputable Russian cleric and religious philosopher Andrei Kuraev, known for his criticism of Church authorities, recently opined, in an interview for the Belarusian Service of Radio Liberty (BSRL) that autocephaly for Belarus is only a matter of time and will probably take place following a "change in the political climate" (Svaboda.org, October 16). Piotr Rudkovsky, who leads the Belarusian Institute for Strategic Studies, shares this opinion. Rudkovsky sees the seed of a further future schism within the ROC in the fact that not a single ethnic Belarusian participated in the Synod meeting in Minsk; he interprets this as abuse of Belarusians' loyalty to Moscow that will not remain unnoticed (Belinstitute.eu, October 18). Meanwhile, Valer Karbalevich of BSRL, argued that by hosting the Synod meeting in Minsk, the Belarusian government is taking part in Moscow's geopolitical games. This overshadows Minsk's peacekeeping efforts since it is effectively giving up on its status of an independent international actor while reinforcing its image of an instrument of the Kremlin's foreign policy, Karbalevich asserted (Svaboda.org, October 15).
The situation, however, may not be this grim: there are signs that Minsk's growing significance in the eyes of Moscow has consequences of a different nature. First, for the umpteenth time, Minsk has resolved its disputes with Moscow over oil and natural gas during the aforementioned October 12 summit in Mogilev. Lukashenka and his guest, Vladimir Putin, came to an agreement despite numerous predictions that Moscow's wrath over Minsk's flirtations with the West would eventually lead to the opposite result. In another illustrative example, a recent episode of the Moscow-based TV talk show Pravo Golosa (Freedom of Speech), which was devoted to Belarusian-Russian relations, featured (along with several other Belarusian and Russian guests) Bogdan Bespalko, a harsh Moscow-based critic and regular unmasker of Belarus's alleged infidelity. Yet, curiously, his comments were deleted from the recorded version of the show (Facebook.com, Tvc.ru, October 18). Political talk shows that air on the major national Russian TV channels tend to reliably resonate the attitudes held by the upper echelons of power in Moscow. Thus, the conspicuous editing out of Bespalko's comments in post-production may signify the Russian government's growing desire to please Minsk.
This situation unbinds Minsk's hands. Thus, Belarusian Foreign Minister Vladimir Makei expressed satisfaction with the European Union's Eastern Partnership (EaP) at a recent EaP ministerial in Luxembourg (Svaboda.org, October 15). Moreover, President Lukashenka later publicly approved of the policy of further rapprochement with the EU (Euroradio, October 18).
Positive signals can be observed elsewhere, too. Notably, Kyiv appears reluctant to punish Minsk for hosting the ROC synod on its soil out of a misgiving that, if pushed too far, Belarus could provide yet another channel for Russian pressure against Ukraine. Consequently, the Forum of Regions of Belarus and Ukrainewill occur as planned at the end of October, in the city of Gomel (Svaboda.org, October 17).
Even more importantly, there are increasing signs that the United States is also changing its course on Belarus. The BSRL reported on the principles of Washington's new strategy regarding East Central Europe as described by US Assistant Secretary of State A. Wess Mitchell. In particular, BSRL writes that "the US will respect the territorial integrity and sovereignty of allies—Ukraine, Georgia and 'even Belarus'—as those represent a bulwark against Russian neo-imperialism" (Svaboda.org, October 19). Curiously, this reporting is simultaneously an over- and an understatement. It is an overstatement as, in his actual speech at the Atlantic Council (YouTube, October 18), where he articulated that strategy, Mitchell never referred to Belarus as an "ally." But the quote from BSRL is also an understatement: in fact, he stressed that nation-states are more important than international institutions, as the latter derive their authority from the former. Nation-states are "unique repositories of legitimacy and liberty," the Assistant Secretary declared. And it is in this context that Belarus's sovereignty gains new meaning, including within the context of respecting the "rights, customs, belief and traditions" of each state. This is a far cry from the premise that democracy promotion is the precondition for good relations between this country and the US.
Such a shift in Washington's strategy has not gone unnoticed in either Moscow or Minsk. As such, it plays into the hands of those interested in safeguarding and strengthening Belarus's statehood and in promoting civic nationalism, Belarusian style—the only type of nationalism feasible in that country and instrumental in its inner consolidation (see EDM, June 30, 2015; January 25, 2018; June 6, 2018). Already discussions about the "Belarusian national idea" have intensified (Belarus Segodnya, October 18). This, however, is a theme deserving a separate commentary.