Azerbaijan Accelerates Gas Export Diversification Efforts
Publication: Eurasia Daily Monitor Volume: 6 Issue: 213
By: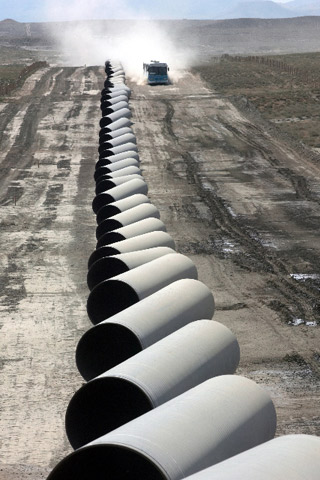 Gas production in Azerbaijan is set to reach 30 billion cubic meters (bcm) annually by 2013 from currently operating fields (Trend Capital, November 13). Over and above that level, the second phase of production at the Shah Deniz field is projected to add another 16 to 20 bcm per year at the plateau stage after 2015 (Trend Capital. November 14). Beyond mid-decade, probable gas deposits at the Apsheron field –currently under exploration– can be brought on stream. Furthermore, substantial natural gas deposits have been ascertained below the level of the Azeri-Chirag-Guneshli offshore oil fields (ACG deep gas) and await exploration and production, subject to business and political deliberations.
Meanwhile, with the planned Nabucco pipeline to Europe mired in slow-motion, and the Turkish westward transit route blocked, Azerbaijan is accelerating its efforts to open other export routes for its gas. Baku is mostly seeking short to medium-term solutions that would not prejudice Azerbaijan's continuing, full-scale commitment to the European Union-backed Nabucco and Southern Corridor projects, once these take a more definite shape.
On November 11, Azerbaijan signed agreements of intent with Bulgaria to consider transportation of Azerbaijani compressed natural gas (CNG) via Georgia and the Black Sea to Bulgaria and onward into E.U. territory. An accompanying agreement envisages transportation of Azerbaijani natural gas to Bulgaria through the Turkey-Greece-Italy Interconnector (currently under construction) and a short pipeline link from Greece to Bulgaria (currently planned with E.U. support). The volumes envisaged are 7 to 8 bcm annually for CNG; and 1 bcm annually from 2011 onward for pipeline-delivered gas (EDM, November 16).
On November 11, Azerbaijan's State Oil Company (SOCAR) and Iran's National Gas Company signed a memorandum of understanding on Azerbaijani gas supplies to Iran, starting in 2010. The contract is expected to be signed before the end of 2009. The initial annual volume will be at least 500 million cubic meters (mcm), with the possibility to increase the deliveries, depending on supply and demand and the technical state of pipelines. This amount comes above and beyond the small volumes being swapped between the two countries for deliveries of Iranian gas to Azerbaijan's exclave of Nakhichevan.
Azerbaijan and Iran are connected by the Soviet-legacy Gazi Mahommed-Gazakh-Astara pipelines, with a design capacity of up to 10 bcm per year. The worn-out pipeline is currently being refurbished on Azerbaijani territory. Iranian gas shortfalls, particularly during seasonal consumption peaks create a market for Azerbaijani gas in northern Iran for peak-season consumption and off-season storage. Under the November 11 agreement, the Iranian purchase price shall be calculated based on the peg to the oil-products basket (www.day.az, APA, November 11).
SOCAR has already signed with Russia's Gazprom a contract to sell at least 500 mcm of Azerbaijani gas annually to Russia for a five-year term, starting in 2010, for consumption in Russia (EDM, October 15, 22). That small volume is susceptible to further increases at any time, subject to Azerbaijan's own gas surplus availability, but definitely not mandatory. The Russian purchase price is apparently equivalent to the average European netback price or close to it.
No third-country transit solutions are necessary for Azeri gas to reach Russia or Iran. Nor is the construction of new pipelines necessary. Pipeline connections with Russia, which had traditionally operated north-south until 2006, can easily be adapted for reverse-use from Azerbaijan to Russia.
According to President Ilham Aliyev at the signing event in Bulgaria, Azerbaijan fully supports the Nabucco project, but the consortium and the E.U. "must address the issues of the resource base, transit agreements, and financial investment" (BTA, November 13). The final investment decision for Nabucco has been postponed from early 2010 to late 2010 (EDM, November 13). On the same occasion, Azerbaijan's State Oil president remarked, "Azerbaijan is the only resource base for Nabucco thus far. Nothing depends on us now. We have done a lot. We wait for further progress on the Nabucco project" (www.day.az, November 14).
Meanwhile, unlike Samuel Beckett's characters, Azerbaijan is not waiting for Godot passively, but instead is actively pursuing alternative gas export options.